WWE Raw July 4, 2011: John Cena Confronts Vince McMahon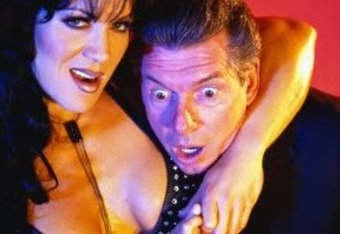 -CM Punk recap video just to confirm that this is just an angle to the last 20 people who were holding out.
Main Event Interview
Vince McMahon hits the ring and explains Punk deserved to be suspended and nothing else. I love how Vince just flops from face to heel depending on the situation and who he needs to put over. He tries to take his leave but wait, there's a spotlight to be hogged so John Cena makes his appearance.
Cena defends Punk like he's his brother until Vince admits he's worried Punk would walk out of the promotion with the title. Cena goes on a tirade until Vince reminds him that this is his company.
It's amazing here, Cena has successfully worked this angle so now instead of CM Punk being the folk hero, now Cena comes off as the man fighting for CM Punk and therefore is above him. It's subtle but it's definitely there.
Cena decides that Vince is making the title meaningless by not giving Punk the shot and hands McMahon title before walking out. Vince gets really pissed and confronts Cena on the stage, reinstating CM Punk but promising to fire Cena if he loses the world title.
Final Word
Well, for me this was definitely a downer after last week because nothing could top that promo and they tries to do it with the firing angle. The problem is that everyone knows Cena isn't going to be fired, so the angle is pretty much meaningless. They would have been better served going the Matt Hardy route with Punk interrupting the broadcast in a shoot manner so the rubes still buy that it might be real. As is, it's just another wrestling angle that didn't build on last week at all in my book. The wrestling was decent but nothing to go out of you way to see.
Screw you, Jaromir Jagr.
Most recent updates:
This article is
What is the duplicate article?
Why is this article offensive?
Where is this article plagiarized from?
Why is this article poorly edited?