The 50 Most Ridiculous Mascots in Sports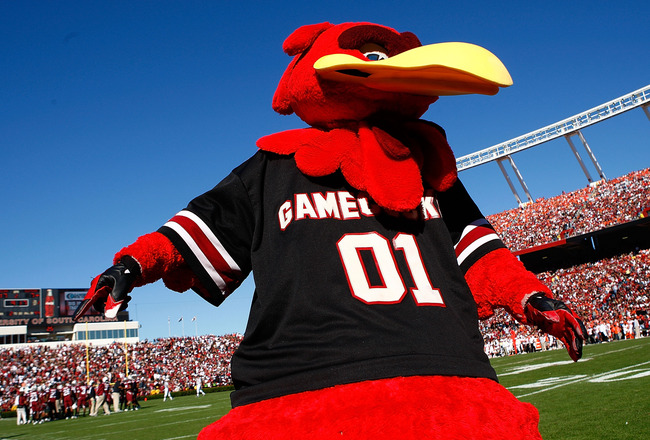 Scott Halleran/Getty Images
Often mascots are relegated to the sidelines of sporting events, but some of them are every bit as entertaining as the event itself. Especially if you're at a Pirates game or some other sporting event guaranteed to let you down.
The mascot by its very nature is ridiculous and relatively undignified, which is why people like them. They are all goofy, but some are definitely less of a spectacle than others.
Here are 50 of the most ridiculous mascots in sports.
50. Herky, University of Iowa (Then)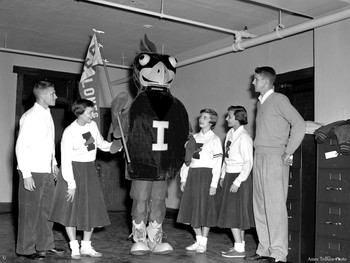 The original Herky the Hawkeye was one of the least intimidating things I've ever seen; Ralph Wiggum meets Angry Birds.
Alternate Mascot for a Day: Um, Ralph Wiggum?
49. Herky, University of Iowa (Now)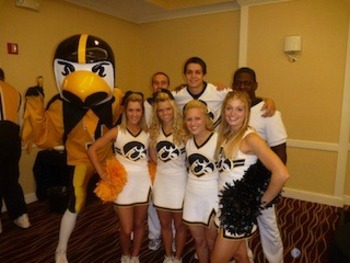 The current Herky is a little bit more respectable; at least he's wearing a football helmet so you know they didn't just pick him up at a "furry" convention.
48. Rodney the Ram, Virginia Commonwealth University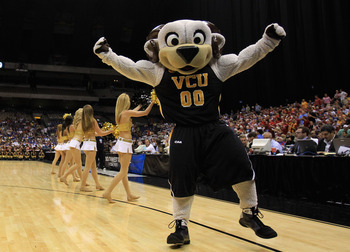 Rodney the Ram definitely doesn't look like a ram from the front, he looks like something out of a Hanna Barbera cartoon. Dude doesn't even need to participate with the cheerleaders though, he rocks out enough on his own with his foam biceps.
Alternate Mascot for a Day: Yogi Bear!
47. Lancer, Hilltop Vista High School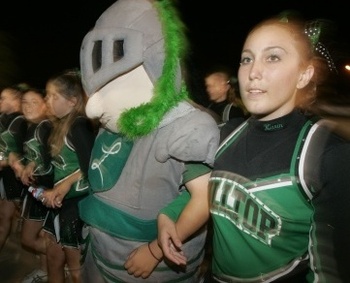 The Lancer is just ridiculous and looks even sillier while holding his belly and shaking hands with a lion.
Alternate Mascot for a Day: Well he's a knight...so...how about David Hassellhoff reprising the role of Michael McKnight from the 1980s classic Knight Rider?

46. T.D., Miami Dolphins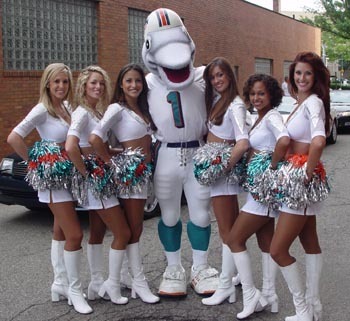 No his name isn't Snowflake! T.D. was announced as the official mascot of the Miami Dolphins in 1997, taking over for the unofficial mascot Dolfan Denny. The Fins' actually had a real dolphin, "Flipper," in a little tank outside the stadium from 1966-68.
Alternate Mascot for a Day: A drunken Dan Marino sporting those spandex pants and Isotoner gloves. Now that would be awesome.
45. Sparky, Arizona State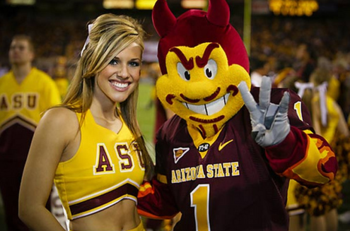 Leave it to the ridiculously hot broads at Arizona State to upstage this creepy bastard.
Alternate Mascot for a Day: Someone skinny with a creepy mustache...I'm thinking John Waters. In those cheap headband devil horns.
44. The Blue Devil, Duke University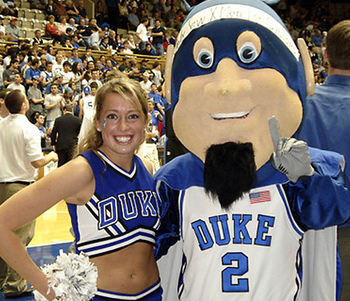 The Duke University Blue Devil is the backdrop to basketball excellence, soak it in folks. How can anyone take them seriously with this goofy masked bandit.
Alternate Mascot for a Day: The McDonalds Hamburglar. He is retired after all, and he could probably use the work.
43. Blue, Indianapolis Colts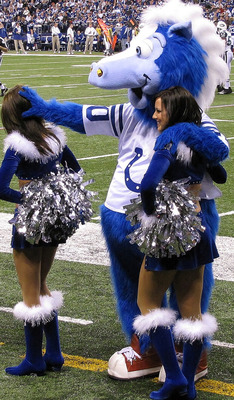 The Colts' mascot, Blue, is (apparently) an anthropomorphic blue horse who was first introduced in September, 2006. A big thanks to the NFL for requiring all teams to have a mascot; every new mascot is absolutely ridiculous.
Alternate Mascot for a Day: How about a gossipy Rob Lowe in a Manning jersey, with a bullhorn, revealing Jim Irsay's darkest secrets.
42. Blue, Indianapolis Colts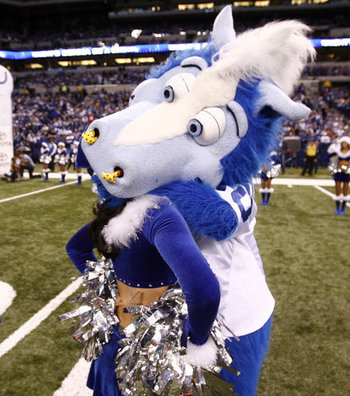 I've learned that a lot of mascots have issues with the ladies, particularly cheerleaders. So you're not alone! Perhaps Blue's checkered and troubled past has something to do with it; read his bio here. He totally looks tweaked out.
41. Naples High School Golden Eagles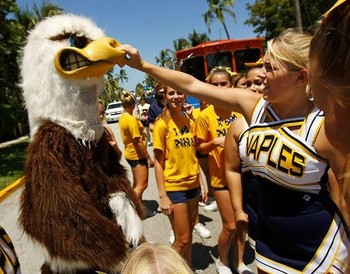 Naples high school cheerleaders are clearly tired of being upstaged by their golden eagle mascot. Since when do eagles have teeth?
Alternate Mascot for a Day: How about a real eagle? I'd like to see that cheerleader try to honk the beak of a real eagle.
40. Jonathan, University of Connecticut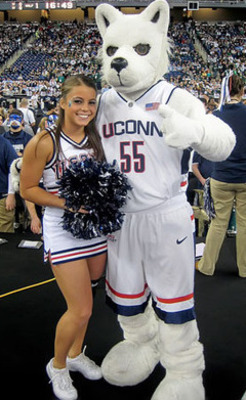 The UConn mascot, Jonathan, is actually pretty adorable and not all that goofy or strange; what makes him strange is that his name is Jonathan.
It's just weird to dress a man up in a furry costume, dress the furry costume in a basketball uniform, and then name him something mundane. Oh well, he is from Connecticut; his parents are probably hedge fund managers.
Alternate Mascot for a Day: Huskies fans are known for rioting after winning the NCAA tournament, so something unpredictable and violent. I'm thinking Floyd Mayweather Jr.
39. Hugo, New Orleans Hornets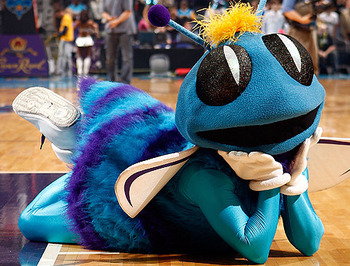 The Hornets' mascot Hugo who may have come into existence to replace their old mascot, who was obviously a fire hazard.
Alternate Mascot for a Day: It's the New Orleans Hornets, so we need someone or something who knows how to party and sucks at life. Lindsay Lohan is the direction I'd like to go.
38. The Mountaineer, West Virginia University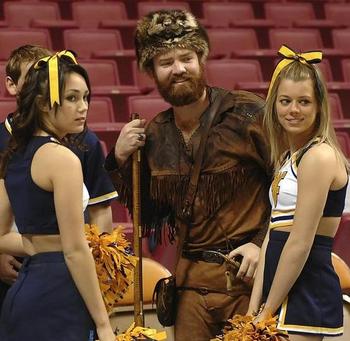 Obviously the West Virginia Mountaineer is a bit of a ladies man. No girl can resist a heavily bearded man decked out in a suede shirt, with fringe, and a carcass cap.
Alternate Mascot for a Day: Someone who loves leather, belt buckles, guns and dead (animal) bodies. Ted Nugent or Jared Allen would be the natural choices.
37. Zippy, University of Akron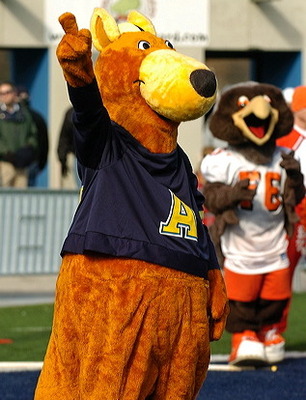 Akron's mascot Zippy was the winner of the 2007 national Capital One Mascot of the Year Challenge; he went undefeated during the 12-week contest and brought home $10,000 for his troubles. Based on his expression, I'm pretty sure he parks in the handicap space.
Alternate Mascot for a Day: A kangaroo is unpredictable, sometimes violent and Australian. Let's put in a call to Mel Gibson's people and Russell Crowe's people.
36. Willie the Wildcat, Northwestern University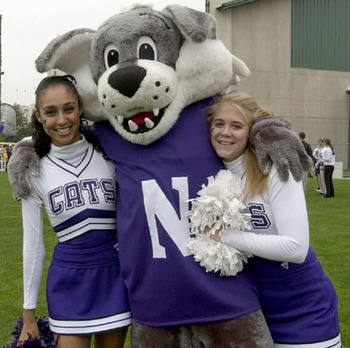 Northwestern's first mascot was a live, caged bear cub from the zoo named Furpaw. Eventually Furpaw was deemed "bad luck" and "banished" from campus, making room for Willie the Wildcat. Willie wasn't always so plush. I'm glad most schools have moved on from torturing a live animal just to rouse the student section.
Alternate Mascot for a Day: A brainy, but slightly unhinged alumni would be ideal. Stephen Colbert lives for this kind of weird crap.
35. Buzz, Georgia Tech University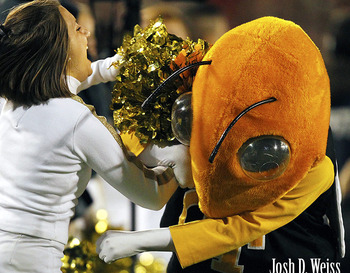 Photo via Josh D. Weiss Photography
The requirements for a student who plays Georgia Tech's Buzz are: being in excellent physical condition, about 5'4" tall, and have the ability to do a front "suicide" flip called a "Buzz Flip." There is a special cemetery on the campus for former mascots who died on the job. It is called the "Buzzoleum."
Alternate Mascot for a Day: So we're looking for someone short and physically fit...Tom Cruise is about 5'4", right?
34. Wilbur and Wilma Wildcat, University of Arizona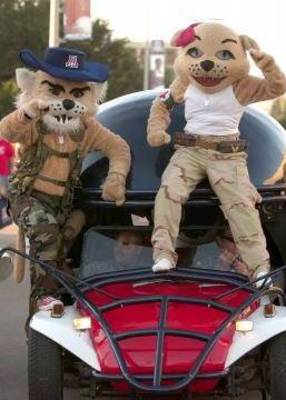 Wilbur and Wilma Wildcat are the "married" costumed mascots at the University of Arizona. Wilbur replaced the traditional live mascots in 1959. Wilma was created in 1986, so Wilbur wouldn't be lonely. I seem to remember a similar tale of love...called Bride of Frankenstein.
Alternate Mascot for a Day: I'm thinking University of Arizona alum Rob Gronkowski as Wilbur and his pornstar lady friend Bibi Jones.
33. Bucky Badger, University of Wisconsin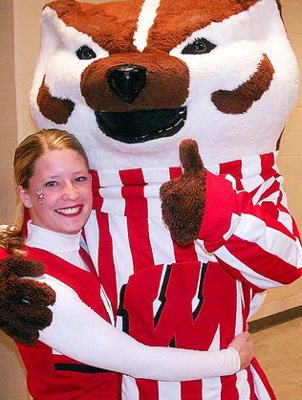 Bucky the Badger is the lovable but mischievous badger mascot of the University of Wisconsin, Madison. At football games, Bucky is known to dance with the band, harass the opposing team and pick pretend fights with students. He doesn't respond well to people who think it's funny to toss a live cobra in front of him and scream, "Honey badger don't give a sh*t!"
Alternate Mascot for a Day: A lovable troublemaker who knows out to put on a show and isn't afraid to do anything for attention. Think Charlie Sheen is available?
32. Sebastian the Ibis, University of Miami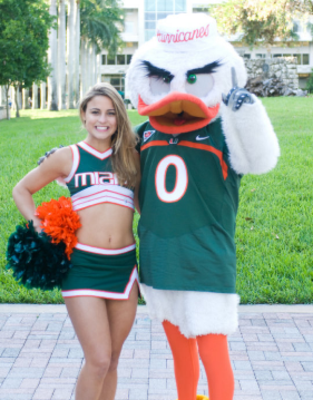 If you always thought this ridiculous thing was a duck, like I did, well then you are absolutely wrong. Apparently the University of Miami's mascot is an angry looking Ibis named Sebastian. Ibis. Duck. Hmmm. Whatever...
Alternate Mascot for a Day: He's angry looking because he's a soldier. A SOLDIER! Kellen Winslow Jr. knows what I'm talking about. He can fill in.
31. G-Wiz, Washington Wizards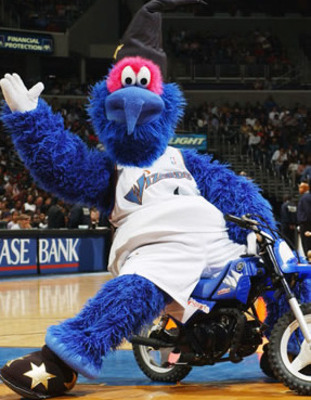 The Wizards mascot G-Wiz is about as respectable as the actual Wizards. Maybe he should be added to the roster. They can't do any worse.
Alternate Mascot for a Day: How about we just put John Wall in that costume, since he isn't doing all that much on the court these days.
30. Puddles, University of Oregon
Puddles, Oregon's mascot, is one of the most popular in the country. Dude is an athlete, a comedian, and above all, an entertainer. I'm not sure the name really embodies the character. Puddles is more of a nickname for the kid in your dorm who peed his bed. Yeah, you knew a Puddles.
Alternate Mascot for a Day: That description fits Peyton Manning to a T.
29. Rowdy, Dallas Cowboys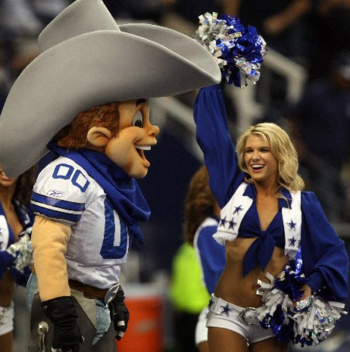 This is Rowdy, the ridiculous mascot of the Dallas Cowboys who exists to distract from the fact that the Cowboys have been largely irrelevant for over a decade. If I woke up in the middle of the night and Rowdy was standing at the end of my bed in the dark...I'd assume I was going to die (or worse).
Alternate Mascot for a Day: They should just put that oversized cowboy head on one of the cheerleaders, people would like that a lot more.
28. Paydirt Pete, University of Texas at El Paso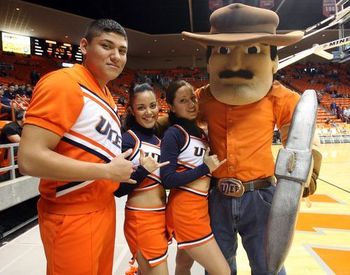 Paydirt Pete is a costumed student who serves as a mascot for the University of Texas at El Paso Miners. I'm pretty sure that if his face were projected on the wall of a night club just before last call, no one would get lucky.
Alternate Mascot for a Day: This might be an obscure reference for those of you who haven't had a lifelong addiction to 20/20, but Pete looks exactly like John Stossel (currently of FOX News)
27. Brutus Buckeye, Ohio State University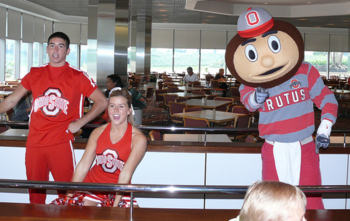 Brutus Buckeye is Ohio State's mascot and is nothing more than an awesome student, dressed in Buckeye colors, with a headpiece resembling an Ohio Buckeye Nut. Simple, but genius.
Alternate Mascot for a Day: How about Jim Tressel? It looks like the Colts aren't going to offer him a coaching position and I'm pretty sure he used to wear that exact outfit on game day.
26. Mavs Man & Champ, Dallas Mavericks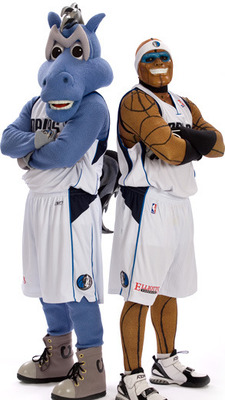 This freaky odd couple is what cheers on Dirk Nowitzki in Dallas. Champ is obviously a plush horse and Mavs Man is obviously a freaky burn victim whose skin was replaced with basketball leather.
Alternate Mascot for a Day: Honestly, I'm at a loss on this one. Any ideas? Other than giving these guys a sitcom that would get canceled three episodes in.
25. Hatters, Stetson University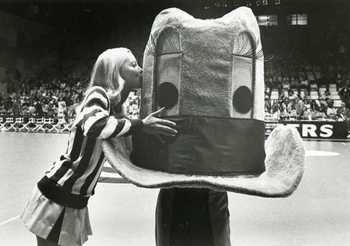 Stetson University's mascot is either a cowboy hat with eyes or a mushroom—either way it's outshining that cheerleader. Actually, I would expect to see this thing chasing Pac-Man around.
Alternate Mascot for a Day: Jerry Jones. A Cowboy in an oversized hat…we might have to provide the hat.
**Stetson recently named a new mascot, he's awesome and wearing a hat...rather than being just a hat.
24. Big Jay , Kansas University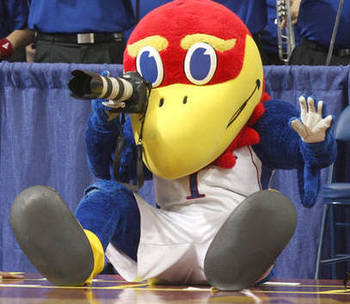 The University of Kansas actually has two mascots, Big Jay and Baby Jay. This is Big Jay.
School tradition dictates that the male who plays him be at least 6'2". Due to his feelings of inadequacy, officials always tell Baby Jay he gets paid $1 more per game (He doesn't though).
Alternate Mascot for a Day: So…someone tall…with a little sidekick. How about Shaq and Hoopz!?
23. Burnie, Miami Heat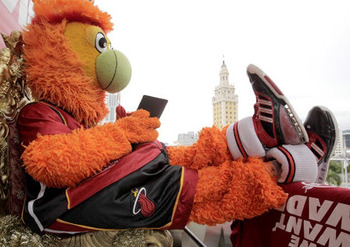 I'm not sure I believe this but, according to Wikipedia, Burnie is supposed to be some kind of fire with a basketball nose. That is the dumbest thing I've ever heard of.
Alternate Mascot for a Day: All the Heat need is another big-time, celebrity ego. Not this time.
22. Albert E. & Alberta Gator, University of Florida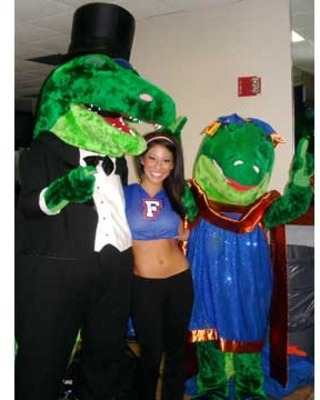 Albert E. and Alberta Gator are the official mascots of the University of Florida. The couple cheer together at football games, but generally stick to sports of their own gender. Something tells me that Alberta has, on more than one occasion, cried and asked Albert if he has to always drink so much.
Alternate Mascot for a Day: This sounds like a job for Darnell Docket and his pet alligator NINO.
21. Tiger, Glenelg Football Club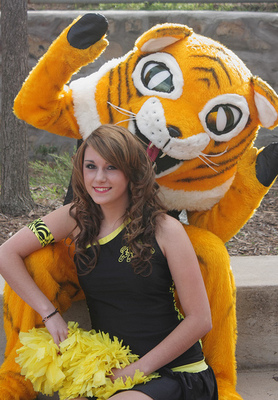 This goofy bastard is the mascot of the Australian Rules Football Club, Glenelg.
Alternate Mascot for a Day: This girl. *shudder*
20. Hip Hop, Philadelphia 76ers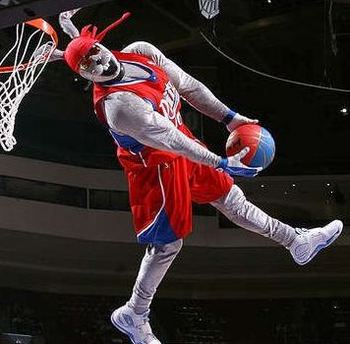 The Philadelphia 76ers mascot is Hip Hop, a funky, dew-rag wearing, basketball playing, Hip Hop music loving, bunny rabbit. This thing is an amalgamation of every marketing strategy deployed in the mid-90s to reach the teenage demographic.
Alternate Mascot for a Day: How about 50 Cent? It seems like all that fits, except for the bunny rabbit part.
19. Big Al, University of Alabama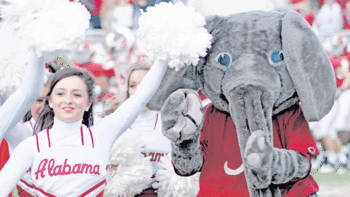 Since you can't make Crimson Tide into a furry costume, Alabama created Big Al way back in the 1960s. He disappeared for awhile until coach Bear Bryant asked an administrator to resurrect Big Al in the late 1970s.
Alternate Mascot for a Day: An elephant that doesn't make any sense…how about any of the duds who have recently dropped out of the GOP primary. Michelle Bachman or Herman Cain would be ideal—they create the biggest circus.
18. Mr. Redlegs, Rosie Red, & Gapper, Cincinnati Reds
Mr. Redlegs, Rosie Red and Gapper are quite the trio of mascots, each more absurd than the last. They're one cult away from kidnapping a child bride for Mr. Redlegs.
Alternate Mascot for a Day: A trio of attention-grabbing spectacles who you'd rather see than hear. Perhaps we could grab the Kardashian sisters between embarrassing scandals.
17. Cayenne, Louisiana Lafayette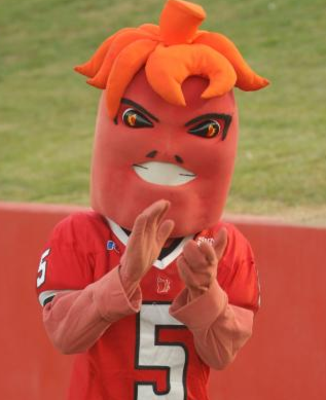 Cayenne is a costumed chili pepper mascot for the Ragin' Cajuns of Louisiana-Lafayette. Other mascots before Cayenne include: a couple of live bulldogs, Mr. Ragin' Cajun, and the Fabulous Cajun Chicken. I'm fairly certain Cayenne was dreamed up during a bad trip.
Alternate Mascot for a Day: A feisty Cajun with a big mouth and a bigger personality. James Carville would be perfection.
16. Jazz Bear, Utah Jazz
The Jazz Bear was introduced to the league in 1993. He's a philanthropist and a celebrity, having appeared on the MTV show Nitro Circus. I wouldn't be surprised if Jazz Bear eventually shows up on a list of Biggest Mascot Disgraces.
Alternate Mascot for a Day: This really has nothing to do with the Jazz Bear, but couldn't Utah's own John Huntsman use some positive press after that embarrassing presidential campaign?
15. Philly Phanatic, Philadelphia Phillies
The Phillie Phanatic is a large, fuzzy, green monster that may, or may not, have a beak. He takes fashion cues from Donald Duck, opting for the shirt with no pants look. Just how the Phanatic likes it.
Alternate Mascot for a Day: This is a hard role to cast. We need someone who is large, weird and is confident to rock a shirt and no pants. Is that naked guy from the first season of Survivor out of jail yet?
14. The Patriot, George Mason University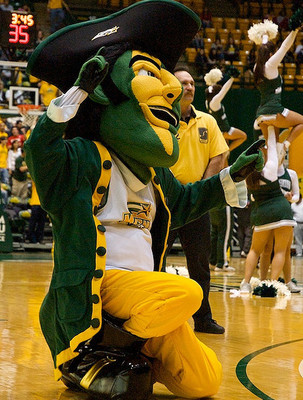 In 2008, George Mason University unveiled a new mascot. The Patriot was supposed to be a more legitimate mascot, but there is nothing respectable about his two-toned face and oversized head. I'm sure any one of the patriots who fought in the Revolutionary War would be honored and not horrified by the depiction. "It's like looking into a mirror..."
Alternate Mascot for a Day: A freakshow with an oversized head head is the order of the day. Is Sammy Sosa still in the country?
13. Gunston Stone, George Mason University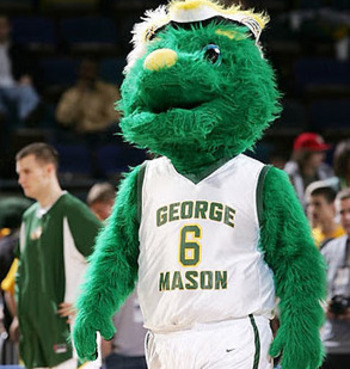 The Patriot replaced Gunston Stone at George Mason. Why Gunston Stone needed to be replaced to begin with is beyond me. They should have just given him racing stripes, spoiler and a pinwheel, and been done with it.
Alternate Mascot for a Day: A freakshow with an oversized head head actually works here too. Someone get Sosa on the horn.
12. Steely McBeam, Pittsburgh Steelers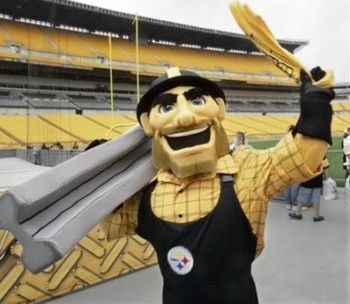 In the mid 2000s, the cheerleader-less and mascot-less Pittsburgh Steelers decided they needed to add something stupid to Heinz Field to distract from the giant ketchup bottle. Steely McBeam was their answer.
Alternate Mascot for a Day: It might hard to get a cartoon character to fill in, but I'm thinking a gay version of Gaston from Beauty and the Beast.
11. Raider Red, Texas Tech University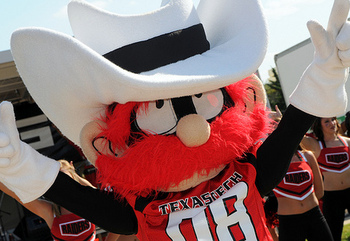 Raider Red is the secondary mascot at Texas Tech. He may be secondary, but he's twice the man than that villainous Masked Rider that hogs all the glory. Oh, and all the ladies of the ol' saloon know he tips the best.
Alternate Mascot for a Day: To fill in for Raider Red, we'd need the rottenest, tootinest redheaded cowboy in all of Texas. Chuck Norris! Who other than Walker Texas Ranger himself could do this character justice?
10. Irving High School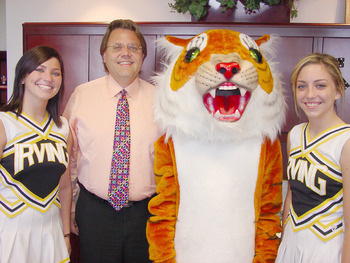 There is nothing about the Irving High School Tiger that says "take me seriously" as a competitor, but he does know how to attract attention. In fact, my brain wants me to believe it's emitting a squealing sound right now.
Alternate Mascot for a Day: Someone who is pretty stupid and useless, but you can't take your eyes off of. Finally, a role appropriate for Kim Kardashian.
9. K.C. Wolf, Kansas City Chiefs
The Chiefs original mascot, Warpaint, was a pinto horse; which made a lot more sense with the team name. In the 1980s they tried out a short-lived "Indian man" mascot that didn't go over well. K.C. Wolf debuted in 1989 and has been kicking ass and taking names ever since.
Alternate Mascot for a Day: It should really be someone who looks deceptively friendly, but who will kick your ass if you get out of line. Manny Pacquiao?
8. Cocky, University of South Carolina
South Carolina's Cocky, as we know him today, debuted at the homecoming game in 1980. He represents a cartoon version of a gamecock, since actual cockfights are illegal and would distract from athletic events.
Alternate Mascot for a Day: Someone who looks like he should be meant for fighting, but obviously isn't. Didn't Brock Lesnar just retire?
7. Big Red, Western Kentucky University
Western Kentucky's Big Red mascot is a red, furry blob created by a WKU student in 1979. Apparently, it's meant to symbolize the spirit of the students and alumni. If I came up with an Amber Lee mascot using the same exercise, it would look like a hovering pool of vodka morphed into the shape of a puppy.
Alternate Mascot for a Day: Obviously we'll need a saucy, spirited redhead. Carrot Top it is!
6. Big Red, Western Kentucky University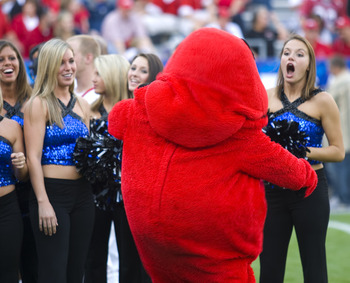 Big Red definitely has a pattern of inappropriate behavior with the ladies. That costume does make a lot of what's going on under there a mystery. Ugh..
5. T-Rac, Tennessee Titans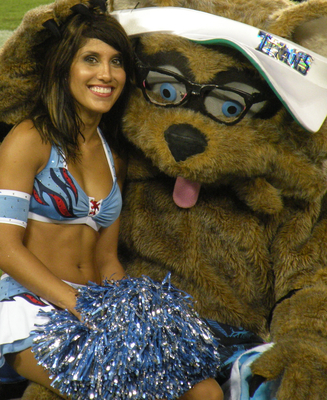 The Titans unidentifiable mascot T-Rac is actually a raccoon. Believe it or not, the raccoon is actually the state animal of Tennessee. T-Rac's career path prior to becoming a mascot is fascinating; his full biography is available on the Titan's website.
Alternate Mascot for a Day: Jason Schwartzman. The hipster glasses just seem appropriate.

4. The Stanford Tree, Stanford University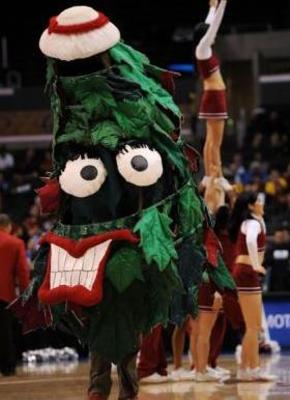 The Stanford Tree is the unofficial mascot of the university, borrowed from the Leland Stanford Junior University Marching Band, where it serves as the official mascot. The Tree regularly appears in lists of worst mascots, but haters gonna hate. He's gonna haunt your worst nightmares whether you like it or not. "You're gonna die."
Alternate Mascot for a Day: The Tree is nonsensical, unhinged, with googly eyes and over-sized teeth. Gary Busey, hello!
3. Stuff, Orlando Magic
Stuff is apparently short for Stuff the Magic Dragon, which, according to Wikipedia, is a slight reference to the song "Puff the Magic Dragon." Really, only a slight reference?
Alternate Mascot for a Day: Shaq in a Superman costume, just to irritate the hell out of Dwight Howard.
2. Otto the Orange, Syracuse University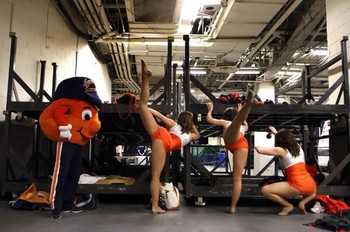 Syracuse's Otto the Orange is an anthropomorphic, gender-neutral orange with arms and legs, who rocks blue pants and a hat. Move it along people, nothing to see here. Certainly that slight movement you noticed in the corner of your eye was not Otto creep'n.
Alternate Mascot for a Day: If you're thinking Donovan McNabb in an orange spandex bodysuit, well then I'm right there with you.
1. Blue Blob, Xavier
The Blue Blob may be the secondary mascot for Xavier University, but he's absolutely first in our hearts. Their primary mascot is D'Artagnan, a goofy Musketeer with an oversized head. If I got to hang with him for a day, by the end he'd be bursting with miscellaneous objects and garbage.
Alternate Mascot for a Day: The Blue Blob is, hands down, the most awesome mascot in the world. Plus, he's awesome as hell at rock, paper, scissors. Replacing him for even a day would be a criminal act of negligence...or something.
Keep Reading