LeBron James: When Will the Hatred Finally End?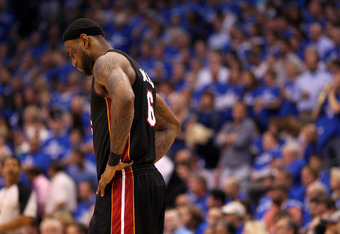 Mike Ehrmann/Getty Images
In 2003, Michael Jordan retired for the final time. Like many basketball fans, my bedroom was littered with Jordan posters and memorabilia. With my childhood hero gone, who would take his place?
The draft for the next season approached, and when the Cleveland Cavaliers announced they had selected LeBron James, fans across the country were ecstatic.
This would be the guy to replace Michael. This is the player we can all count on to be great.
Each season for the next several years came and passed without a Cavs championship, but we all watched LeBron grow up before our eyes as an elite basketball player. He wasn't Michael. Not yet. But many fans still believed he could be close.
As July 8, 2010 crept around the corner, NBA fans around the globe watched ESPN specials, Sportscenter repeats and numerous talk shows hoping to find out if LeBron would stay put in Cleveland or if he would leave for greener pastures.
Millions sat in front of their television to find out the answer to this question. We all hoped he would do the noble thing. We all wanted him to cement his spot in history as the hometown kid who stayed with the Cavs through thick and thin.
He can't leave the Cavs. He just can't. He is worshiped in Cleveland. He is The Chosen One.
Will You Ever Forgive LeBron?
All it took was one sentence for everyone in the country to hate LeBron. He did nothing illegal. He committed no crime. The only thing he was guilty of was having a huge ego and rubbing his choice into Cleveland's face on national television.
The celebration before the season started was in very poor taste. The comments made by both Dwyane Wade and LeBron throughout the season added fuel to the fire. The newest Big Three gave the NBA a villain to cheer against at all costs. After they lost in the Finals to the Mavs, the country was elated with joy.
With the Heat's first season in the books, there are still huge amounts of scrutiny against LeBron. We hate him for his tattoo. We hate him for his nickname. We hate him for his immature comments.
Or do we really just hate him for not winning? For not being Jordan like we hoped he would?
It's time for the pure hatred of LeBron to stop. Outside of Cleveland, nobody has a real reason to despise him. He's had "Chosen 1" tattooed across his back for years. He's been nicknamed "The King" for as long as I can remember. He has always been immature (Dancing on the court while the game was still being played, anyone?).
The only reason that anyone should still hate LeBron is the way that he left Cleveland. It tore the heart out of every basketball fan in Ohio, and he could have handled it much better. I fully expect Cleveland to always hate LeBron, and I don't blame them.
Mike Ehrmann/Getty Images
But should the rest of America?
After almost a decade in the league, I've realized that he is not Michael. He is not even Kobe. And it's stupid for any of us to still believe that.
I hate all the new "Heat fans" that joined the bandwagon. I hate all of the publicity that the Heat get, even in losing the Finals to an obviously better team in the Mavs. I hate that the team overshadowed the young stars of the league in Kevin Durant and Derrick Rose.
But one thing that I don't hate anymore is LeBron James. Why should we? For having the exact same personality as he did when he was with the Cavs?
It's clear that America will never look at LeBron like they did when he was with the Cavs. That is understandable. But what will it take for us to forgive LeBron?
To me, the answer is simple. He must prove he is a winner like we have all hoped for years.
Just win.
This article is
What is the duplicate article?
Why is this article offensive?
Where is this article plagiarized from?
Why is this article poorly edited?

Miami Heat: Like this team?