Travis Snider Returns, Pieces Coming Together for Toronto Blue Jays
July 4, 2011
Jim Rogash/Getty Images
The past few weeks for the Toronto Blue Jays have been eventful in terms of call-ups, given the returns of Eric Thames, Brett Cecil, and Travis Snider.  All three players are 25 or younger and look to be a part of the Blue Jays going forward.
To make room for these players, both Jayson Nix and Juan Rivera were designated for assignment, and Zach Stewart was optioned to Double-A New Hampshire. Nix and Rivera are likely not part of the Jays plans going forward, but Stewart just needed some more seasoning in the minors.
Thames, Cecil and Snider have all spent time at Triple-A this season.  
Thames is a prospect that had been called up earlier in the year after impressing in spring training and then hitting well in Las Vegas.  Players returned from injury, though, and Thames was sent back down where he would be able to continue getting consistent at-bats.
Cecil won 15 games with the Blue Jays last year, but started to get into some bad habits to begin 2011. In spring training, Cecil was having trouble with his velocity, and then when the season started, he struggled with his command.  
He was sent down to work on throwing strikes and to get his confidence back. It took some time, but now he has been recalled to the Blue Jays after throwing a series of quality games.
Snider has had similar troubles to those of Cecil —after finding some success, Snider got into bad habits and was struggling at the major league level.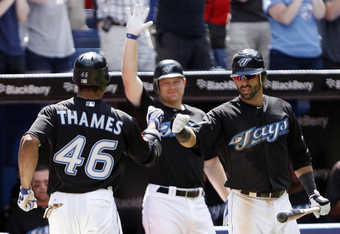 Abelimages/Getty Images
In Las Vegas he was instructed on how to rebuild his swing, working on his approach so that he could hit consistently to all fields.
Thames —a line-drive type hitter who can hit for average and flash the occasional power —has already shown that he brings a versatile left-handed bat to the lineup. Slotted into the second spot in front of Jose Bautista, Thames has been hitting very well. In the last two weeks, he has a .382 average and a .794 slugging percentage, with eight runs scored, three home runs, and five RBI.
Thames has been playing in the corner outfield, taking over after Bautista's move, and Snider will man the other corner.  
Snider's work in Vegas was evident in his first game back, in which he hit three doubles, two to right field and one to left.  Blue Jays management were considering playing Snider in centre field if he stayed in Las Vegas to give him some work there.  Playing Snider in centre could be an option in the future for the Jays, but it depends on a lot of factors.
If Brett Lawrie gets healthy and starts tearing up Las Vegas again, they will likely bring him up to play third, which would shift Bautista back to the outfield.  This would create a bit of an overlap in terms of playing time, but if you are looking at the future of the Jays, it might be Thames, Snider and Bautista manning the outfield.
As for Cecil, he pitched fairly well in his first start, but a combination of bad defense and a few mistakes ruined it for him.  He still managed to pitch 6.1 innings, with six strikeouts and three walks.  He has proven in the past that he can succeed, and since he just turned 25, there is plenty of time for him to improve as the team does.
A couple of months into the season, the Blue Jays were struggling with injuries and demotions, finding very few positives at the plate and on the mound.
But as the All-Star game approaches, it seems as though the team they envisioned at the start of the season is starting to come together and the future remains bright.