5 Reasons the NBA Hall of Fame Appropriately Turned its Back on Reggie Miller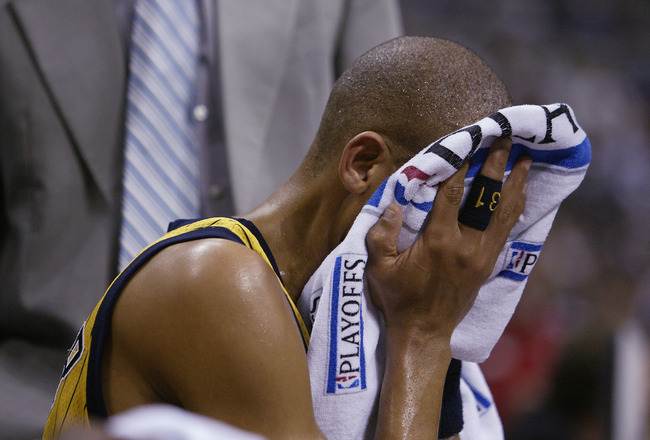 Tom Pidgeon/Getty Images
One of the NBA's most clutch performers of all-time was noticeably absent from the list of Naismith Memorial Basketball Hall of Fame class of 2011 finalists.
Some would argue that the omission of Millers name from the 12 Hall of Fame finalists is one of the greatest oversights the Hall of Fame has ever known.
From NBA legends to general managers, the response to the Hall of Fame's snub of Reggie Miller was for the most part of the same reaction.
"I am shocked that Reggie Miller didn't make the finalists list," Hall of Famer Clyde Drexler told Sporting News. "I thought Reggie was an outstanding player. And if you look at his accomplishments, he's a Hall of Famer. I am going to stick up for Reggie as a fellow two-guard. But the guys who did make the list – Jamaal Wilkes, Maurice Cheeks, Chris Mullin – all of those guys are very deserving."
"I just know this, if he's not a Hall of Fame guy, I don't know who is," Knicks president Donnie Walsh, who, as GM of the Pacers, drafted Miller with the 11th overall pick in the 1987 draft, told the New York Times.
I am not one of those people.
Though I believe that Miller belongs in the Hall of Fame one day, I think that the selection committee appropriately passed on first time candidate Reggie Miller.
And here are five reasons why.
The NBA Doesn't Celebrate Mediocrity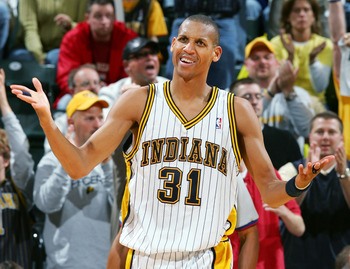 Elsa/Getty Images
Reggie Miller would do anything he had to do to win a basketball game for the Indiana Pacers. He always had just enough magic left in him to hit that spectacular game winning shot.
But "just enough" doesn't get you into the Hall of Fame first ballot.
Don't get me wrong, Miller was just about as consistent as they come. But don't we all expect a certain amount of consistency from pro athletes?
Reggie Miller did exactly what he was drafted to do. Make shots, and win games. Nothing more and nothing less.
The NBA has never celebrated mediocrity. The NBA's greatest players have always done what they were supposed to do, and more.
And more is exactly who Reggie Miller wasn't.
There is nothing spectacular about leading the league in free throw percentage. It's an uncontested shot, you should put it in the basket.
Reggie Miller Was a One-Dimensional Player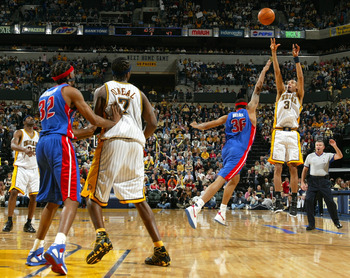 Elsa/Getty Images
Reggie Miller made an incredible 2,560 three point field goals in his career, to put that in perspective, Ray Allen holds the NBA record for most three point field goals in a career with 2,612.
When you think big time three point shots you either think of either Ray Allen or Reggie Miller.
I can say without a shadow of a doubt that Reggie Miller was always a scorer.
But unfortunately for Indiana, that's all that Miller could do.
He couldn't rebound; he averaged only three assists and one steal per game on his career. For a franchise shooting guard, those are porous numbers.
Reggie Miller was an extremely one dimensional player for the Pacers, and possibly even a detriment in regards to off the ball contributions.
Look anywhere and you'll find a picture of Reggie Miller, but you'd be hard pressed to find a picture of him playing on-ball defense.
Reggie Miller Was Never the Guy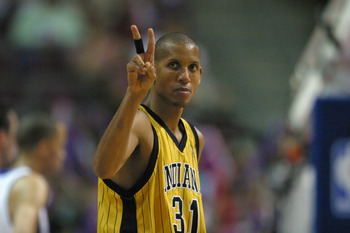 Tom Pidgeon/Getty Images
Look through the NBA's regular season career records; you will not see Reggie Miller's name.
In fact some of the most substantial information you'll see on Miller isn't listed in NBA record books.
Miller's greatest moments were in the clutch. He was known for hitting big shots, in big games.
He was never known for the statistical dominance that Hall of Fame players like Michael Jordan and Magic Johnson enjoyed in their illustrious careers.
He was never the "guy," he was never number one out side of Indiana.
In 18 years in the NBA, Miller was only selected to five NBA All-Star teams, and was never once named to either the first or second All-NBA team.
Forget about a Most Valuable Player award.
As far as awards go, after an 18 year career, Miller's trophy case is essentially barren.
18-Year Pro, Zero NBA Championships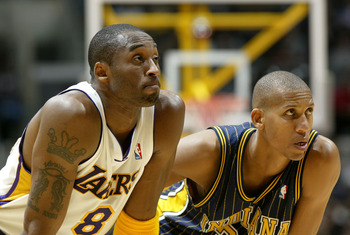 Lisa Blumenfeld/Getty Images
Reggie Miller played 18 NBA seasons after being selected 11th overall by the Indiana Pacers in the 1987 NBA draft.
Only two players in NBA history played more games on one team than Reggie Miller did during that span.
Unfortunately, in those 18 seasons, Miller led the Indiana Pacers to only one NBA Finals appearance. Though Miller would put on a shooting clinic, the Pacers would fall to the Los Angeles Lakers four game to two in the 2000 NBA Finals.
Reggie Miller Was the Victim of an Era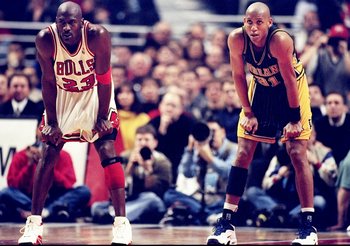 Jonathan Daniel/Getty Images
To be fair, Reggie Miller never played on any of the many "elite" super teams that were so prevalent in his 18-year career.
Maybe if he would have left his team near the end of his career, as Karl Malone did, Miller would have had a real shot at an NBA championship.
Instead, Miller stayed and fought for one team for his entire career. I respect that.
In turn, Miller faced some of the greatest teams in NBA history, essentially by himself.
Miller didn't care; he loved the challenge. He fought as hard as anyone I have ever seen.
He took them all on, from Jordan and Pippen to Kobe and Shaq.
Lakers, Pistons, Bulls; it didn't matter.
Not to mention the fact that he was the "Knick Killer."
Though he never won it all, he put an entire franchise on his back year in and year out.
Former Indiana Pacers president Donnie Walsh said of Miller "He took a very troubled franchise and ended up in the Eastern Conference finals six times. That's pretty impressive for a guy who weighs about 185 pounds, and in the years that he did it, he was a marked guy and he relished it. I feel very thankful to Reggie to what he did for the Pacers and I just feel he deserves that honor [of being inducted into the Basketball Hall of Fame], whether it comes now, later or whatever."
Keep Reading

Indiana Pacers: Like this team?