Fantasy Football: Kevin Kolb's Fantasy Value in Arizona, Seattle
July 4, 2011
Jim McIsaac/Getty Images
While NFL and fantasy football fans are patiently waiting for the NFL lockout to end, speculation is still high on trades and free agent pick ups that could happen upon the lift.
One of the hottest stories is Philadelphia Eagles backup quarterback Kevin Kolb, who has been the subject to many teams this offseason. Thanks to the lockout, teams cannot actually discuss trade amongst each other, but according to Dave Mahler of 950 KJR Seattle, the Seahawks have offered a first and third round pick for Kolb.
So if the offer has been made as Mahler suggests, then perhaps the Seahawks have had their eye on Kolb even before March.
Regardless, it seems that the two primary teams in the Kolb blowout sale both come from the NFC West in Seattle and the Arizona Cardinals.
The Cardinals are rumored to willingly give up a draft pick, as well as a veteran player, which could include a player like Beanie Wells, or the unlikely Dominique Rodgers-Cromartie.
From a fantasy perspective, this could have positive and negative implications with both teams.
What is Kolb's value with each team?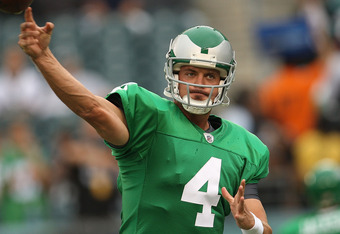 Mike Ehrmann/Getty Images
If Kolb ends up in Seattle, then the return of Matt Hasselbeck is unlikely, and barring injury, Kolb would be the immediate starter.
The Seahawk's offensive line fared well in 2010, only giving up 35 sacks, and having the 14th best adjusted sack rate in the NFL. With a second year Russell Okung protecting the blind side, as well as Kolb's quick release, he shouldn't have too many problems staying up.
His mobility also helps his cause as he has the quickness to escape the pocket if need be.
The issue offensively seems to be the targets to Kolb's passes. At first look, the 'Hawks seem to have some solid young talent at wide receiver, but while talented, they are also injury prone. Ben Obomanu and Mike Williams had trouble staying healthy, and Golden Tate and Deon Butler had trouble filling in successfully.
The good news is that Kolb will go in with a reliable tight end option in John Carlson, as well as receiving options in Justin Forsett and Leon Washington (if healthy) out of the backfield.
The weapons are there, but staying healthy is the biggest question.
If healthy, Kolb could surprise the weak NFC West and make some big plays with his weapons. Unfortunately, that could be a pipe dream. If he ends up with the Seahawks, I'd take a flier on Kolb as a backup and matchup quarterback.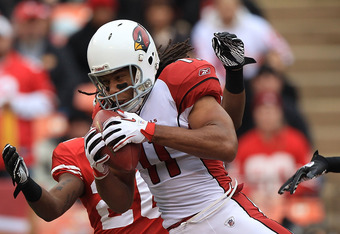 Jed Jacobsohn/Getty Images
Arizona Cardinals
The Cardinals situation is just a bit different. While Kolb would still get to enjoy playing in a weak division, his offensive line would be a huge issue. Arizona's offensive line gave up 50 sacks in 2010. Their adjusted sack rate ranked 27th in the NFL.
To make matters worse, Alan Faneca (albeit somewhat ineffective in 2010) retired on May 10th.
The Cardinals also failed to address even one offensive line spot in the 2011 NFL Draft.
Despite Kolb's quick release and mobility, not having an offensive line can hurt big time. This could be the difference between Kolb becoming a solid starter, and becoming David Carr.
The Cardinals offensive weapons aren't anything to write home about either. Larry Fitzgerald is still a top wide receiver in the league, but if Steve Breaston doesn't return, the depth will be average at best.
Recently drafted running back Ryan Williams could see immediate playing time, but the running backs in Arizona are still quite questionable with Beanie Wells having nagging injuries and Tim Hightower's inconsistency.
Aside from Larry Fitzgerald and potentially Ryan Williams, there's just not enough offensive help for Kolb.
While I'd still take a late flier for Kolb, I'd be a bit more hesitant with him in Arizona. However, if Steve Breaston is re-signed,  the situation would bring more optimism. But there are just too many wild cards.
Follow me on Twitter @NFLSoupKeet
Check out NFLSoup for daily Fantasy Football and 2012 NFL Draft tidbits!