Derek Jeter's 2011 player card reads like Lindsay Lohan's IMDB page: thin and unimpressive.
His defense is withered, his batting eroded. In a way his election is apropos, being that what's keeping him relevant in 2011 are his pinstripes and a pending career achievement.
Fitting then, that he'll start at shortspop for the American League Sunday as a token of Yankee fans' gratitude.
But aside from muscling Detroit's Jhonny Peralta from the team—much-deserving Asdrubal Cabrera (CLE) took the reserve role—Jeter epitomizes the foremost flaw in the All-Star selection process.
It should be about production, not popularity.
At its simplest, All-Star selection is a privilege. So as long as players earn it—through stellar sabermetrics—they deserve the nod.
And the continuity that the week offers. Players who are grooving wouldn't want the interruption.
And it's not more work than rest, starting pitching (the innings aren't worth it) and the Home Run Derby (you'd think winners lose their thumbs, it messes with their swings so much) notwithstanding. It's equal parts vacation and keeping rhythm.
What should decide Major League Baseball's All-Star candidacy?
Anyone who feels differently can always pass on the offer.
(Editor's note: Nobody does.)
As the numbers wane, like Jeter's .260 BA, 324 OBP and 24 RBI, so too do those rights. Especially when snubs like Peralta post best-rounded numbers at their position—he's batting .311 and reaching base .368 percent of the time, with an .986 fielding percentage (second to only Oriole J.J. Hardy).
That designation shouldn't be self-perpetuating. Jeter being Jeter shouldn't be enough.
Especially not with rule changes. It's fine that a zillion Chinese vote Yao Ming into the NBA's showcase, even though he hadn't seen action all year. But not so with baseball.
If Yankee fans were really pious, they'd put securing home field advantage in the World Series by picking the best performers above padding Jeter's shoo-in Hall of Fame resume. What they did, wedge Jeter and other questionables like catcher Russell Martin, was a disservice.
That anchors the only pro-popularity argument, that the health of baseball depends on leaning on its household names. They'd reason that all-star games are markers of a sport's health, and what better way to flaunt baseball's vitals than stuffing Arizona full of icons like Jeter (and rocking the Nielsen ratings by so doing)?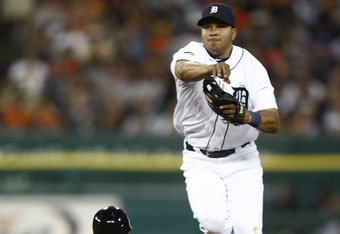 John Grieshop/Getty Images
But part of what's made Jeter are his selections, as meaningful a metric as any. Peralta, 29, is no spring chicken, but Elvis Andrus, only 22 years old, is, and both more worthy of selection (one) and more important to baseball's longevity (two) than a 37-year-old Jeter.
That's only one casualty here, but the principle—robbing baseball of a chance to establish future stars—poses problems beyond one isolated example. That's bigger in Cleveland and Texas, whose fan bases thirst for hope between its fast-but-fading start to 2011, not to mention decades of forgettable teams. It's why every team deserves representation.
Yet some fans' flawed logic has still caught up to baseball. Other factors, like dried up talent pools, over-expansion, a painfully long regular season, compound the problem.
But sports leagues are star driven. And now more than ever, baseball needs to restock its cupboard.
If it doesn't, imagine the tatters baseball will be in some short while down the road, even compared to two leagues making more headlines than dollars in the midst of lockouts. Imagine if baseball's top teams still can't fill their stadiums. If two of its biggest markets and fabled franchises (the Mets and Dodgers) are still rife with debt and embarrassment.
Baseball needs lifelines, players to replenish shelves and pique fan bases' interest.
Ronald Martinez/Getty Images
Where baseball got it right was letting the fans decide, like the 2.6 million who voted in Jeter and 2.2 million for Cabrera, compared to 1.5 million and 900,000 whispers for Andrus and Peralta, respectively. That, like revenue generating, is an advantage that large-market teams have, and use.
And it's one that shouldn't change.
The only way to botch it more would be to put the power in the Baseball Writers Association of America (BWAA), more disconnected with the fans than the Atlantic Ocean's beaches are from each other.
But if the fans really loved their game, they'd be more mindful. I know asking fans to compartmentalize emotion is like asking dogs to not chase cars. But the betterment of the sport hangs in the balance.
And with baseball's resistance to change, one of the mitigating factors in baseball's decline, maybe the fans should intervene. Pull a coup. Make an impact where they can, since Commissioner Bud Selig has shown he can't.
Fans should start before Thursday, when balloting closes for 67th and 68th roster spots. Make 'em count.
Because, as they say, "This One Matters."