San Jose Sharks Ship Dany Heatley to Minnesota Wild: Does No One Want Him?
July 4, 2011
Rich Lam/Getty Images
When Dany Heatley came to San Jose he was supposed to be the answer to the Sharks' need for a top-grade sniper to play alongside their world class set-up man, Joe Thornton. They gave up speedster Milan Michalek, failed sniper Jonathon Cheechoo and a second-round 2010 pick (G Kent Simpson, 58th overall).
Two short years later the Sharks have given up on the expensive goal scorer and swapped him for the speedier, but more fragile, Martin Havlat of the Minnesota Wild.
They are both former first-round picks. Havlat was taken by the Ottawa Senators in 1999 (26th overall). Heatley was a much more coveted first-round pick the next year by the Atlanta Thrashers (second overall).  
This is the second blockbuster trade San Jose has made with the Wild in less than a week. They also sent Devin Setoguchi and Charlie Coyle and San Joses' first-round 2011 pick (Zach Phillips, 28th overall) for former Minnesota defenseman Brent Burns and Minnesota's 2011 second round pick. 
San Jose seems determined to jump start what has so far in its short history tended to be a very tame Wild offense. 
Heatley is a two-time 50 goal scorer. He has also scored 41 goals twice and 39 goals twice in nine NHL seasons. He would have seemed to be the perfect linemate for the creative Thornton. They teamed up internationally for Team Canada at the Olympics in Vancouver and Turin with mixed results.
This year though, Dany Heatley turned 30 and scored a mere 26 goals and 64 points. Those numbers are not quite as good as even the ones he put up as a rookie in Atlanta.
Doug Wilson and the San Jose Sharks apparently believed that is not enough offensive production for his $7.5 million a year cap hit, for three more years. In Martin Havlat the Sharks pick up a speedy talented winger who had very similar numbers to Heatley last season with 22 goals and 62 points in 78 games.

The 30-year-old Czech has however never scored more than 31 goals (2003/04 Ottawa) or 77 points (2008/09 Chicago) in a season. The top end for Heatley has been considerably higher: 55 goals and 105 points with Ottawa in 2006/07. 
Martin Havlat has suffered a string of injuries big and small that have limited his playing time and his ability to perform while playing. The only big gap of time Heatley has missed was due to a knee injury he suffered in the car crash back during the 2003/04 season in Atlanta. 
Martin Havlat is certainly a very talented player, but statistically he has been more like a Milan Michalek than a Dany Heatley. He does save the Sharks $2.5 million a year in cap space. He is signed for four more years for a cap cost of $5 million a year. The Sharks currently have about $8 million to 9 million in cap space left to sign six players; admittedly to fill the back half of their lineup.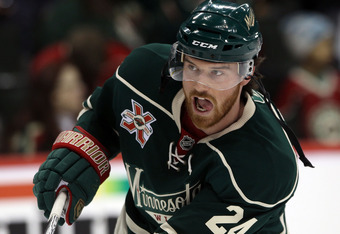 Bruce Bennett/Getty Images
This is the second time in two years when the Sharks have completely reworked their top six forwards. They have Joe Thornton, Patrick Marleau, Ryan Clowe, Joe Pavelski and Logan Couture returning. Martin Havlat is coming in to replace the missing Dany Heatley and Devin Setoguchi. This San Jose offense cannot be as good as it was last season when they were sixth in team scoring with 248 goals.
Is the defense of Dan Boyle, Britt Burns, Marc-Eduoard Vlasic, Douglas Murray and Jason Demers better than last year's defense? They have past-it veteran Jim Vandermeer, sophomore Justin Braun, and physical AHL defenseman Mike Moore under contract to try to fill out their depth chart. The Sharks probably will need to sign one more veteran defenseman so the space could come in handy.
This trade of Dany Heatley is the third in his career and each time he has garnered less in return. The reasons for his trades seem more and more nebulous as time goes on.
He had a disappointing playoff run this year for San Jose with nine points and only three goals in 18 games. That is not a lot for a man who is theoretically an elite NHL sniper playing with a man who is allegedly one of the best passers in the game. The previous year he had a more impressive 13 points in 14 playoff games for San Jose, though again he only managed to score two goals.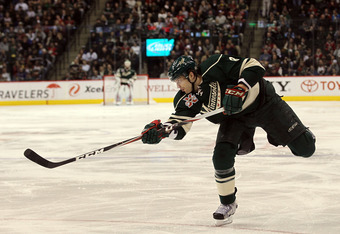 Bruce Bennett/Getty Images
Minnesota seems to win this trade hands down. They have plenty of cap room with which to accommodate Heatley. They have needed a first line scorer since they lost Marion Gaborik to free agency and Martin Havlat has not been an adequate replacement. Heatley is almost sure to stay healthy while Havlat's health is always more of a crap shoot.
The two worries that Minnesota must have about Heatley are: 1) He just isn't a 40- or 50-goal scorer any more and 2) Why is San Jose so apparently eager to part with him? Is it just the money or is it more? Whatever the case, Dany Heatley playing with Mikko Koivu will score more than the 22 goals Havlat managed last year.
Martin Havlat comes with a different set of baggage. An explosive player, he averaged 20 goals and 58 points and 75 games played in two years in Minnesota. Even when healthy now he is apparently no longer a threat to be a point a game player. Will his numbers improve playing with Thornton or will they pair him with the swift skating Marleau?

San Jose is hoping that Havlat gives them more with movement, especially in the playoffs, then they were getting from set pieces with Thornton and Heatley. If he is within five or 10 points of Heatley next year then it is probably worth it to have the $2.5 million to spend elsewhere.
Just from the numbers though the Minnesota Wild have added a much better player than San Jose has.