The 50 Greatest UFC Fights Since Dana White Became UFC President
Originally founded in 1993, the UFC started a cultural phenomenon.
Under the guidance of Dana White, the UFC has grown to become wildly successful—but White did not get involved until 2001.
Before then, the company was fledgling.
It was because White saw limitless potential in the sport that he was able to work with long time friends, the Ferttita brothers, in purchasing the organization and its valuable brand.
White became an especially "hands on" president and is the man often credited as being most responsible for bringing the sport to where it is today.
These are the top 50 greatest UFC fights since Dana White became president.
Begin Slideshow

»
Despite being bloodied by Kenny Florian's famous elbows, Sean Sherk finally reached the top of his illustrious career by claiming the UFC lightweight championship.
Florian showed off his competitive caliber, but remained short of championship glory.
Two welterweight contenders constantly flirting with glory battled it out in the main event of this free card.
It was a grueling and torrid three round fight where Sanchez was left bloodied and battered but walked away with the controversial decision.
The fight was so great it overshadowed the controversy.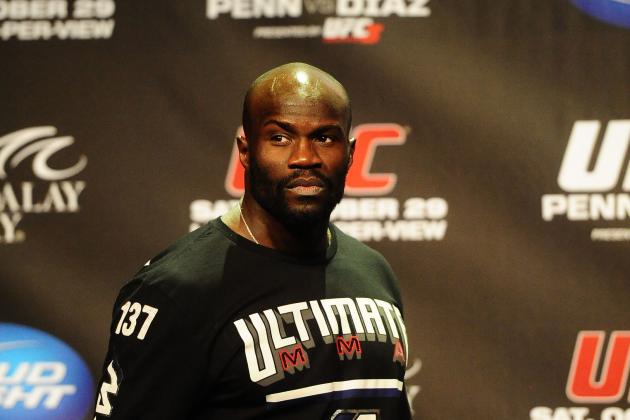 Mark J. Rebilas-US PRESSWIRE

With both original headliners being scrapped from the card, heavyweight kickboxers Cheick Kongo and Pat Barry were promoted to the main event.
They did not disappoint, as Kongo rallied from the brink of consciousness to knock Pat Barry out in spectacular fashion.
Defending champion Randy Couture was an underdog to the bigger, younger and seemingly more dynamic Gabriel Gonzaga.
Couture's grit and experience shone through as he wore Gonzaga down and TKO'd him in the third round for yet another inspiring fight.
The legendary Dan Henderson knocked out upcoming British fighter Michael Bisping at the landmark UFC 100 event.
Henderson was considered the "hero" to Bisping's "villain" in the storyline, and he recorded what is considered one of the best knockouts in history.
It was the first event under the watch of Dana White, and we saw a classic between two burgeoning heavyweight stars.
Rizzo knocked Barnett out in the second round, handing him the first defeat of his career.
Two Brazilian legends and the two most dangerous strikers in the division battled it out for the middleweight championship.
A spectacular knockout was expected and indeed delivered when Anderson Silva landed an unusual and remarkable front kick straight to Belfort's jaw.
Penn had smashed Uno in their first meeting, but when they met a second time, it was for the vacant lightweight championship.
The fight was a dynamic display of MMA that left no clear winner, and the championship remained vacant with the resulting "draw".
Matt Hughes slammed his way out of a triangle-choke, knocking Carlos Newton out and thus claiming the welterweight championship.
Although the finish was controversial, as Hughes was seemingly rendered senseless as well, the bout officially marked the beginning of the Matt Hughes era.
Caol Uno was already a grizzled veteran in the sport, but BJ Penn knocked him out cold in just 11 seconds.
It was a spectacular showing for the rising Penn in just his third professional bout.
Randy Couture ended the reign of Tito Ortiz as the light heavyweight champion after moving down from heavyweight.
Couture used his superior wrestling pedigree to stay one step ahead of Ortiz and capped off the performance with a memorable spanking of "The Huntington Beach Bad Boy."
After smashing three straight opponents, Andrei Arlovski was given a shot against Tim Sylvia for the UFC Interim Heavyweight championship.
Arlovski made the most of the opportunity by knocking Sylvia down and finishing him with an achilles lock in just 47 seconds.
In a total contrast of styles, two of the sport's greatest heavyweight champions met at UFC 81 for the UFC interim championship.
Tim Sylvia blasted Nogueira several times in the first two rounds but succumbed to a tight guillotine choke in the third.
As Nogueira said, "I played his game for 11 minutes, and I'm still here. He played my game for 11 seconds."
In a rematch from their WEC featherweight championship bout four years earlier, Dominick Cruz avenged the only loss of his career in the first ever UFC bantamweight championship fight.
The two fighters fought back in forth in an exciting five rounder, leaving the door open for a rubber match down the road.
Before this fight, some critics began to speculate that Anderson Silva had used up all of the magic that made him a superstar.
Anderson shut them up with one of the most jaw-droppingly brilliant one round performances in the history of combat sports.
A classic stylistic matchup of Muay Thai vs Karate.
Champion Lyoto Machida and challenger Mauricio Rua engaged in an exciting mostly stand-up battle for five full rounds.
Machida walked away with a controversial decision and Rua was given an immediate rematch.
Rua got his revenge in the rematch by brutally knocking out the previously undefeated Machida in the first round.
Rua was crowned the new light heavyweight champion as he lived up to his long-standing potential.
Two of the lightweight division's greatest champions fought to establish legacy as much as dominance over the division.
After nearly three rounds of boxing, Penn brought an end to the bout with a dramatic flying knee and flurry of punches against the cage.
UFC champion Quinton Jackson edged Pride champion Dan Henderson in a title unification bout between two hard hitting wrestlers and legends of the sport.
Forrest Griffin showed champion Quinton Jackson that sometimes it takes more than just being a legend to defend a championship belt.
It takes lots and lots of hard work.
Jose Aldo defeated Mark Hominick in a five round fight for the featherweight championship in the first ever sub-155lb UFC championship.
Fighting in the biggest UFC event ever, and in front of his fellow Canadians, Hominick fought valiantly and came on strong in the fifth round, but it was not enough.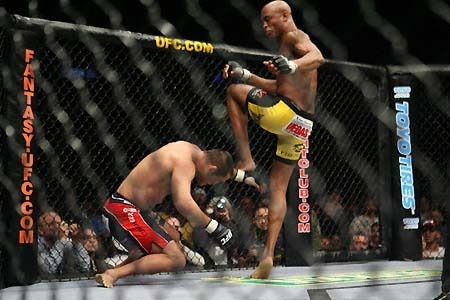 In another attempt to unify titles, Pride champion Dan Henderson took on middleweight champion Anderson Silva.
Henderson would find some success stifling Silva in the first round, but Silva would turn up the heat and finish the legend with a rear-naked choke in the second.
Stevenson had a lot of momentum and showed up with plenty of heart, but it would not be enough to stop BJ Penn from fulfilling his destiny and claiming the lightweight championship.
Penn battered Stevenson and controlled him on the ground en route to a second round rear-naked choke.
Frank Mir fought Tim Sylvia for the heavyweight championship and famously broke Sylvia's arm with an armbar to claim victory.
After this fight, Mir suffered a life threatening motorcycle accident that nearly ended his career.
One of the best knockouts of all time and one of the biggest upsets of all time.
Gabriel Gonzaga claimed No.1 contendership to the heavyweight title with his head kick KO over Mirko Filipovic in one of the biggest twists of irony of all time.
Champion Rashad Evans thought he could counter-strike with the Karate master, and it turned out to be a terrible mistake.
Evans did not threaten Machida whatsoever and found himself getting brutally KO'd in the second round.
After a win over Wanderlei Silva, Chuck Liddell was on the comeback road to the UFC championship.
Rising star Rashad Evans shocked the world by KO'ing the KO king with one of the most brutal one-punch knockouts in UFC history.
Mauricio Rua had no answers for the surging Jon Jones.
Jones dominated the champion en route to a third round TKO and thus became the youngest champion in UFC history.
Lightweight champion BJ Penn moved up in weight to rematch Georges St. Pierre, but this time with the welterweight championship on the line in a five round affair.
St. Pierre reasserted his dominance by dictating the entire fight.
At the end of the fourth round, Penn's corner was forced to throw in the towel to put an end to the punishment.
Brock Lesnar was looking to defend his heavyweight title for the third straight time, and undefeated Cain Velasquez was looking to fulfill his destiny and become champion.
Velasquez matched Lesnar, and then gave him some more on top of that, forcing the stoppage towards the end of the first round.
A milestone in the legacy of Georges St. Pierre.
St. Pierre defended his title for the very first time and thoroughly beat down, in every aspect, the man who would establish himself as the second best welterweight in the era of GSP
Lightweight champion Frankie Edgar battled back from one of the worst first round beatings in history to salvage a draw against the nemesis of his career thus far—Gray Maynard.
One of the best examples of championship heart and fortitude ever displayed.
Rizzo and Couture fought in a grueling war for the heavyweight championship in a class battle between Couture's wrestling and Rizzo's muay thai.
Couture won the decision, but Rizzo earned an immediate rematch for his efforts.
Lesnar had yet to defend his title against a fighter of his own size and athleticism.
Contender Carwin put the champion in dire straits in the first round, but Lesnar survived and kept a high pace in the second round to earn an arm-triangle choke against his depleted adversary.
Dominant champion Anderson Silva faced the toughest test of his career when he battled Chael Sonnen.
Even though he was dominated for nearly four and a half rounds, and battling through a pre-existing rib injury, Anderson Silva found a way submit Sonnen with a triangle/armbar.
In doing so, and stealing victory from the jaws of defeat, Silva pulled off what is arguably the most miraculous come from behind victory in history.
Former champion Rich Franklin had earned a rematch against the man who took his title.
Anderson Silva has happy to accept the challenge, even in "hostile territory", and proceeded to overwhelm Franklin yet again in an awesome display of all manner of striking technique
Two of the sport's heavyweight legends, and biggest fan favorites, went to battle in a spirited affair.
Although Couture was game, Nogueira kept a definitive edge with his boxing, Brazilian jiu-jitsu and superior size
David Loiseau could not be finished but he was beaten down and mostly out-classed through five rounds against middleweight champion Rich Franklin.
It was Franklin's second successful title defense in a true battle of attrition.
Matt Hughes was unstoppable as the welterweight champion until BJ Penn moved up in weight to challenge for the title.
Penn shocked the world as he dethroned Hughes in the first round to become the welterweight champion.
Welterweight champion Matt Hughes was unstoppable before BJ Penn moved up in weight to challenge for the title.
Penn shocked the world as he polished off Hughes in the first round to become the new welterweight champion.
This was a fight that fans had been dying to see for years.
Even though the two men were no longer champions, the bout delivered all that was expected.
Chuck Liddell out-pointed Wanderlei Silva in a back and forth striking war for three rounds.
The UFC's original champion, and one of its forefathers was brought back in a superfight against Matt Hughes.
Hughes dominated Royce, illustrating just how far the sport had grown and evolved since it began.
Randy Couture had already announced retirement but came back when heavyweight champion Tim Sylvia had a dearth of challengers.
Despite a huge size disadvantage, Couture dominated all five rounds in the most resonant "David vs Goliath" upset in modern MMA.
The win also signified the start of an entirely new and exciting chapter for Couture's career.
Anticipation was higher than ever as UFC star Chuck Liddell, at the pinnacle of his championship run, fought his rival and former champion Tito Ortiz.
Liddell eventually beat Ortiz down in the third round of a competitive bout.
The event broke PPV records and North American attendance records.
St. Pierre was rightfully boasted as the man to rule over the welterweight division for a long time.
In his first title defense, however, lighting struck as Matt Serra knocked St. Pierre silly in one of the biggest upsets of all-time.
In their first encounter St. Pierre was still a developing fighter not yet ready for someone as experienced as Matt Hughes.
Their next encounter was completely different, as St. Pierre impressed in all areas and TKO'd the legendary champion.
UFC mainstay Chris Leben fancied himself a slugger capable of trading strikes with anyone in the world.
In his UFC debut, Anderson Silva demolished Chris Leben in under minute.
It was a shocking moment that foreshadowed Silva's dominance over the middleweight division.
In the last successful title defense of Tito Ortiz's record-breaking championship run, he grinded out and beatdown fellow legend Ken Shamrock.
The fight was a breakthrough for mainstream attention, serving as a turning point for Dana White and the UFC.
The rubber match in the UFC's biggest and most important trilogy.
Chuck Liddell defended his title once against by knocking Randy Couture out for the second time.
Dana White's personal favorite.
Frank Trigg challenged Matt Hughes yet again and put him in some serious trouble early, only for Hughes to storm back and finish Trigg with a proper rear-naked choke.
The fight that brought MMA to where it is today.
The fight that defined MMA on a large scale.
The fight that turned Dana White's dream into a reality.
There is no way this fight could not be number one.