Dwight Howard to New Jersey Nets: A Really Big Guy in a Really Small Market
July 3, 2011
Kevin C. Cox/Getty Images
When LeBron James shifted the power of the Eastern Conference to the Southeastern Division, what was he thinking about?
The glamour, the body, the closest thing to Hollywood since the erection of the 45-foot tall, 350-foot long sign polarizing an entire region had to be the first thing on his mind. Miami gives off the feel of fake personas and illegitimate fortunes. You cannot walk down the street for longer than 30 seconds without seeing a scantily clothed female or a man exposing way too much chest hair for comfort.
What is not to love?
James saw an out. He could escape the load he carried for seven years, self imposed, to tout the franchise's legacy and win multiple championships.
When Michael Jordan's game had been resurrected, at least in Cleveland's eyes, the result was that we all expected James would bring at least six rings to the "mistake by the lake." They were rising in the ranks, with the sole help of a lane-driving soldier and they invested all they had into the No. 1 draft pick of 2003.
Then, 2010 free agency actually relayed the fact that James had a choice. It was legal for him to up and leave Ohio to go play pick up with his best friend in Miami. Leaving that option on the table may have done more harm than good. As we all have seen in the past few playoff series, James does not play very well with a broken spirit. That spirit technically comes at the end of a great run and at the beginning of the most important one.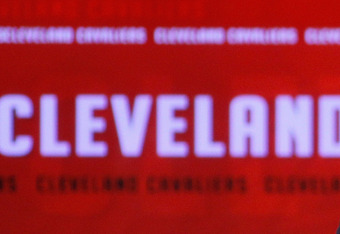 Mike Stobe/Getty Images
What was Cleveland?
A city that barely stayed above 400,000 citizens and steadily declining, with an NBA team owner willing to throw money and respect in your direction as long as you do not disrespect him on live television.
What is Miami?
A city of warm nights, after-hour joints and the largest arena of bandwagon fans any league has ever seen in the history of professional athletics.
You will get the cheers as long as you do what you are supposed to do the night of. Anything after that is totally up in the air. Miami fans challenged Joakim Noah and Charles Barkley during this past postseason, however, died down obscenely in the face of defeat by the name of Dirk Nowitzki.
James chose to walk away for many reasons, but the one standing out is the persona Miami carried just fit his personality much more than Cleveland did. His remarks that everyone who hated him will still have to go back to their pathetic lives embodies the general feeling of Miamians towards the rest of the general population of the United States, with the exception of LA and NY during Fashion Week.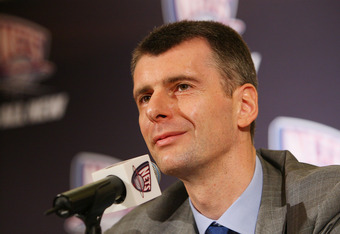 Mike Stobe/Getty Images
Dwight Howard sits on the little brother end of rope of the Southeastern division and must make the decision as to whether or not small market living is up his alley.   
Howard has a great opportunity in New Jersey that Mikhail Prokhorov is supposedly pushing for. The Russian billionaire is reported to be going after the purest center this league has to offer and this decision proves that he does not blow as an owner.
Going after Carmelo Anthony made me question his willingness to look past the stats a player posts and consider what the man would really bring to the organization. As we watched during the playoffs, Anthony's offense may be striking, but his defense is the most non-existent component of his game.
Recruiting the efforts of Howard will have to be put on hold, just like any other basketball-based business decision in the NBA because of the imposed lockout. That will not stop people from talking behind hidden doors. Transactions may not be legally discussed at their usual forums, but there will be conversations made between players surrounding the topic of trades and possible 2011, maybe 2012 destinations.
New Jersey would give Howard the choice of letting the pace of the game fall on another man's shoulders. Deron Williams may not be the most solid scorer in the league, but he is one of the top-five point guards and can create shots for himself or his teammates. Williams cannot carry the team, but similar to Bosh's case in Miami, he can lend the helping hand whenever necessary and that is something that Howard is not used to having.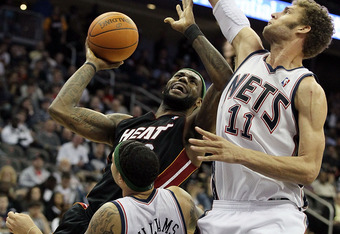 Jim McIsaac/Getty Images
Rarely were there times where I thought taking Howard out of the game would do more good than harm. For goodness sake, he scored over 40 points in a game and the Orlando Magic still lost. How much of a sign does he need that this is just not the place to be?
The Nets can offer the efforts of either of the remaining players after Howard's arrival, whether that is Williams, Robin Lopez, recently acquired Marshon Brooks or Kris Humphries.
What else would Williams establish with Howard? A far better guard-center combination than he has with Jameer Nelson.
Not disrespecting Nelson's past as the ying to Howard's yang. The two have been operating beside each other for a while now. Sort of how Mo Williams and LeBron James were before James gassed up his private jet. The chemistry between each set of players is undeniable, both on the court and on the bench.
When it comes to sharing laughs about JJ Redick's broken ankles due to Atlanta's Kirk Hinrich, the two are inseparable. However, their mentalities are beginning to shift in two different directions. Howard is looking for players who are dedicated to winning at the highest level and Nelson seems far too content with the men in place.
So, what if Howard did take the leap of faith in favor of Prokhorov and every other Nets fan, Nets players included? What would happen to his brand? Would we throw stones his way because he could not make it happen on his own?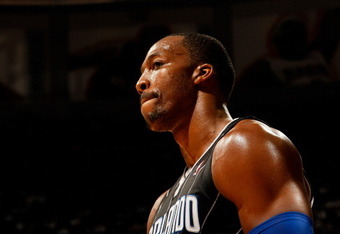 Kevin C. Cox/Getty Images
Of course not.
Not just because he is Dwight Howard either. That wide smile and Lady Liberty stature is not so impressive that fans would put away their rotten tomatoes and large eggs. Howard would not be bashed in the media because it would be New Jersey he was venturing off to. It is New Jersey.
Once again, it is New Jersey.
What kind of powerhouse have they already formed in the franchise? What piece of that organization makes you think to yourself, "This team really has something going here?"
His arrival is supposedly the only thing that would keep Williams aboard, so apparently the drones they call fans are only operating on faith. Not the fact that they believe their team has a chance because they are so loaded with talent. There is no Batman. Williams is a high-caliber Robin, so adding Howard as the franchise's Batman would only add to the dynamic, not build upon greatness.
Howard would remain a superstar in everyone's eyes. No one is blaming him for leaving and no one would blame him for landing on an organization that clearly needs his help.
All of these replenishing facts about how helpful Howard would be with New Jersey may not be good enough. The Nets are still considered a small market team and even though the move to Brooklyn will bring some much needed support, it may not clear Howard for the star power he is starving for. The move to the LA Lakers, which will never happen, only seems so ideal because of the exposure it would provide.
Howard seems like a simple man. Sometimes a bit flashy, but who isn't? Maybe he will stay with a smaller market franchise and build up.
Didn't we say the same thing about LeBron?