NFL: The 11 Worst Playoff Blowouts in the Super Bowl Era
Rick Stewart/Getty Images
When it's playoff time in the NFL, you assume that every single game is going to be a tough, physical battle of two of the league's elite teams—however, that's not always the case.
Over the illustrious history of the NFL, there has been quite the hand-full of lopsided playoff games.
Some of these games, the losing team simply was not ready to play, or even perhaps they were just so over-matched that it was overwhelming.
Here are the 11 worst playoff blowouts in the Super Bowl era.
I hope you all enjoy—be sure to leave some feedback; I'd love to hear it!
This article was first seen at PatriotsPlus.net. Be sure to follow Tony Santorsa on Twitter @ TonySantorsa.
11. 1/14/2001: NFC Championship: New York Giants vs. Minnesota Vikings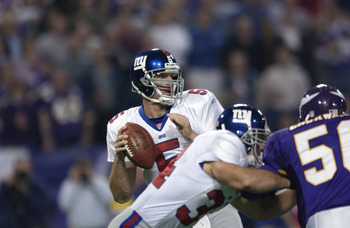 Elsa/Getty Images
The Minnesota Vikings had so much promising going into their NFC Championship battle against the New York Giants; however, they were just outmatched as the Giants won 41-0.
As the Vikings were unable to score any points at all, Kerry Collins and the Giants accumulated 518 total yards and forced five turnovers on their way to a Super Bowl berth.
10. 1/1/1984: NFC Divisional: Washington Redskins vs. Los Angeles Rams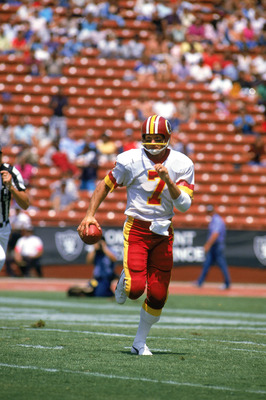 Tony Duffy/Getty Images
Joe Theismann and John Riggins led the way as the Washington Redskins blew out the Los Angeles Rams 51-7.
Theismann, who is one of the best big-game performers, tossed an incredible 302 yards, while Riggins ran for 119 yards and three touchdowns in the team's domination over the Rams.
9. Super Bowl XVIII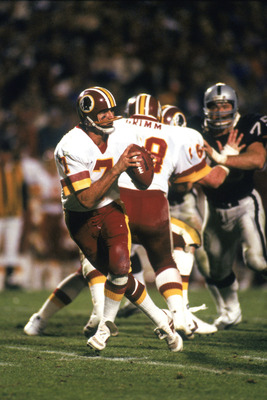 Getty Images/Getty Images
In a game when Joe Theismann performed a rare big-game choke, Los Angeles Raiders running back Marcus Allen led the way as his Raiders took out the Washington Redskins 38-9.
As Allen received the Most Valuable Player honors, he tallied up 191 rushing yards as he scored twice.
Theismann, who's considered to be a big-game quarterback, was intercepted twice as the Raiders held Washington to just one touchdown scored.
8. 1/4/2003: AFC Wild Card: New York Jets vs. Indianapolis Colts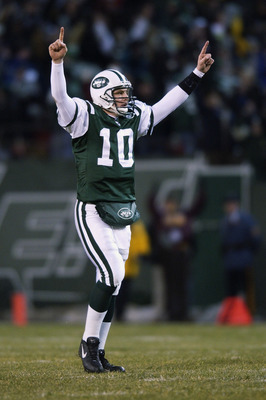 Ezra Shaw/Getty Images
This may be the only game ever that Chad Pennington outplayed a quarterback as good as Peyton Manning.
Pennington tossed three touchdowns and accumulated 222 yards as his New York Jets destroyed the Indianapolis Colts 41-0.
Manning simply was not himself, as he only threw for 137 yards while being picked off twice.
7. 1/4/1987: NFC Divisional Playoff: New York Giants vs. San Francisco 49ers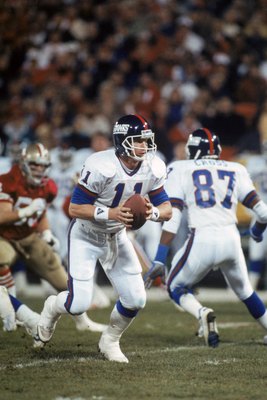 George Rose/Getty Images
In a game when Phil Simms outplayed Joe Montana, the New York Giants blew out the San Francisco 49ers 49-3.
Simms managed to only completed less than 50 percent of his passes while throwing an incredible four touchdowns. Montana, on the other hand, wasn't himself, as he was intercepted twice before leaving the game with a concussion.
6. Super Bowl XXII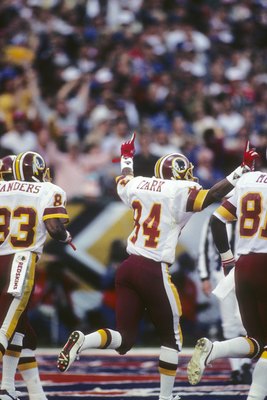 George Rose/Getty Images
The Washington Redskins took care of business in Super Bowl XXII, as they destroyed John Elway and the Denver Broncos, 42-10.
Running back Timmie Smith ran for an unbelievable 204 yards as he scored twice while averaging an unstoppable 9.3 yards per-carry.
Elway, on the other hand, was pretty awful, as he was picked off three times.
5. Super Bowl XXVII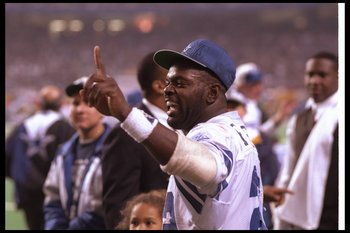 Jonathan Daniel/Getty Images
In the Buffalo Bills' third consective trip the Super Bowl, they were flat-out embarassed by the Dallas Cowboys with a score of 52-17.
The Cowboys intercepted the Bills four times while quarterback Troy Aikman recorded a near perfect passer rating of 140.7, as he tossed four touchdown passes while only missing eight of his passes.
4. 1991: AFC Championship: Buffalo Bills vs. the Los Angeles Raiders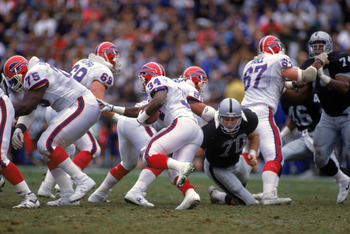 George Rose/Getty Images
Despite the Buffalo Bills never winning a Super Bowl in the early 1990s, they were still one dominant football team—and it showed in the 1991 AFC Championship, as they knocked out the Los Angeles Raiders with a score of 51-3.
This blowout is certainly one for the ages, as the Raiders were picked off six times, while Bills' stud running back Thurman Thomas ran for a stellar 138 yards.
3. 1/15/2000 AFC Divisional Playoff: Jacksonville Jaguars vs. the Miami Dolphins
Eliot J. Schechter/Getty Images
62-7; that's all you have to know. The Miami Dolphins were a non-factor in the Jacksonville Jaguars incredible performance in the divisonal round of the playoffs of the 1999 season.
Running back Fred Taylor definitely carried the load as he racked up 135 yards, while the Jags' defense recorded an amazing seven turnovers—the all-time great Dan Marino was purely awful this game.
2. Super Bowl XX
Mike Powell/Getty Images
The New England Patriots ran into a wall known as the Chicago Bears in Super Bowl XX.
The Bears did nothing but dominate the AFC champion Patriots by a score of 46-10.
Many will believe that the 1985 Bears are the greatest team to ever play the sport, and many believe that their defense was the best of all-time—and it showed against New England, as they held the Patriots to a mere 177 total passing yards and a minuscule seven rushing yards.
New England was just over-matched, and it showed in the box score.
1. Super Bowl XXIV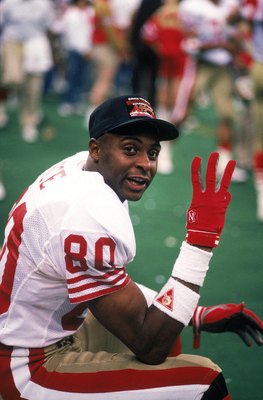 George Rose/Getty Images
The combination of Joe Montana and Jerry Rice was simply just too much for the Denver Broncos to handle in Super Bowl XXIV, as the San Francisco 49ers destroyed the Broncos, 55-10.
Super Bowl XXIV is currently the biggest margain in Super Bowl history, as the 49ers racked up 45 more points than John Elway and his Broncos.
Montana found Rice an incredible three times for a touchdown, as Montana set the Super Bowl record for touchdown passes thrown in a game with five total.
Super Bowl XXIV is the worst playoff blowout in the Super Bowl era.
Keep Reading