Michigan State Football 2011: Better Pack a Lunch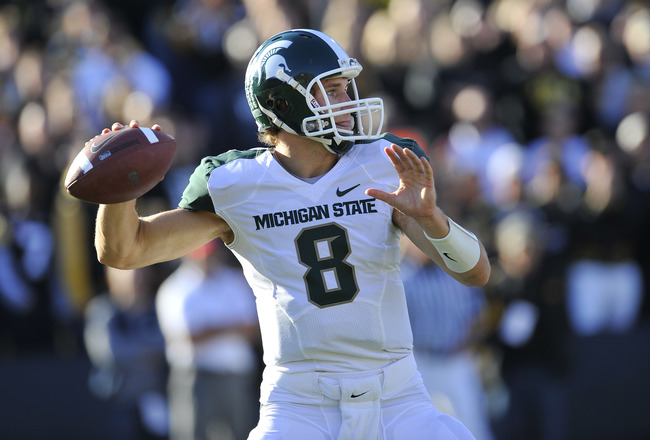 David Purdy/Getty Images
"Better pack a lunch."
That's what George Perles said when anyone played those tough defenses he put together.
This time the defense will be fine, but the offense is led by Kirk Cousins, great running backs and fantastic depth at the receiver position, including tight ends. Special teams look good; it will all come down to the O-line and a tough schedule.
Here's how it will play out.
Sept. 2, Youngstown State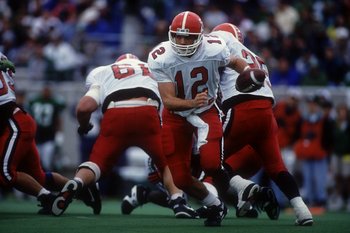 Doug Pensinger/Getty Images
Mark Dantonio coached at Youngstown State for five years under Jim Tressel. He returns the favor by hosting them at Spartan Stadium. They of course have no chance, but all the best to them. 41-10.
Sept. 10, Florida Atlantic
Eliot J. Schechter/Getty Images
I have no idea what this photo is all about, but that's all that's available on Getty Images. Geez, being a Detroiter, I love hockey, but c'mon. Here's Florida Atlantic's first three games this year, and this is disgraceful: At Florida, at Michigan State, at Auburn.
I absolutely refuse to pick a score here. Obviously an MSU win.
Sept. 17, Notre Dame
Jonathan Daniel/Getty Images
OK, now we're talkin'. Notre Dame will win its share of these games in coming years. Brian Kelly will be excellent. All the respect in the world. But Michigan State is the better team this year, even on the road. Kirk Cousins is the difference here; ND can't match him. 31-21, State.
Sept. 24, Central Michigan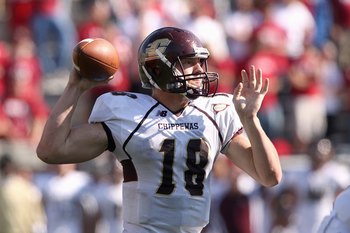 Andy Lyons/Getty Images
Any MSU fan who doesn't take CMU seriously is a fool. I'm still feeling the vapors from back to back losses to CMU in the early '90s. Coach D will actually play AT CMU in coming years. He is truly a class act for doing that, and so is the AD. But this year, we beat them by 30.
Oct. 1, at Ohio State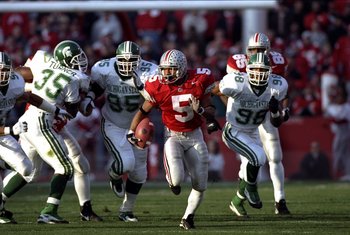 Rick Stewart/Getty Images
Been a while since we have played Ohio State. They are a program in turmoil, yet their talent is still the best in the Big Ten. That 1998 team was as good a college team as I have ever seen, yet a mediocre Spartan team went down there and handed them their only loss of the year. It was 28-24 then. Sounds about right to me. State wins. Michigan State, that is.
Oct. 15, Michigan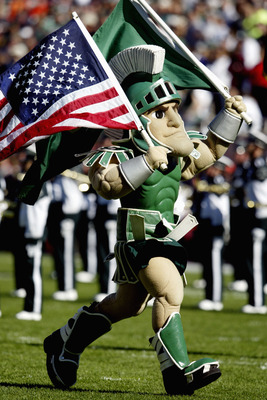 Tom Pidgeon/Getty Images
At home. Four straight. It won't last forever, but Cousins isn't going to lose this one at home. A beatdown, 38-16.
Oct. 22, Wisconsin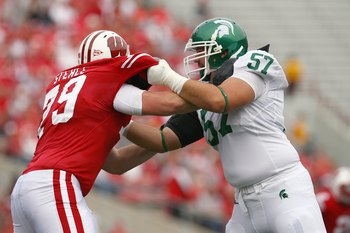 Jonathan Daniel/Getty Images
Wisconsin wants revenge. Unfortunately, they get us at home. On homecoming. At 8 p.m. They're tough, but Worthy backs up his comments. Kirk Cousins starts to be in the Heisman conversation. We win, 28-17.
Oct. 29, at Nebraska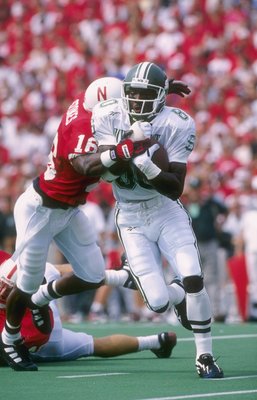 Stephen Dunn/Getty Images
OK, we drop one here. Maybe. It depends on the O-line and whether Kirk Cousins stays healthy. But home field has its advantages: Nebraska 24-18.
Nov. 5, Home Against Minnesota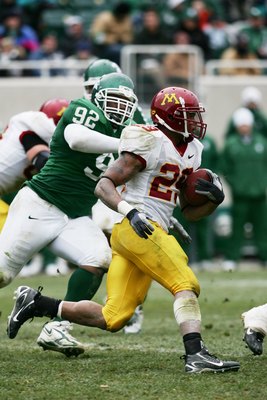 Harry How/Getty Images
I think Minnesota will be much better than most folks believe. But not good enough to be competitive in Spartan Stadium. 41-13.
Nov. 12, at Iowa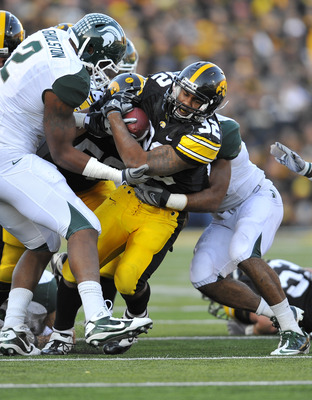 David Purdy/Getty Images
This may be the toughest game to call. If Kirk Cousins and the receivers have the kind of game they are capable of having, State could win. But given last year's beatdown, I go with Iowa, 21-17. Damn.
Nov. 19, Indiana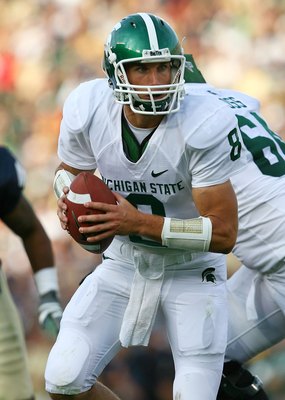 Jonathan Daniel/Getty Images
It's pretty sad when you search Getty Images for Indiana football and not a single pic shows up. So here's Kirk Cousins. I'm old enough to remember when Indiana won the Big Ten in 1967. I liked the Beatles, too, but they're both history. No score prediction on this one.
At Northwestern, Nov. 26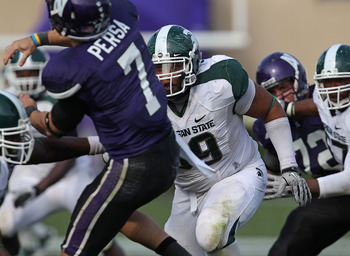 Jonathan Daniel/Getty Images
This will be special. These two teams have played unbelievable games through the years, heartbreakers for both sides. Persa and Cousins will be great, and I only hope that they stay healthy and are drafted high. Both of these teams are headed for a big bowl. I think Edwin Baker is the difference in this one. Northwestern can't stop him, especially with an O-line that now has experience. Baker rushes for 180, and State wins, 32-21.
Prediction: Roses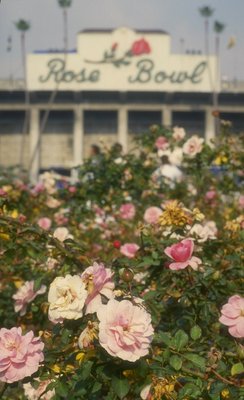 Mike Powell/Getty Images
MSU will win its division. After that, we will see. I'm pretty disgusted to go to Getty Images and search "Rose Bowl" and not find anything but soccer. Yuck. I can't wait for the college football season to start. Win or lose, I will always Bleed Green.
Pack that lunch, my friends.
Keep Reading

Michigan State Football: Like this team?