Al Costello: The Greatest Australian Wrestler in History
July 6, 2011
Red Division
Kevin Stonebarger vs RiZE
Best Australian Wrestler in History
Australia. It's a not place you hear very much in the world of professional wrestling and sports entertainment.
When you think about, almost no famous wrestler in the world today whether from WWE, TNA, ROH, or the indies, is from the great Outback. In fact, the last time a wrestler from any of these promotions was from Australia was Nathan Jones.
Yeah, you can see why Australians don't have much success as worldwide wrestlers.
If you're from Australia and aspire to be a great wrestler like those from WWE, you have a very big mountain to climb. Almost no Australian has made an impact in the world of wrestling outside of their own country.
Even people from Europe and Canada achieve more success, and that is saying something, as they fall to the wayside compared to those from America.
But there has been one Australian who rose past all these obstacles and made his own indelible mark in professional wrestling.
And that is "The Man of a Thousand Holds" Al Costello.
Wait a minute. Wasn't Dean Malenko the Man of a 1,000 Holds?
Well before Malenko earned that title, Costello was the original "Man of a Thousand Holds." He was given this name for his innovative and technical wrestling style that was considered one of the best of his time.
He helped pave the way for men such as Malenko. And when you are known by that title, you know you are one of the best.
And that is only the beginning of the wrestling legend known as Al Costello.
Beginning his wrestling career in 1938 as a singles competitor, it was until 1957 that he began to make his mark in wrestling history.
In that year, he created the tag team The Fabulous Kangaroos and began teaming up with fellow Australian wrestler, Roy Heffernan.
Managed by retired former World Light Heavyweight Champion "Wild" Red Berry, the Fabulous Kangaroos became one of the greatest tag teams that ever competed in professional wrestling.
The team helped popularize tag team wrestling during the late 50s and throughout the 60s. They competed all throughout the United States and the world, even competing in the famous arena Madison Square Garden, headlining events wherever they went.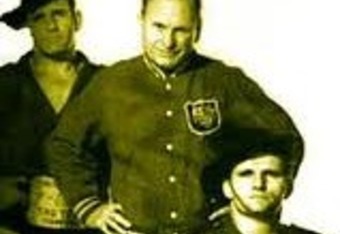 The Fabulous Kangaroos competed all over the Indies, in Japan and in several NWA promotions, such as NWA Mid-America.
At one point they even managed to compete in the WWE, then known as Capitol Wrestling, winning the NWA United States Tag Team Championship. The Kangaroos won tag titles no matter where they went,
The team were also known as being "champions on arrival," for when they arrived at a promotion that did not have tag titles and needed, the Kangaroos themselves were named  the tag team champions of that promotion when they entered it. It became a tactic used by various promotions in the future.
But not only were they a successful tag team and talented wrestlers, but they played up their Australian characters to perfection, especially Costello.
The team was the among the first to bring in sports entertainment elements into professional wrestling, with Castello's amazing ability to rile up crowds with great heel tactics, along with Heffernan. 
The ultra-Australian gimmick they used for these tactics was created by Costello himself, who used the personification of Australia—boomerangs and bush hats—to heat up crowds within seconds. The gimmick was one of the best and most hated of its time.
In fact, in August 1958 in Madison Square Garden, the crowd nearly rioted against the Kangaroos, who were saved by the playing of the national anthem.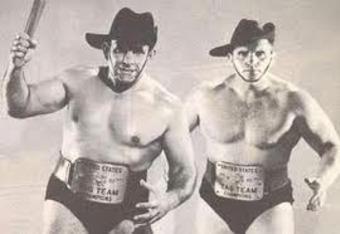 Only Costello and the Kangaroos could pull such a feat off.
After nearly 10 years as a team, the Fabulous Kangaroos broke up. While Heffernan went back to Australia as a singles competitor, Costello stayed in the U.S. and continued his tag team career, helping to pave the way for future tag teams.
After a winning a few more tag team titles with several partners, Costello eventually recreated the Fabulous Kangaroos at first with Ray St. Clair and then with Don Kent.
The version with Kent, however, was the more successful. The team won various tag titles all across various federations and the globe, even being the first tag champions of several promotions. The team even managed to put on a 45-minute classic with Terry and Dory Funk, which ended in a draw.
Costello eventually was forced to retire due to a hip injury caused by a fire extinguisher thrown at him after a match by an angry fan. Yeah, Costello could piss people off so much they unintentionally injured him. He was that good as a heel.
But even though he couldn't compete, Costello returned to wrestling as a manager, managing several tag teams such as the Love Birds and even future versions of the Fabulous Kangaroos, leading them to several tag team titles before retiring in 1983.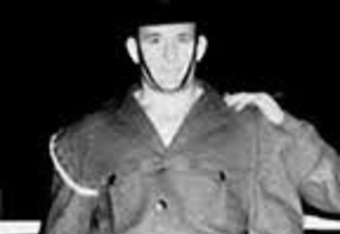 But he came back to the business for one more run as a manager and a teacher of wrestling, managing Mickey Doyle and Kenny Dass as The New Fabulous Kangaroos. Not long after that, Al Snow himself replaced Kenny and joined the team, winning several tag titles and even unifying a few, allowing Snow to launch himself into the next level of wrestling.
After the end of The New Fabulous Kangaroos, Costello retired from the business, and never made another wrestling-related appearance up until his death on January 22, 2000.
After seeing the career Costello had, how could you not say he was the greatest Australian wrestler who ever lived?
The Man of a Thousand Holds did everything there was to do in the business, outside of a successful singles career.
He competed all across the globe in famous arenas, headlined events, formed one of the greatest tag teams of all time in the Fabulous Kangaroos, helped popularize the concept of tag team wrestling, won many tag team titles throughout various promotions, was perhaps one of the greatest heels of all time and managed several tag teams to their own success.
And, his wrestling skills were so great he earned a prestigious nickname.
Very few wrestlers in history manage to create that amount of success.
Costello rose past the obstacles in front of an Australian wrestler, managing to change the business of wrestling forever and leave his own mark on it.
Without Costello and the Fabulous Kangaroos, we may not have had the New Age Outlaws, the Hardys, Edge and Christian, the Hart Foundation or other great and legendary tag teams.
Both Kangaroos, Costello and Hefferan, are legends in the business of wrestling. But in my mind, Costello had the more successful career than his original partner.
When Australians want to become as great as the likes of the legends of WWE, they need only to remember Costello, and know if they try hard enough, then maybe an Australian can one day become a world champion.
Costello, without a doubt, is the greatest Australian wrestler of all time.