Albert Pujols: How Will the Division Change If He Ends Up With the Cubs
July 3, 2011
Dilip Vishwanat/Getty Images
Trade rumors have been swirling about Albert Pujols all year. From the onset, one of the most persistent has Albert going to the Chicago Cubs.
The Cubs, on the other-hand, have been seeking to unload Carlos Zambrano, despite the fact that he's got some great career numbers: 122 wins, 78 losses, and a 3.55 earned run average. Zambrano has also been a consistent caustic clubhouse persona.
It's no secret that they've been disappointed with the overall offensive showing of Carlos Pena, especially after giving the veteran first-baseman a wheelbarrow full of money this past off season.
Pena owns 17 homers, 44 RBI and an OPS of .800 so far, but he also has put up an embarrassing .219 batting average and has fanned 79 times in 79 games.
Although the Cubs are 39-50 as of this writing,11 games off the pace and looking as if there'll be an impending fire-sale any moment, let's ponder for a moment, a swap between the Cardinals and Cubs.......say Zambrano and Pena for Pujols (with the obligatory ancillary throw-ins).
Here's what such a deal does for both sides. Albert, before breaking his wrist, was hitting .279 with 17 home runs, 52 runs scored and 45 RBI in 73 games.
You can almost hear Cubs fans salivating at having Pujols nestled in the middle of a batting order, surrounded by Aramis Ramirez, Reed Johnson, Marlon Byrd, Jeff Baker, Starlin Castro, and Alfonso Soriano.
All but Ramirez and Soriano are above .300. Ramirez is closing in at .292 for the moment.
It would give the Cardinals another powerful (albeit streaky) left-handed bat to go with Jon Jay, Colby Rasmus, and the switch-hitting Lance Berkman.
It would also allow the Cards to move the versatile Berkman back to the outfield to replace the injured Allen Craig.
Zambrano's current record is 6-4 to go with a slightly elevated ERA of 4.34, 75 strikeouts and a WHIP (walks and hits divided by innings pitched) of 1.37 in 112 innings of work covering 18 starts.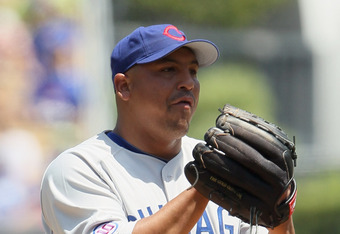 Jeff Gross/Getty Images
He's averaging a little over 6.2 innings per start. He's also outhitting Pena by far, sporting a .313 average. The pitching-starved Cubs could ill afford to lose Zambrano's arm without a hot pitching prospect being part of the deal.
However, Zambrano's past tantrums haven't played well in the media nor endeared him to his teammates.
The lure of Pujols is strong and the Cubs would have a mighty formidable lineup with his presence. The Bruins would lose nothing defensively. Pujols is a Gold Glover at first (he's made three errors in seven contests at third). The Cubs would certainly begin to resemble the 1961 NL Champion Cincinnati Reds.
That team could score runs in double digits each game, but their pitching staff would give up runs in double digits, too. Frank Robinson once remarked that he and his teammates had to outslug the opposition to win.
The pitching-rich Cardinals would gain a solid, dependable arm in Zambrano and maybe, just maybe, manager Tony La Russa's no-nonsense handing of his players would keep Zambrano staid.
Going to a contending team would have a soothing effect on Carlos' fragile nerves as well. Albert had been allegedly holding discussions with Cubs' GM Jim Hendry earlier this season. There is much to like in such a move.
But, the keys to this deal hinge on locking Albert up with a long-term deal and also getting some young phenom arms as part of the trade. Overall, it might give the NL Central a little better balance.