UFC 132 Results: The Real Winners and Losers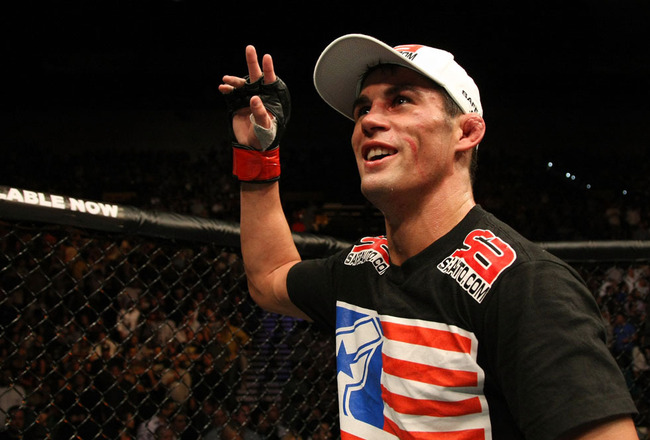 All photos are credited to UFC.com

The UFC 132 results are in and the winners and losers are celebrating or recuperating after the big event. We had some awesome and shocking results on the card featuring the entertaining bantamweight title bout between Dominick Cruz and Urijah Faber.

In addition to that fight, we also saw one legend come out on top while another was violently knocked out.

We know who the winners and losers are in the official record book, but often, it is not as simple as that. As tonight proved, there are always times when the real winners and losers aren't credited with a "W" or an "L" on their records.

With that said, let's take a look at who were the real winners and losers tonight.
Loser: Takeya Mizugaki / Japanese MMA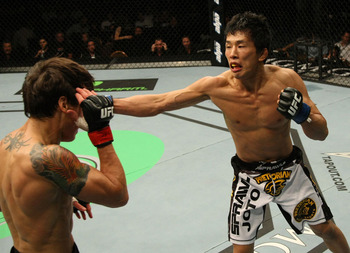 The back-and-forth win-loss-win-loss for Takeya Mizugaki continued tonight as the Japanese fighter dropped his record to 14-6-1 in his career; but only 3-4 in the WEC and UFC.

Mizugaki has done well against some of the fighters perceived to be "gatekeepers," but has not fared as well against the top-level competition, including tonight when he was dominated by Brian Bowles. His other losses have come against Urijah Faber, Scott Jorgensen and Miguel Torres.

Unfortunately, it seems as if the Japanese fighters have struggled mightily, recently, particularly against American wrestlers. Perhaps it has to do with the fact that the majority of them are not keen on cutting weight and thus are generally smaller than their opponents come fight time.
Winner: Brian Bowles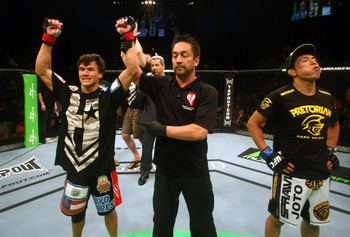 Former WEC bantamweight champion Brian Bowles earned his second win in a row by defeating Takeya Mizugaki tonight.

At one point, Bowles was considered arguably the greatest 135-pound fighter on the planet when he defeated former pound-for-pound great Miguel Torres at WEC 42 to become the bantamweight champion.

The win was somewhat shocking at the time given Torres' long-time dominance over the division, but Bowles has been proving his worth since coming to the UFC with back-to-back wins over Damacio Page and now Mizugaki.

Bowles may be ready to earn his title back.
Loser: George Sotiropoulos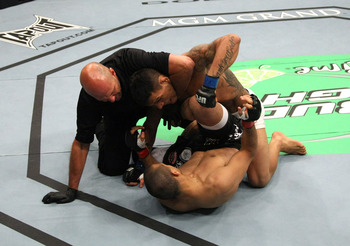 After being considered one of the top contenders for the UFC lightweight championship less than a year ago, George Sotiropoulos is now coming off of back-to-back disappointing losses.

Tonight, he was dropped in a knockout for the first time in his career by Rafael dos Anjos. Known more for his jiu-jitsu than his striking, dos Anjos was able to connect with a big punch on "G-Sot" that knocked him clean out.

Sotiropoulos is not in any danger of being cut yet, but this is a very disappointing loss for a guy who could have been a champion this year.
Winner: Rafael Dos Anjos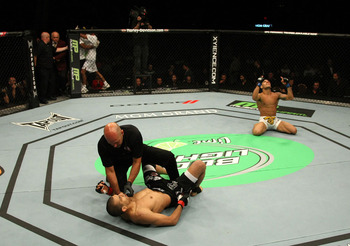 Rafael dos Anjos was on a three-fight UFC win streak prior to his UFC 117 loss to Clay Guida. He took nearly a year off recovering from a jaw injury he sustained in that fight, but returned in triumphant fashion by defeating George Sotiropoulos tonight.

Coming into the night, dos Anjos had only ever won one fight by knockout in 19 professional fights. But he made it two with a huge knockout punch on a former top five 155-pound fighter.
Winner: Melvin Guillard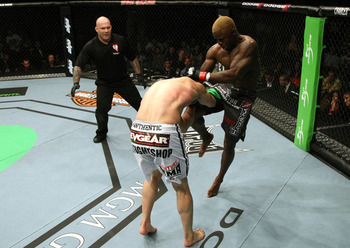 The lightweight division just got very interesting.

After struggling early in his UFC career, the 28-year old Melvin Guillard has now put together a five-fight win streak after an impressive knockout over the heavy-handed Shane Roller tonight at UFC 132.

Roller himself was on a two-fight win streak coming into the night, so the victory was even sweeter for Guillard, who continues to put his name closer to title contention.
Of course, the lightweight division is perhaps the deepest in the UFC, so it could be awhile.

When asked about his position in the division, Guillard responded very simply, "the only number that matters is one, and that's (UFC lightweight champion) Frankie Edgar."
Loser: Dong Hyun Kim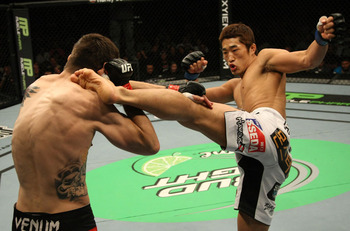 Coming into UFC 132, Dong Hyun Kim had run up an impressive 14-0 record, with a 5-0 record in the UFC. His most recent victory over Nate Diaz put him only a couple fights away from a potential title shot.

But he needed to get by former WEC welterweight champion Carlos Condit tonight.

Kim's grind-it-out style was a stark contrast to that of the "Natural Born Killer," who had finished 25 of the 26 opponents he had defeated coming into UFC 132. But still, Kim was considered the favorite by many fans because they believed he may be able to take Condit down and control him on his way to a decision.

That didn't happen, as Condit smashed him with a flying knee midway through the first round and finished him off with a few punches before the referee got in the way to stop the fight.

Expect Kim to work back to title contention again at some point, but for now, he was one of the bigger losers of the night.
Winner: Carlos Condit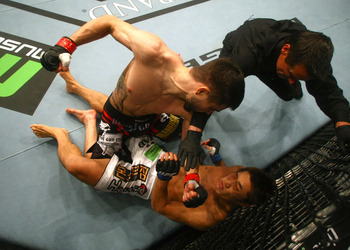 Not only did Carlos Condit put on an unbelievable performance with his fourth straight UFC victory, this time he did it against a previously undefeated [officially] opponent in Dong Hyun Kim.

In addition to this big win, we later found out that he was actually sick in the weeks leading up to the fight and many people were suggesting that he drop out. But being the warrior he is, Condit stayed in the fight and pulled it out in spectacular fashion.

The Natural Born Killer has been incredible since coming to the UFC and is now 27-5 in his MMA career, winning 11 of his past 12. Needless to say, he is very likely a major contender for the UFC welterweight championship after Nick Diaz gets his shot later this year.
Loser: Ryan Bader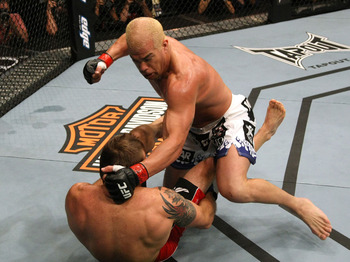 Ryan Bader was on his way to becoming one of the top up-and-comers in the UFC less than a year ago.
His victories over Keith Jardine and Antonio Rogerio Nogueira were impressive enough to catch the UFC matchmaker Joe Silva's eye, who decided that it would be best to put together a fight with Bader against fellow up-and-comer Jon Jones.

We all know how that one turned out.

Bader's confidence had to be shaken after that bout, but after what happened tonight, it may be completely broken.
Bader looked almost outclassed on the feet against a fighter whose standup has been his biggest weakness in recent years, as he essentially got knocked out before being submitted.

It could be back to the drawing board for Bader, who will need a big victory in his next fight.
Loser: Dana White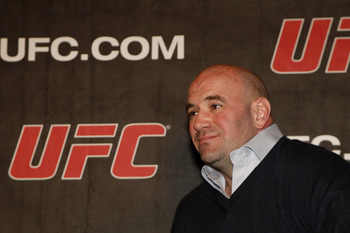 Michael Cohen/Getty Images
Ryan Bader may have actually been the one who lost the fight, but the most unhappy man in the UFC tonight could be the organization's President, Dana White.

White and Ortiz have a long-standing feud that is among the most epic in the history of the sport.
Nothing would please White more than to finally hand Ortiz his permanent walking papers, and he was prepared to do it if the former light heavyweight champion didn't walk away with a victory tonight.

But White and Ortiz will have to co-exist at least for awhile longer, as Ryan Bader ended Ortiz's nearly five-year losing streak.
Winner: Tito Ortiz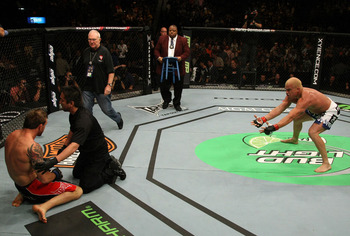 Perhaps the biggest winner of the night was the "Huntington Beach Bad Boy" Tito Ortiz who displayed impressive standup skills against the heavy-handed Ryan Bader.
Ortiz took a big shot from his young opponent, but he was able to get away without taking any major damage, only to come back with a big punch of his own.

From there, it was all Ortiz, who landed a bit of ground-and-pound before applying a guillotine choke to force the submission.

Congratulations, Tito. This night truly belongs to you.
Loser: Dennis Siver / MMA Judges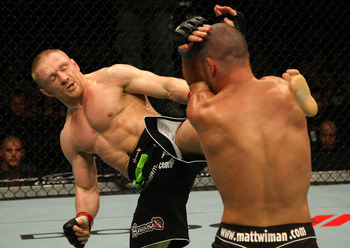 In a fight that looked to be very one-sided for Matt Wiman, Dennis Siver somehow ended up earning a judges' decision.

Throughout much of the fight, Siver was on his back, taking huge punches from Wiman that opened up at least two big cuts on the German's head. Blood poured from Siver's head like a fountain and it looked like he was wearing a Halloween mask at one point.

Fans were baffled when Bruce Buffer announced Siver as the winner of the bout and began booing almost instantaneously. This was just the latest example of what seems to be very obvious judging mistakes in the UFC.

Someone needs to teach these guys how to score fights.
Winner: Chris Leben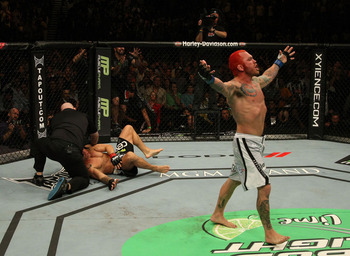 In a bout that was expected to be a standup war, Chris Leben and Wanderlei Silva did not disappoint.

Leben was the underdog in Vegas, but did not perform like one. Though Silva fired in with a flurry of punches early, Leben displayed his always excellent chin and remained composed, catching his veteran opponent with a left hook.
The punch stunned Silva, who teetered back, only to be hit with a series of huge uppercuts that sent him to the canvas where Leben finished the fight with more punches.

A huge night for Leben, as he absolutely destroyed one of his idols.
Loser: Wanderlei Silva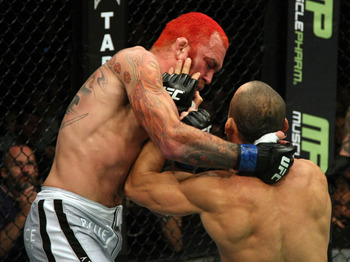 As much as we want to believe that Wanderlei Silva still "has it," it's becoming increasingly harder to believe as he has now dropped six of his past eight fights, dating back to his days in Pride.

Granted, Silva has been fighting only the best that the world has to offer, but his "easiest" opponent in that series of fights might have actually been his UFC 132 opponent, Chris Leben.

It's hard to say exactly why Silva opened up the way he did with his punches tonight. Maybe he thought he hit Leben a lot harder than he really did.
Maybe he thought that constant pressure was the only way he could win the fight. Or maybe he just underestimated his opponent's ability to take punches.

But whatever the reason, Silva was knocked out for the fifth time within that eight-fight streak.

I'm not one to say that "The Axe Murderer" should hang it up, but it may be getting near that time.
Maybe one more fight against Chael Sonnen to end this off-camera feud the two have going would do the trick to get Silva pumped up and ready to fight.
Winner: Dominick Cruz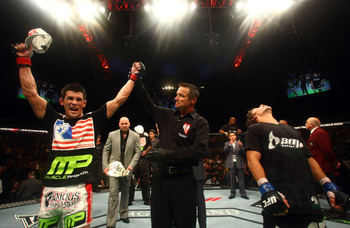 The UFC bantamweight champion retained his title tonight as Dominick Cruz defeated perhaps the most popular fighter in the world under 155 pounds, Urijah Faber, in the first UFC event ever to be headlined by either bantamweights or featherweights.

Cruz still had a lot of fans booing him after the event as Faber remains a big-time fan favorite, but that's not going to happen in every fight. In most of his title defenses, Cruz should be the fighter that the fans gravitate toward.
It's just hard to get love from the crowd when you're fighting a guy who basically put the 145-pound division on the map in America.
Winner: Smaller Weight Classes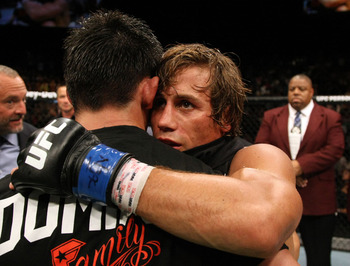 It wasn't quite the crazy, insane-paced fight that some expected, but the main event between Dominick Cruz and Urijah Faber was hugely important in the advancement of mixed martial arts as a sport vs. a "freakshow."

It used to be that the heavyweight fights were the main event in just about every card, but tonight marked the first time that a UFC event was headlined by a weight class under 155 pounds, with the 135-pound bantamweight title on the line.
To say the least, this was a big moment for the smaller weight classes and they are true "winners" tonight.
Keep Reading