NBA Fans: Stop Hating LeBron Because He Is the Best
July 3, 2011
Mike Ehrmann/Getty Images
As I scroll through the NBA portion of Bleacher Report, all I was able to find relating to LeBron were articles discussing his failures.
He couldn't get it done in the fourth quarter. He took the easy way out and still lost. He isn't even the best player on his team. All the Heat need to do is trade LeBron for Dwight and they will be NBA champions.
Alright, so now that I got all of that nonsense out there, let's be serious.
LeBron is the best player in the world. There has never been anyone that is as physically talented as LeBron. I am not going to enter an argument that he is better than Jordan, but he is currently the best player in the world.
Just consider a few things about him. For one, he is the only player in the NBA, likely ever, that can defend anyone better than they can defend him. Regardless of his opponent's size, strength, speed, quickness or basketball ability, LeBron can guard him.
This makes him the most valuable defensive asset in the league. For evidence just look at his block and steal statistics. He ranked in the top 60 in blocks and top 10 in steals.
That may not be mind-blowing, but just sit down and watch LeBron smother an opponent for a full 24 seconds. This is why he is among the top candidates for Defensive Player of the Year each season.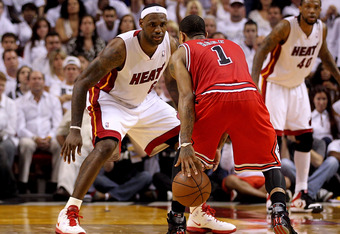 Mike Ehrmann/Getty Images
Moreover, LeBron helps his team by rebounding at an extremely efficient rate for a small forward. He is among the league leaders in rebounds each season.
However, everyone knows that all fans really care about in the current NBA game is offense. Who would have guessed that LeBron is also the most pure offensive player in the world?
He has an unreal combination of scoring skills. He can drive to the basket and overpower opponents for two points or step back and drain a three-pointer. Furthermore, he has a special ability to find his teammates and create easy baskets for them.
This is why he was second in scoring and 12th in assists last season. Put his game together as a whole and he probably deserved the MVP, but that is another debate for a different argument.
So, up to this point I have spent about 400 words validating my argument that LeBron is the best player in the league, when frankly I could have just used the two MVP awards, Olympic gold medal, five All-NBA First Team honors and the three-time All-Defensive First Team selections.
But when did being more coherent ever hurt an argument?
So now that it has been established that LeBron is the best basketball player in the world, I will pose a simple question: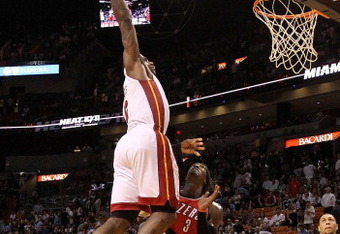 Mike Ehrmann/Getty Images
Why is LeBron among the most hated athletes?
Really, it makes no sense. Look at other sports; it isn't as if everyone hates Albert Pujols, Peyton Manning, Rafael Nadal, Leo Messi or Floyd Mayweather Jr. Sure they all have their fair share of haters, but not nearly to the level of James.
On the other hand, James has joined that special group of despised athletes that includes Michael Vick, John Rocker, Tiger Woods, Pete Rose and Barry Bonds.The only difference is that all of these guys did some disgusting things worthy of hatred while LeBron has been nothing but admirable.
What was LeBron's crime that cost him worldwide support?
Leaving Cleveland.
Oh no! He didn't! He took a pay cut to play with two close friends in a beautiful city and compete for a championship! What a demon!
Now on a serious note, how does that even compare with dog-fighting, racism, cheating on a wife or tarnishing the reputation of a sport? Just think about it. His actions do not merit his reputation.
So I will return to my earlier question. Why is LeBron among the most hated athletes?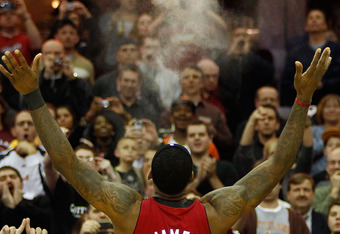 Jared Wickerham/Getty Images
Personally, I think that it is a combination of several factors.
For one, he is the best player in the world at a sport that anyone can play. The fact that basketball can be played by all social classes across the country makes it the easiest sport for people to relate to. This just elevates the overall level of jealousy.
Additionally, many fans of past eras see him as a threat to the legacy of their favorite players, whether it is Bird, Erving or, of course, Jordan. This threat was imminent while he was in Cleveland, but it simply compounded when he moved to Miami. The threat of him winning multiple championships became a legitimate threat.
Furthermore it should first be noted that he is only one of three players to leave after winning the MVP.  This makes fans of the game and its history despise LeBron for the trend that he created because he is a true entrepreneur.
Because of the team that Bosh, Wade and LeBron formed, players now have the control in the NBA rather than owners. Moreover, there is potential for three superstars to play alongside each other outside of All-Star weekend.
The final reason that he is hated is that he is an easy target. From the time he was 15 years of age, LeBron has been praised by the media as the next big thing. He has done nothing but win games and accolades. Unfortunately, he has been unable to win that elusive NBA championship.
Consequently, people gang up on him because he has superhuman expectations that have been created by the media. Regrettably, it has become human nature to pounce on failures to fill the voids in one's own life. 
So before you continue ripping into LeBron, take a moment and think about why you despise him. Is it that he is an American hero for winning the gold medal? Or maybe the fact that he is the best player of the current generation, maybe ever?
However, at the end of your soul searching, I think you will come to the ultimate conclusion that you are simply jealous of his greatness.
Just remember one thing:
"All the people that were rooting on me (LeBron) to fail, at the end of the day, they have to wake up to the same life that they had before they woke up today."
Go ahead. Keep hating on LeBron, he's listening. Good luck hating on him after he hoists the next NBA championship.