UFC 132: Why Tito Ortiz is Doomed Tonight Against Ryan Bader
July 2, 2011
Tonight, UFC 132 will take place at the MGM Grand Garden Arena in Las Vegas. Headlining the event will be a bantamweight championship bout between challenger Urijah Faber and champion Dominick Cruz. 
Also fighting will be Chris "The Crippler" Leben, taking on former PRIDE legend Wanderlei Silva in the latter's first fight in over a year.
Yet, one fight that fans will surely be glued to is occurring in the light heavyweight division. One man is looking for his first victory in five years and is also fighting for his job. The other is looking for a win after suffering his first career defeat four months ago. 
This is a match between former champion Tito "The Huntington Beach Bad Boy" Ortiz and up-and-comer Ryan "Darth" Bader.
In terms of background, both fighters are near identical.  Both have backgrounds in wrestling and boxing. Bader was a three-time Pac-10 champion at Arizona State, and Ortiz was a wrestler at Cal State-Bakersfield.
Bader last fought against current UFC light heavyweight champion Jon Jones at UFC 126, where he was submitted with 40 seconds remaining in Round 2. 
Ortiz's last match was a unanimous decision loss to Matt "The Hammer" Hamill at UFC 121. This loss is the reason why Ortiz will be cut from the UFC following a loss tonight.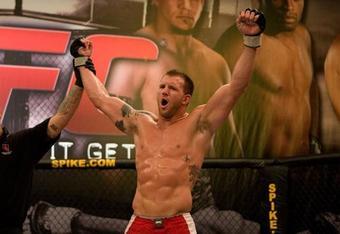 The fact of the matter is simple. Ryan Bader's fighting style is very similar to that of Hamill. Both are equally dangerous standing up as they are on the ground.
On top of that, Ortiz just looked old and rusty when he fought Hamill. He's only 36 years old, but has recently fought like someone who is 46. Bader is 28 and has already beaten big-name fighters like Antonio Rogerio Nogueira and Keith Jardine since joining the UFC.
Also, let's not forget that Ortiz hasn't actually won a fight since 2006. In fact, let's have a look at each of his five fights since he defeated Ken Shamrock in October 2006.
Ortiz first lost via TKO to Chuck Liddell as the two fought for the light heavyweight belt in 2006.  He then fought Rashad Evans to a unanimous draw, then had three consecutive unanimous decision losses to Lyoto Machida, Forrest Griffin and Hamill.
It seems that while Ortiz was once at the top of his game and a star in the organization, he just can't keep up with the new breed of fighters that are beginning to star in the absolutely stacked light heavyweight division. 
That being said, he'll surely get destroyed by Bader when the two meet later tonight. I'm predicting that Bader will win via TKO in Round 2.
Another loss will surely mean the end of Ortiz's UFC career. He had a good run, but losing tonight will put his MMA career record at 14-10-1. This is truly a shame since Ortiz was once easily the best fighter in the organization.
After tonight, his legacy will be forever tarnished and his glory days will be nothing but a distant memory in the minds of not just the fans, but himself.