Toronto Maple Leafs: Did Brian Burke Fail Toronto During Free Agency?
July 2, 2011
Bruce Bennett/Getty Images
The Toronto Maple Leafs are currently the only team in the NHL's Eastern Conference not to sign an unrestricted free agent.
Like many Leafs fans, I spent much of the early part of July 1 feverishly checking to see if Toronto had signed anyone, then spent much of the latter part of the day angrily cursing about the lack of activity in Leaf Land.
Thankfully, sleep has provided some clarity.
While many want to criticize the Brian Burke for being in Afghanistan to support Canadian troops on July 1, they should be applauding him.
Anyone who thinks that the Leafs missed out on any free agents because Brian Burke was overseas is a fool.
As one member of Toronto's management team joked, phone reception in Kandahar is likely better than in many areas of Toronto. Seriously, Leafs fans should have no doubt that Burke knew exactly how free agency was transpiring. Moreover, Toronto has several former NHL GMs on staff (including Dave Nonis, Rick Dudley, and Cliff Fletcher) capable of handling UFA offers.
Let's start with Brad Richards. The Leafs never had a chance at signing him. 
After hearing that Richards had given the Rangers the opportunity to match any offer given by another team, it became clear that the Rangers (as many had speculated) were his top choice.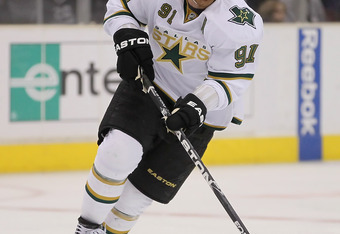 Jeff Gross/Getty Images
In fact, Richards was simply using other teams to maximize his contract offer from New York. This is a perfectly legitimate thing for any UFA to do. But as a Leafs fan, I hope Richards works out as well for New York as Scott Gomez has for Montreal.
While several NHL defensemen and goaltenders are capable of elite-level performance into their 40s, Richards is currently the only forward in the NHL who will carry a cap hit of over $6 million per year until he is 40. The Rangers overpaid for Richards, despite being his most-desired destination. It's a win for Richards, not for New York.
Things get slightly less clear when looking at some of the lower-tier UFAs that were signed. The rise in the NHL salary cap minimum forced several teams, especially the Florida Panthers, to spend above-average money on average players.
Toronto, for the first time in ages, has a large crop of young players, with several close to NHL readiness. The Leafs chose to give these youngsters an opportunity to play for a job next year, instead of over-paying for bottom six veterans.
Would any Leafs fan have been happy to see Toronto pay Scottie Upshall $3.5 million per year? Not I.
Unlike Upshall, several UFAs were signed to reasonable contracts, but that doesn't mean Toronto had any chance of signing them.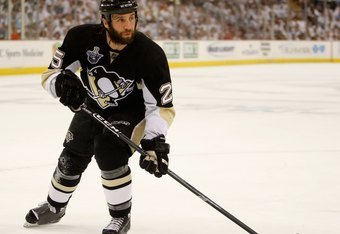 Dave Sandford/Getty Images
Max Talbot elected for Philadelphia over Toronto. Not only do the Flyers have a better team, but moving from Pittsburgh to Philadelphia is not a big deal. The same could be said for Sean Bergenheim, who, in moving from the Lightning to the Panthers, also changed teams without moving states.
Were these players overpaid? The Leafs are paying $3 million per year for Colby Armstrong, and he is worth every penny. Talbot (at $1.8 million per year) and Bergenheim ($2.75 million per year) are certainly worth the contracts they received. How much more Toronto would have had to pay is anyone's guess.
Perhaps the greatest source of frustration for Leafs fans is the fact that Brian Burke promised to be aggressive in free agency. Despite that promise, just about every reasonable UFA target for Toronto has already been signed.
Where does that leave the Leafs? With the upgrades that several other teams have made, Toronto is currently not good enough to make the playoffs.
Perhaps the Leafs can sign Tim Connolly, but he's not enough to turn the Leafs into contenders.
The key for Toronto lies in the market of unsigned restricted free agents. Although Burke has repeatedly stated that he would not be throwing offer sheets at RFAs on other teams, he is certainly willing to engineer another deal similar to the one that brought Phil Kessel to Toronto.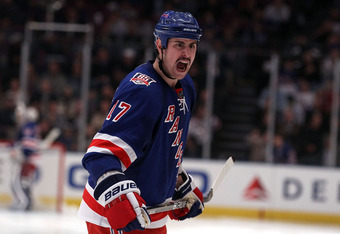 Bruce Bennett/Getty Images
There are three RFAs that Burke might be interested in—Steven Stamkos, Brandon Dubinsky, or Zach Parise.
After signing Brad Richards, the Rangers might be willing to move Dubinsky. Personally, I would take Duby over Richards any day of the week and twice on Sunday. At age 25, Brandon Dubinsky is still reaching his prime, and would be a much better fit in Toronto.
Tampa Bay is struggling to re-sign Steven Stamkos. Despite a strong season and a deep playoff run, the Lightning lost millions. I'm no expert on these situations, but it's looking more and more like Tampa GM Steve Yzerman is going to have to trade the Toronto native. Unfortunately for Yzerman, Stamkos can decide where he plays…and unlike Brad Richards, Stamkos would definitely be willing to play for the Maple Leafs.
Can Burke make it happen? Only time will tell.
Maple Leafs fans can either choose to get angry, or be patient. I suggest patience.