World Football Supremacy: How Sir Alex Ferguson Will Respond to Barça Challenge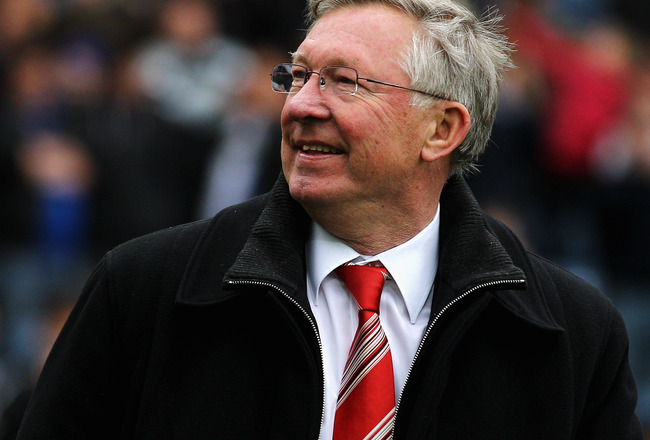 Pictured Above: Sir Alex is no stranger to being at the pinnacle of European football
Dean Mouhtaropoulos/Getty Images
He came. He saw. He conquered.
It's nothing Sir Alex Ferguson hasn't seen and done before, but the challenge in his twilight years at Manchester United (although harder and more complicated then anything preceding it), is very clear, and as such closed for interpretation. To put it in the wily old Scotsman's own famous phrase: "Knock Barcelona off their perch."
Much easier said than done of course, having failed twice already.
It would be very easy to dismiss Sir Alex Ferguson's challenge to Barcelona's empire. If Manchester United were only "soundly" beaten in 2009, they were taught a lesson in football, and shown a master class in passing by the talents of Andrés Iniesta and Xavi Hernández.
These two world-class midfielders were unstoppable, caressing the football between each other, distributing it to the talents of Lionel Messi, David Villa and Pedro Rodríguez (all goal scorers on the night of May 29th 2011 at Wembley) and most crucially, dismantling United's midfield.
Michael Carrick was made to look a fool, Patrice Evra reduced to tags of mediocrity, while Rio Ferdinand and Nemanja Vidić (arguably the best centre back partnership in the game today) were exposed like never before. Javier Hernández was as a result, utterly ineffective and although he scored on the night, Wayne Rooney was rendered helpless to stop the Barcelona juggernaut—not even he, the Manchester United talisman could inspire them out of a lacklustre loss.
Indeed, a tall order for Sir Alex Ferguson. After his 25 years at United, taking into consideration, everything he has achieved and how many critics he's continuously proved wrong over the years, it still wouldn't be beyond the realms of possibility to call this current task of taking over Barcelona at the top of the tree "Mission Impossible." Right?
Wrong.
Backs against the wall, siege mentality—just the territory and environment the great man from the Govan shipyards in Scotland thrives upon. It took Sir Alex Ferguson an entire seven years to win his first English league title. He was one game away from the sack in January 1990, when a Mark Robins goal in the third round of the FA Cup vs. Nottingham Forest saved his managerial career at United.
It took the man the better part of a decade to rebuild the club that took a nosedive following the resignation of Matt Busby some years prior. Ultimately, however, he achieved the unthinkable target of displacing Liverpool from the top rank in English football, while single-handedly placing United there.
The immense appetite for success that Sir Alex holds is second to none. At Aberdeen, he broke up the "Old Firm" duopoly (of Glasgow Rangers and Glasgow Celtic), not only winning the league but going on to win the European Cup Winners' Cup against the almighty Real Madrid.
At the conclusion of his tenure at Aberdeen, Sir Alex made the short trip from Glasgow, Scotland down to Manchester in the northwest of England, tasked with the mammoth job of turning Manchester United football club from has-beens into champions once again.
Not only did he knock Liverpool, their great rivals from down the Eastern Lancashire Road off the top rung, but in the process, he established a dynasty with Manchester United that had never been seen in English football. This ensuing period of domination has led to 12 Premier League titles in the last 19 years, an unmatched record. All this after being mocked and ridiculed for telling the English press on his arrival south (1986): he was going to "knock Liverpool off their f***ing perch."
Surely enough, as he did to Liverpool though, the turn of events would come full circle, and some younger manager would come from abroad and knock him and his Manchester United "off," displacing them. A realistic thought perhaps?
2004 rolled on, and Sir Alex was faced with the threat of an exuberant Portuguese manager, ready to take up the challenge of building his own dynasty with the added help of Russian roubles from an ambitiously fiery owner. Enter José Mourinho as manager of Chelsea.
Back-to-back league titles in 2004-05 and 2005-06 for Mourinho's Chelsea shifted the balance of power in English football, placing immense pressure on Sir Alex, with certain sections of the media even calling for an end to his then-19-year tenure at the club. This intense speculation was but fuelled further by the fact that it had only been a meagre few years removed since his originally planned retirement date (2001).
In November 2005 amid catastrophe at Old Trafford with Captain Roy Keane's tirade and subsequent exit still very fresh in the mind, as well as a 4-1 hammering at struggling Middlesbrough, speculation about Sir Alex's future at United had been rife.
After beating Premier League champions Chelsea 1-0 on November 6th 2005, when asked if the aforementioned previous week where Manchester United had endured much criticism was the worst week of his career, Sir Alex remarked: "That's absolute bollocks, that. Absolute nonsense. There's always pressure here. You know we went 13 games without winning once? People forget these things."
The questions continued to ensue, however. Had Sir Alex lost his hunger? Was he on the brink of retirement into the sunset? Was this enigmatic man from Portugal the future of English football, along with a Chelsea side that seemingly had access to endless amounts of money?
Like he had done against Celtic and Rangers with Aberdeen before, as well as against Liverpool and Arsène Wenger's 2003-04 Arsenal with Manchester United, Ferguson accepted the challenge. The rest is history.
The 2006-07 Premier League season came to the fore as Chelsea chased a third consecutive league championship. Manchester United, however, pipped them to the top and claimed the title. 2007-08 followed, and José Mourinho left with rumours rampant he had fallen out with the owner of Chelsea, Roman Abramovich.
Manchester United once again stood tall in May and captured successive league titles, along with the European Cup (against Chelsea, of course) in an extraordinary double. From the jaws of defeat, Sir Alex had snatched victory. Within three years of that tension filled press conference, he had led United to their most successful season since the "Treble" in 1999.
José Mourinho was banished, Chelsea were resigned to sitting aside watching United go from strength to strength once more, and the world watched in awe—who could topple this man, if anyone? Rafael Benítez tried and failed. Arsène Wenger had tried, and but for two or three individual seasons out of 16, had and continues to have ultimately failed.
José Mourinho couldn't permanently get the better of Sir Alex. The question lingered: who would be the one to send "Fergie" into retirement with a black mark smudged upon the twilight years of his career? Surely, Sir Alex would retire soundly when he saw fit, top of world football? A third successive league title followed in the 2008-09 season, coupled with the succession of a pair of Carling Cups.
Manchester United had finally hit their peak. They had come to a point where they just could not become any better. Unstoppable. Or so they thought.
Enter FC Barcelona.
The resurgent Catalans under new manager Pep Guardiola took Europe by storm and defeated United in the 2009 UEFA Champions League Final. Fast forward two years later and ever since, world football has been dominated by the Spanish giants. Three La Liga titles on the bounce, three European cups in five years and Spain's success at the World Cup 2010 which in large part can be attributed to Barcelona and their famous youth academy. The three players shortlisted for the 2010 FIFA Ballon d'Or (World Player of the Year) were Lionel Messi, Xavi Hernández and Andrés Iniesta—all products of the much famed La Masia.
Absolute domination.
No one, including Sir Alex Ferguson has managed to get close.
Although Manchester United reclaimed the Premier League crown this past campaign from Chelsea, yet again they were embarrassed at Europe's Wembley showpiece, at the hands of the Blaugrana. At this present moment in time, FC Barcelona resides in a different class to not just Manchester United, but everybody else in world football too.
Once more comparisons can and will be drawn to Sir Alex's past challenges. Although this presents a much bigger task on a much grander scale than even he has ever faced, if there is one man who has the track record to prove he is capable, it's him.
The media are heralding this last task as unachievable. Not even him, basking in all his glory of this scintillating career that has been built on accolade upon accolade, success upon success and achievement upon achievement, no not even he can take on this titanic task of immense proportions presented by Barcelona and come out the other side victorious. Apparently, anyway.
Apparently.
In truth, until Sir Alex does finally call it a day and hang up the hairdryer, whether he can or can't "knock Barcelona off their perch" is very much up for deliberation. The only certainty involved is that he will give it an almighty shake—that is a guarantee.
Having rebuilt Manchester United time after time, responding to threats both domestic and continental, Sir Alex Ferguson is poised to respond to the marker laid down by the incumbent Spanish and European champions, Barcelona once more. Sir Alex has already opened the cheque book to sign three players that he feels will cement United's position at the top of the domestic pile in England.
Goalkeeper David de Gea from Atlético Madrid, England Under 21's Captain Phil Jones and now-former Aston Villa winger Ashley Young. If reports are to be believed Sir Alex is looking for one more signing to strengthen his chargers. That signing?
The marquee signing.
Luka Modrić has already admitted he favours a prolonged stay in the capital city, leaving Manchester United and Manchester City bitterly disappointed. If Modrić does not stay at Tottenham beyond the close of the transfer window, his only probable destination is Chelsea. That narrows the search.
Wesley Sneijder, although not ruling out a move (which footballer ever does?) to Manchester United, or indeed Manchester City or Chelsea, seems quite content at Inter Milan with no burning desire to move from Italy to England. Rule Sneijder out and there is another narrowing factor of the search.
Samir Nasri. Nasri presents, perhaps, Sir Alex Ferguson's best chance to inject some real quality into his midfield, this summer. Considering his current contract situation he would most certainly join for a cut-price transfer fee, especially in comparison to the above pair of marquee talents.
Arsène Wenger says he would never sell such a prime asset to his old foe, but if Nasri's heart is set at Old Trafford, the crafty Frenchman would have to either sell him this window or risk seeing him leave for free come next summer. It would be vintage Sir Alex to beat the chasing pack to Nasri's signature, and take advantage of Arsenal's current plight—and you know what? He just might.
Regardless of who Sir Alex Ferguson may sign by the September 1st deadline, however, the objective remains the same.
Topple Barcelona.
It might not be next season, perhaps not even the season after. One thing that anyone who knows Sir Alex Ferguson will tell you, though is that he will not rest, much less retire till Manchester United is once again at the pinnacle of world football. And if that takes 3 years, or 5 years, or 7 years, then that's just what it will take.
Let's not forget the 10th anniversary of the postponing of his originally scheduled retirement beckons on the horizon.
Sir Alex Ferguson himself once said, after beating beaten by Arsenal for a second time in the 2006/07 season, "Only true champions come out and show their worth after defeat—and I fully expect us to do just that". Manchester United won the league that season, going on to lift the European double the following season. Go figure. You can never count a Sir Alex Ferguson led Manchester United out.
When reflecting on the UEFA Champions League Final 2011, hours after the final whistle, Sir Alex remarked:
"We all have a challenge with Barcelona, not just Manchester United. It is not any consolation to say you are the second best team. We don't enjoy being second best. Any club with the history we have; Real Madrid, AC Milan, would say the same. Of course, where we start to find a way to do that is something we will mull over during the summer. We are not lost on ideas at our club. Hopefully we come up with the right ones. Finding a solution is not easy but that is the challenge. You should not be afraid of the challenge. Maybe this could be the kind of stepping stone we had when we lost 4-0 (to Barcelona in 1994). We improved from that. We want to improve. Next season may see us improve even more."
Challenge accepted.
This article is
What is the duplicate article?
Why is this article offensive?
Where is this article plagiarized from?
Why is this article poorly edited?

Manchester United: Like this team?