Wimbledon 2011 Men's Final: Live Updates, Scores, Analysis for Djokovic-Nadal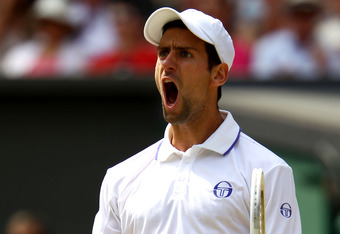 Clive Brunskill/Getty Images
We have our finalists: The new world No. 1, Novak Djokovic, will face the man he's just deposed, Rafael Nadal
Djokovic got there by beating a valiant Jo-Wilfried Tsonga, 7-6, 6-2, 6-7, 6-3—did you think the Frenchman might hit back after going two sets down again, like he did to Roger Federer?
Not a chance.
Nadal had the tough task of taking on Andy Murray in front of a hyped-up Wimbledon crowd, but despite losing the first set, he managed to recover his usual iron form to win, 5-7, 6-2, 6-2, 6-4.
Sunday will be a fascinating battle. Join me for live coverage of the 2011 men's singles final! And, of course, as always, add your thoughts and comments below.
Well, that's Wimbledon over for 2011. We have brand-new singles champions for the men and the women, and we've had some fabulous tennis as well as the usual shocks and surprises. Thanks for joining me for the live blog this afternoon - see you all here for the US Open!
Nole calls Rafa "the best player in the world" and admits he had to be at his best to beat him. Rafa does a little modest pout. "It's always a pleasure to play against a great champion, and hopefully we can have many more matches."
Now it's Novak Djokovic's turn to talk: he says it's the most special day of his life. Wimbledon was the first tournament he ever watched, and he feels like he is dreaming.
Rafa congratulates Novak Djokovic on his game today and taking over as world number one. "Always Wimbledon for me is the most special tournament," he says, sympathising with how emotional Nole must be feeling.
Rafael Nadal hails the crowd as they cheer his name. He lifts his runner-up plate and is obviously heartbroken. Then Novak Djokovic gets bundled over to the presentation table, kisses the trophy and lifts it aloft.
So Djokovic wins Wimbledon and becomes world number one over the same weekend, while Nadal's unbeaten streak at SW19 is over. Time for the presentations.
Novak Djokovic beats Rafael Nadal 6-4, 6-1, 1-6, 6-3, and it looks like he's going to burst into tears. He runs over to the box where his family and friends are sitting (his girlfriend looks like she's gone into shock).
And Novak Djokovic is the new champion of Wimbledon!
So Novak Djokovic is serving for the championship...
Nadal 3 Djokovic 5 (Djokovic leads 6-4, 6-1, 1-6)
Nadal double-faults on the first point of the game, and hits a wide return for the second. He brings his hands up to his head - unforced errors at this juncture are not a good idea. Then a forehand into the net -and three break points. He saves one...but can't do anything about the next one, after a tremendous rally, he hits it just too long.
Nadal 3 Djokovic 4 (Djokovic leads 6-4, 6-1, 1-6)
Great work from Djokovic to hold. He sits back down on his chair at the change of ends with a big sigh, and begins to drink from a bottle. He still looks utterly unperturbed. Nadal is, as always, a bundle of nervous energy.
Nadal 3 Djokovic 3 (Djokovic leads 6-4, 6-1, 1-6)
Well, this fourth set is proving tight, much like the first until that quick break by Djokovic. He'll be hoping for the same here. Not an inch of emotion on his face, while Rafa still lets the occasional snarl escape.
Nadal 2 Djokovic 3 (Djokovic leads 6-4, 6-1, 1-6)
Or perhaps Djokovic has too much left in him for Nadal to come back from so far behind. His entourage now are the ones suffering.
Nadal 2 Djokovic 2 (Djokovic leads 6-4, 6-1, 1-6)
Still, it might be that fortuitous break that makes the difference. Nadal holds and the commentators are talking about whether it might be possible for him to come back from two sets down. What do you think?
Nadal 1 Djokovic 2 (Djokovic leads 6-4, 6-1, 1-6)
A lucky break in all the possible senses - a sliced return of a spinning ball gets Rafa the game, and he immediately raises his hand to his opponent to apologise.
Nadal 0 Djokovic 2 (Djokovic leads 6-4, 6-1, 1-6)
Terrific ground-strokes from Djokovic, and gets the first break of the third set - all he needs to do to become 2011 Wimbledon champion is hold serve. Easy, yes?
Nadal 0 Djokovic 1 (Djokovic leads 6-4, 6-1, 1-6)
Djokovic saves a break point and then serves out. Nadal challenges the final call, and though both players had their doubts that it was out, the Hawk-Eye facility confirms that it was.
Nadal 6 Djokovic 1 (Djokovic leads 6-4, 6-1, 1-6)
Well. A hold to love, and Nadal gets a set back, totally in the ascendancy now. Into the fourth we go.
Nadal 5 Djokovic 1 (Djokovic leads 6-4, 6-1)
And a double fault allows Nadal to break! The match has lasted one hour and 42 minutes so far, and Nadal is serving out for the third. What an enthralling final.
Nadal 4 Djokovic 1 (Djokovic leads 6-4, 6-1)
Nadal hasn't been playing badly, by the way - Djokovic has been exceptional. But Nadal is moving up a gear now and getting these games ticked off quickly.
Nadal 3 Djokovic 1 (Djokovic leads 6-4, 6-1)
Djokovic opts to continue without his baseball cap. Nadal tries a lobbed hot dog and fails.
Nadal 3 Djokovic 0 (Djokovic leads 6-4, 6-1)
This is super-fast play from Nadal, holding to love after a short delay when the umpire had to scold the crowd. Nadal is now guzzling water and going through some of his little routines.
Nadal 2 Djokovic 0 (Djokovic leads 6-4, 6-1)
Nadal gets his first break point of the match, and a terrible return from Djokovic secures it. Much excitement from Rafa's entourage - mum, sister and girlfriend.
Nadal 1 Djokovic 0 (Djokovic leads 6-4, 6-1)
Determined face from Nadal with a beautiful forehand down the line to take the game.
Nadal 1 Djokovic 6 (Djokovic won first set 4-6)
And Djokovic takes the second set in style - he holds to love as Nadal returns into the net again.
This article is
What is the duplicate article?
Why is this article offensive?
Where is this article plagiarized from?
Why is this article poorly edited?