Cincinnati Reds: 2011 Midseason (Alternative) Awards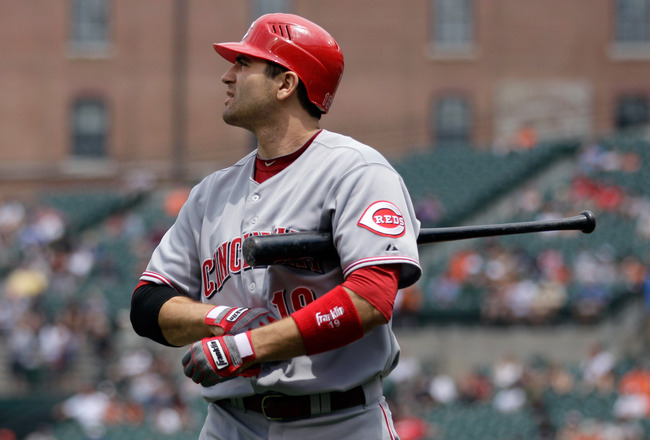 Rob Carr/Getty Images
Brace yourself, baseball fan.
Over the next nine or ten days, midseason awards publications will rain from every corner of the sports media stratosphere. As Major League Baseball's All-Star weekend unfolds in Phoenix next weekend, everyone from Buster Olney to Tim Kurkjian to David Schoenfeld to Snookie will be clogging the cyber-avenues with their choices for midseason Cy Young, MVP, Most Disappointing, etc.
You'll hear all about how Hanley Ramirez has looked like a tee-baller, how Adrian Gonzalez has been an absolute terrorist, and you just might hear a few Cliff Lee/Justin Verlander references.
It's going to be exhausting.
Also, this trend will not be limited to the national media. I'm fully anticipating the stapled Reds writers (John Fay, Hal McCoy) to toss their stale, Cincinnati-flavored awards lists into the pot as well.
Expect to see volumes written on Joey Votto's midseason MVP, on Johnny Cueto's Cy Young, or on Jay Bruce's Most Improved award.
All of that is fine…necessary, even. As baseball fans, we've been conditioned to ask the same questions at different parts of the season (who's the MVP so far? Who will be trade bait? Which teams will win their divisional races?), so we instinctively drift to the same websites to get answers that we could probably come up with on our own.
Well, that trend ends today.
What follows is a new brand of awards list. A sideways take on the rigid custom we're all used to. Cuz' let's face it: the Reds have gotten off to a painfully mediocre 42-40 start, and the last thing any of us want to do is reward them for that. So, in that vein, I submit to you a substitute:
Ladies and gentlemen, the 2011 Cincinnati Reds Midseason Alternative Awards…
The "George W. Bush" Award: Jonny Gomes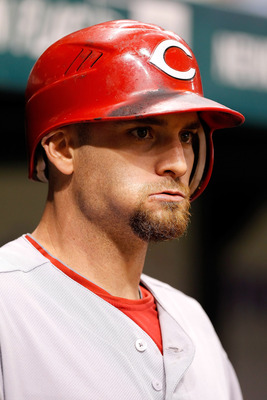 J. Meric/Getty Images
The analogy here is pretty strong.

Like our former Commander and Chief, Jonny Gomes has split his constituents into two extremely contentious factions.

On one side of the spectrum, you have the ardent supporters; wooed by his salt-of-the-Earth charm and blue collar resolve. With each clueless at-bat or awkward left field bone-job, this contingent has steadily dwindled and/or hibernated into a self-righteous cave.

On the other, you have the raging majority; a teaming mass of bitterness, ready to hang poor Jonny from a tree, given the chance.

More than any other player, Gomes sends a chasm through Reds Nation. And, like the now defunct "Dubya", the full scope of Gomes' ineptitude may not be truly celebrated until he is ultimately (and inevitably) replaced.

(And, just in case you need more analogy fuel, it's been rumored that Gomes is a bit of a boozehound, and isn't afraid to ask the tough questions.)

And now, before all the red-blooded southern Ohio Republicans whip out their tar and feather kits…
The "Bill Clinton" Award: Edgar Renteria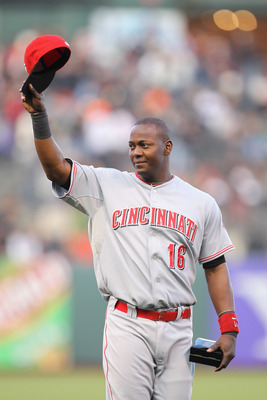 Ezra Shaw/Getty Images
Up until the moment William Jefferson Clinton decided it would be OK to filibuster his intern with a cigar, he was generally regarded as a good President.

He created the Americorps program, reduced the country's poverty rate, and ushered in America's first span of positive Federal revenue in years.

Yet, he also proved what virtually every American already knows: every man, no matter his status, is in danger of being Lewinskied.

Edgar Renteria, by the same token, has done some great things in his baseball career.

In his prime, he was a centerpiece of several great teams (the World Champion Marlins, the dominant early-decade St. Louis Cardinals). And, in the twilight of his career, Renteria was named the World Series MVP as a San Francisco Giant.

Yet, as it eventually does for all, Judgment Day has come for Edgar.

Stiff in the field and anemic at the plate (.230 BA, 0 HR), the ire of Reds Country is now a constant reality for the Reds back-up shortstop, especially as top prospect Zack Cozart dances a jig on the Major League doorstep.

Make no mistake: Renteria has served baseball well. However, owed $2 million by the Reds front office and contributing zilch, it's time we all recognize that, in the case of Edgar Renteria, the past is the past.

Lest his uninspired play continue to stain a once promising season, we've only one course of action:

IMPEACH!
The "Mayor of Cincinnati" Award: Zack Cozart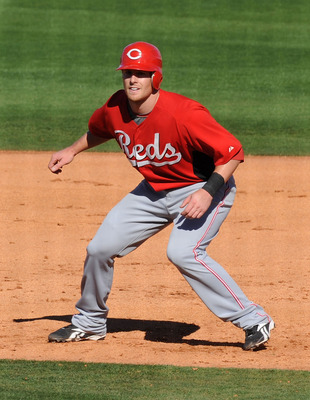 Norm Hall/Getty Images
It happens every year.

One prospect will set Triple-A on fire, grab his future by the jumblies, and cause an entire fan base to become Minor League stat sheet hawks for the better part of four months. These prospects automatically become the missing piece to the World Series jigsaw puzzle, no matter how many internal issues the big league club may have.

In years past it has been Chris Heisey, Drew Stubbs, Jay Bruce, Homer Bailey, Homer Bailey, and Homer Bailey (I swear he played with Johnny Bench in Indianapolis).

This year the scourge of the system is Cozart (aided, of course, by the glaring offensive deficiencies of the pathetic Janish/Renteria tag-team).

I don't live in Cincinnati, but I assume an aggressive "Free Cozart" campaign has been launched. I'm imagining buttons, lawn signs, "Have you seen this man?" telephone post flyers, and the occasional smattering of skywriting.

Also, I'm already making plans to be in Cincinnati the day that Cozart gets the call, so as to take full advantage of the fireworks, parade, face-painting, and petting zoo.
The "Jevon Kearse" Award: Brandon Phillips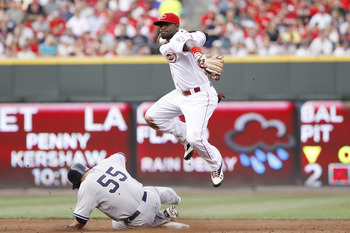 Joe Robbins/Getty Images
There are many ways to evaluate a fielder.

Old guys will point to errors and fielding percentage.

Young guys will cite the Ultimate Zone Ratings.

I, on the other hand, rely mainly on what I refer to as the "DEEEEaaaaaamn" metric, which evaluates players based on their ability to force me to utilize the lift-tuck maneuver, simply by watching them do their job.

In other words, players that are athletic freaks.

As a defensive end for the Tennessee Titans, Jevon Kearse would regularly blast the dials off the Deeeamn-ometer. With the strength of a tackle, the speed of a running back, and the wing span of Hawkman, Kearse quickly became known as "The Freak", a moniker that would soon devolve into a general complement applicable to any athlete who can do things that about 0.001 percent of the rest of us can do.

Phillips, this year more than ever, is shoo-in for a "Kearse".

Everyone points to his in-stride, between-the-legs gem versus the Astros, but the true mark of Phillips genius is the fact that almost every game, he logs another out-of-this-world highlight reel play.

He leaps, he dives, he sprints to his right and left, making incredible plays look easy and impossible plays look good. If a molasses-paced, non-contact sport like baseball can have a "freak", look no further than the Reds second baseman.
The "Gale Force Winds" Award: Drew Stubbs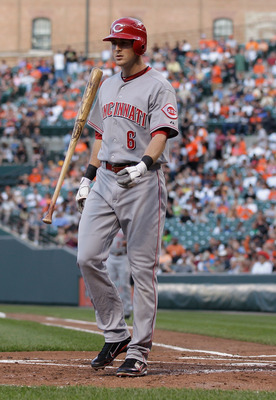 Rob Carr/Getty Images
One thing I have learned about baseball scouting is that, well, it's not that hard.

That is, when evaluating a kid who may or may not have the potential to be a pro, scouts always come back to one thing: tools.

Between a player's ability to hit for average, hit for power, run, throw, and field, he'll fall somewhere along the 1-5 tool spectrum. Guys with four tools usually have a decent shot at making the Bigs. Guys with three tools have a little harder time.

However, it's the guys with all five tools that have "baseball people" drooling over their scorecards as they sit through hours of face-melting Texas heat watching high school games.

(Guys with one tool, obviously, are the ones playing right field in YMCA slow pitch.)

Drew Stubbs has always been a five-tool guy.

He runs like a jungle cat, has enough power in his lean frame to crush 30 home runs a season, and is one of the better defensive center fielders in the game.

Unfortunately, it's been the "hit for average" requirement that has limited him this season.

With a league-leading 111 strikeouts so far, Stubbs is on pace to challenge for Mark Reynolds single season National League record for K's.

With that much fanning out of the leadoff spot, Stubbs' fifth tool has been reduced to the finicky chainsaw that routinely goes rogue and threatens to cut off your arm.
The "Pampers Advantage" Award: Joey Votto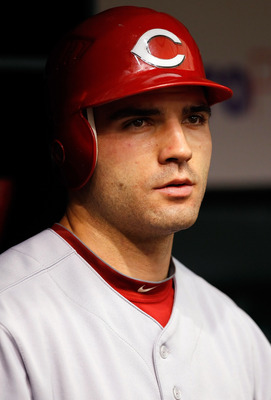 J. Meric/Getty Images
I'll preface this by saying I don't have any kids of my own.

However, I know many people that DO have kids, little babies, in fact, so I am well aware of the grisly scene that can occur before a child has learned to use a toilet like the rest of us.

Having been up close and personal to this type of war zone (I have two baby nieces), I often wonder what parents did before the invention of the diaper. Of course, this usually leads to my imagination taking over, and (as I am told babies go like 18 times per day) I just envision piles and piles of refuse littering the house.

Horrific.

Luckily for all of us, the diaper HAS been invented, as has the Diaper Genie, portable changing stations, live-in nannies, etc. The less poo we all have to see/touch/smell/be near, the better, I say.

Which brings me to Joey Votto. (Let's just pretend that transition was smooth.)

Through the first half of this season, Reds fans have sat stunned as a veritable sh!tstorm of poor play and bad luck has pelted down from above. Injuries to key players (Bailey/Cueto), prolonged slumps (Gomes/Bruce/shortstops), and God-awful gamesmanship (Volquez/Chapman) have threatened to blow the straps off any mechanism that might be holding the organization together.

Yet, as the Reds sputter across the halfway mark, they find themselves only two games back from division-leading Milwaukee. A blessing, some would say, but one undoubtedly attributable to the steadying influence of the reigning National League MVP.

Apart from a few light-hitting series, Votto has been the one thing that has separated the loyal fans of Cincinnati from the smelly mess that this season has threatened to become.
The "Phantom Menace" Award: Aroldis Chapman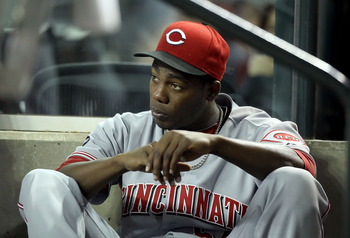 Christian Petersen/Getty Images
At the risk of being swirlied, noogied and tripped up a flight of high school stairs, I must make a confession: I love Star Wars.

I realize that makes me a bit of a misfit, and that it probably means I'll never captain a football team or de-flower a cheerleader.

I'm ok with that, see, because Star Wars is a FREAKING good movie.

As I understand it, when the movie was made, it broke all barriers and shattered all preconceived notions about what movies could and couldn't do. It was a marvel of film making at the time and remained a breathtaking cinematic experience when I finally got around to getting old enough to watch and fall in love with it (the late '80s).

That's why, when Lucas Films announced they would be producing the prequels to episodes IV, V and VI, Star Wars fanatics, movie buffs and alien lovers everywhere could barely contain their excitement.

Part of the buildup, of course, was a result of what we already knew. Star Wars, as we knew it, was a stand-alone masterpiece in the movie industry, so any kind of addition was worth getting psyched for.

However, there was also some sense of what we had to gain by furthering the story. Sure, the books were out there, so we knew what the new movies' plots would entail. However, as part of a visual generation, there were certain additions that only seeing the characters on screen could offer.

By filling character roles with actors, by adding color and light and costume, our gray conceptions of what that fictional world actually LOOKED like could really be brought alive.

Of course, as most of us know, the day came that The Phantom Menace was released, and the collective hopes of millions were promptly thrown into a trash compactor (and no, not the cool one that almost crushed Luke, Han, Leia and Chewie in A New Hope…don't be a nerd).

Somehow, George Lucas saw fit to "enhance" the Star Wars saga by adding a bunch of hokey-looking digital effects and attempted to appeal to the modern day six-year old by spawning guys like Jar Jar Binks.
Everything we knew and everything we THOUGHT we knew about where this unhealthy sci-fi relationship was going? Scattered and smashed like the stale popcorn on the theater floor.

Anger. Confusion. Hopelessness. I felt all those things then, when something with so much promise came to such a crushing, embarrassing end.

Enter Aroldis Chapman.

Besides a few expected hiccups, Chapman ruled over his opponents last year. His fastball was devastating, his slider unhittable.

His performance and the fact that ownership was willing to pay the money to purchase it, was a harbinger of the glory we all felt was coming to Cincinnati.

Wrong.

Within a month, Chapman's prowess was derailed. He couldn't find the strike zone. He couldn't find his composure. And, eventually, he couldn't find the Reds roster—having been relegated to the DL and then Triple-A Louisville.

Slowly, Chapman made his way back to the Bigs, much like Lucas Films' quasi-successful fan reclamation projects (fine…Revenge of the Sith was solid).

Yet, still, we're all left wondering: was 2010 the best we have seen of Aroldis?

I sure as hell hope not…me-suh not sure I can take another Jar Jar disaster.
Keep Reading

Cincinnati Reds: Like this team?