Erin Andrews: Top 20 Hottest on Field Pictures
With the technology we currently have in the year 2011, it's easier than ever to look hot.
With the magic of computer programs like Photoshop, most people can remove their imperfections with the click of a mouse.
But Erin Andrews is not most people.
Her golden locks, perfect smile and incredible body aren't in need of misleading technology.
Instead of posed photographs that lie, here is Erin Andrews at work, doing what she does best:
Looking hot while providing us with game tidbits.
Thank you Erin.
Begin Slideshow

»
Here it is folks.
The most awkward Erin Andrews has ever looked.
Seeing her at her at her bottom really makes you appreciate the good times.
Having said that, I would take EA at her bottom RIGHT NOW.
Hell, I'd take EA when she is 80-years-old, residing in a wheel chair inside a nursing home.
It's completely unfair that even a picture of EA looking concerned and/or serious is hotter than most on their best day.
New rule ESPN:
EA only does game in warm weather climates.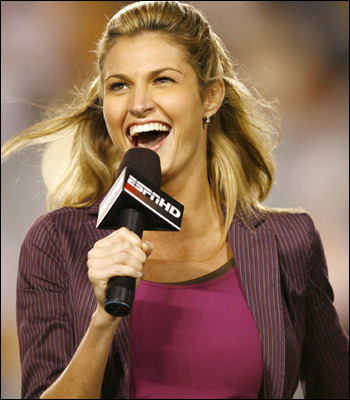 With this picture, I did an experiment.
I took Howard Dean's scream and watched it on repeat to see if it would diminish EA's attractiveness.
Though the scream fits very well with her photograph here, it weirdly makes her hotter.
What doesn't?
Compared to the others, this may look like a bit of an average photo of Erin.
But I disagree.
The fact that she can down a pizza and not have it affect her incredible physique makes her that much sexier.
How do I know she will eat the pizza?
Look into her eyes. That is the typical "must-eat-pizza" one thousand yard stare if I have ever seen one.
.
Proud.
Poised.
EA looks longingly into the distance, appreciating the fact that she is still the hottest sideline reporter on the planet.
That or scanning the crowd for another inappropriate sign by a creepy fan. Beware little children.
Hey, we needed at least one close up.
There really isn't too much to say about this photograph, other than the stating the obvious about her beauty.
She might look delightful here, just don't ask her for her autograph by saying you will watch her video tomorrow.
Not the best idea.
EA can look like she is heading towards a funeral to respect the passing of a loved one, and still look hot.
I think itt's what the deceased would want.
Honestly, that ice cold stare killed me a little inside.
In a good way.
I could talk about how great Erin's smile is or how I find her cheesing out very cute.
While these reasons are true, I have to be completely honest why I like this picture.
A classic aerial shot while a beautiful woman is wearing a tank top can never go wrong, ever.
I can't tell you what is truly going on in this photo.
All I know is that Erin seems a bit flustered, possibly from her embarrassment of being so attracted to a cheater, while Jim Tressell watches himself strip in front of a large crowd of people.
My best guess about what they are discussing is the fact that Tressell is shocked that he isn't wearing a sweater vest.
I don't know what Pat White is looking at, but there is no excuse to not look at Erin Andrews when she decides to flash on the bright lights of heaven, or as I call it, her smile.
While this picture is hot, a lot of points were deducted by the fact that huge fluffy coats didn't get the memo that they are a better door than a window.
I apologize for the size, but we get EA at every angle, so that has to make up for it.
Plus, she is at the Assembly Hall in Champaign, which honestly gets me more excited.
Call me crazy, it's true.
My love for the Illini has probably reached disturbing levels.
Look at all those fools, acting like they aren't fully aware Andrews is doing an interview right in front of the dugout.
If it were me back there, you would see me in the dugout with my phone out, shooting the momentous occasion of Andrews doing a two minute stand up three feet away from me.
If you listen to the picture closely, you can hear the faint hum of a choir of angels singing.
It is called the Erin Andrews effect.
It's got to be one thing to know that all the testosterone crazed males are out there taking in every millisecond of your beauty.
But it has to be suffocating knowing that even the players and coaches on the field are doing the same thing.
I don't really blame them.
There is nothing like sitting EA next to a decrepit old man waiting to die.
It really makes her beauty pop.
And yes, I know that is our 41st President George HW Bush.
It still doesn't take away from the fact that he is old as time.
Even when EA puts on the super sad face, she is still sexy as hell.
It helps that she is in Wisconsin, aka the land of cows.
It would probably take 3 EA's to equal one resident in the dairy land.
She might just be concerned that she might get fat just hanging out in Wisconsin for a day.
I am a traditional kind of guy.
But if EA wants to bring whips and chains to spice things up a bit, I wouldn't argue against it.
I would definitely cry, but I wouldn't argue.
I'd be too scared.
I am assuming that after an incredibly enlightening and education interview with whoever the hell it was she talked to, Erin Andrews decided it was time to do two things:
1) Strut her angelic stuff off the court like a runway model
2) Showcase the fact that she has heels capable of puncturing your jugular if you try anything that can be defined as sexual harassment.
Looking at you old guy with sweater vest. Don't try anything stupid. I see that look on your face
I've seen that coy smile before, EA.
You farted.
Just admit it.
Scoff at my low brow humor if you will. This might be my last article.
I had to get in a fart joke at some point.
When I first heard the news about these new hybrid jeans known as jeggings coming onto the scene, my mind immediately reverted to the moments where I had to live in fear of seeing girls who were wearing leggings that had no business wearing leggings.
Of course, my fears subsided the moment I saw this picture of EA busting them out.
This is probably the most iconic on the field picture ever taken of Erin Andrews.
The photographer who captured this perfect moment of her in mid stride deserves a large treasure chest filled with gold, diamonds, and a never ending supply of steak.