Tour De France 2011: Time for Andy Schleck-Alberto Contador Rivalry To Ignite?
July 1, 2011
Spencer Platt/Getty Images
On Stage 17 of the 2010 Tour de France, there was a moment when, just prior to the finish at the top of the Col du Tourmalet, Alberto Contador and Andy Schleck emerged alone together out of the fog.
It was an image that served as something of a metaphor for the race that year. Both overall and on that particular day, the two were ahead of the chasing pack. Schleck won on the legendary Pyrenees Mountains, Contador won his third yellow jersey.
The latter's achievement has been tarnished by the subsequent revelation of a positive test for the banned substance clenbuterol. Contador's claim of innocence, that it was a result of a contaminated piece of meat he ate during a rest day, was accepted by the Royal Spanish Cycling Federation. However, with the decision appealed by both the World Anti-Doping Agency and the UCI, the Spaniard may find himself banned a month after this year's Tour if the Court of Arbitration for Sport find him guilty.
Innocent until proven guilty, Contador will be on his bike again, as the race starts Saturday on the Passgage du Gois, seeking to win that fourth maillot jaune to add to the second Giro D'Italia pink jersey he secured earlier this season. Having left Astana after two years, he has teamed up with Bjarne Riis' Saxo Bank-Sunguard outfit.
It is one of the many intriguing subplots of the race that this is indeed the former team of Schleck who, along with his brother Fränk and several others, jumped ship to the Luxembourg team Lepoard-Trek. The signing of Contador was Riis' reaction to the exodus, and though it is doubtful his aim is revenge, it does add some spice to a simmering rivalry.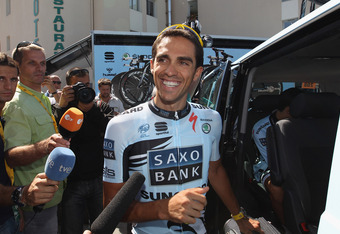 Michael Steele/Getty Images
While Contador has dominated the sport over the past five years, Schleck, who is a couple years younger, was not, until 2010, his primary rival. While the Luxembourger finished second to Contador in 2009, it was the latter's rivalry with his teammate Lance Armstrong that dominated headlines.
In Contador's first Tour win in 2007, it was Cadel Evans and Levi Leipheimer he contended most closely with (after Rabobank's Michael Rasmussen was dismissed by his team for lying about missing earlier drug tests).
The first real spark of Contador versus Schleck occurred on Stage 15 last year. With six days left of the race, it was Schleck in the yellow jersey, with a 31-second lead. On the way up the hors-catégorie climb Port de Balès, Schleck's chain came off. Against the unwritten code of the sport, Contador saw his moment and attacked, going on to take the time that would all but win him the 2010 race.
The eventual champion denied realising exactly what had happened, but the jeers he received on the winner's podium that day, coupled with Schleck's none-too-pleased reaction, suggest most were not buying this claim.
However, the then-Saxo Bank rider did not turn it into an overly sore point between the two. Schleck describes how he has "forgiven him but I've not forgotten" in an interview with the race's 2011 Official Programme. "Why should I say that I hate Contador when he is a good guy? If he was an idiot, my attitude would perhaps be different."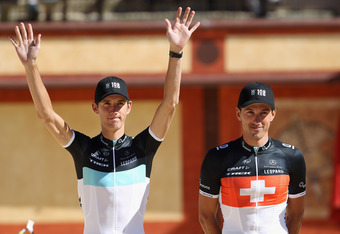 Michael Steele/Getty Images
This attitude of respect was typified two days after that stage in their duel up the final 10km of the Tourmalet. If not quite a full-on battle, it was a riveting test of each rider's mettle, only accentuated by the foggy conditions on the day. Each rider testing the other with moments of acceleration subsequently resisted, both slogging away up the exhausting climb.
Schleck's win by a yard or two was a well deserved moment of jubilation in that frustrating week, despite being unable to take advantage of his last real opportunity to claw any serious time.
Looking back now, the events of Stage 17 feel almost like a potential preview of what may take place again this year; a precursor of the type of battle we may again witness. Barring injury, it is hard to imagine either of these two not being in contention by the time the race reaches the centenary celebration of stages in the Alps, up the Galibier and L'Alpe-d'Huez.
Both have strong enough teams to ensure they are unharmed by a potential disaster in the Stage 2 team time trial. While they are suitably equipped with teammates to help in the mountains, on the Tourmalet the two once more displayed their ability to go it alone if necessary.
With other contenders, including Armstrong, Evans, Fränk Schleck and Bradley Wiggins, all out of contention through either injury or poor form by that point, Andy and Alberto were clearly the best in 2010. Now, they go into the 98th edition of the Tour de France once more as favourites, but, unlike the closing days of last year, their rivals for general classification glory will be hopeful of preventing a two-horse race again.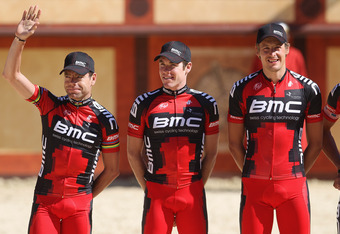 Michael Steele/Getty Images
For starters, the presence of Fränk means it's highly unlikely his brother will be left so isolated as he was at times last year, after the elder Schleck sibling broke his collarbone on the cobbles of Stage 3. Not only does he provide a tag team partner for Andy in the inevitable mountain conflicts, he is a GC contender in his own right should things go his own way.
A fresher Cadel Evans and a reinvigorated Bradley Wiggins will be keen to improve on previous top-five finishes after disappointments last year. Add to that Italian veteran Ivan Basso, podium hopeful Samuel Sánchez and young Dutch star Robert Gesink, and there are several potential flies in the ointment of another Contador/Schleck one-two.
Should it come down to these two again, the excitement comes in the unknown of what might transpire. Going back once more to the Tourmalet last year, was Andy Schleck proving his ability to keep up with Alberto Contador, or an inability to lose him? Was the Spaniard just doing enough to stop his opponent from racing away, retaining those extraordinary trademark bursts of speed and pressure for an emergency?
Schleck will surely have benefited from his experiences of the past few years, a more mature rider in both intelligence and ability. Contador's excellent performance in the Giro D'Italia this past May suggests the lingering doubt of a potential ban is something far from his mind in competition.
If other contenders, outside issues and past disputes are non-issues, it may well just come down to the heat of competition. Two supreme athletes, giving their all to prove who is best.