Tour de France 2011: 10 Things To Watch For at This Year's Tour de France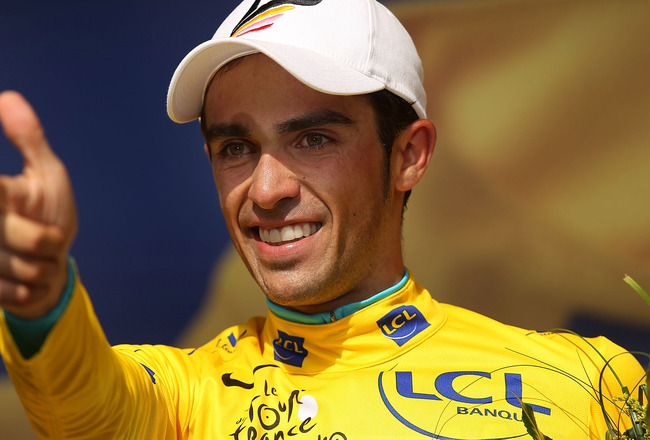 2010 Tour de France winner Alberto Contador
Spencer Platt/Getty Images
Peter Flax is the Editor-in-Chief of Bicycling Magazine.
This year's Tour de France, an event celebrating its 108th anniversary, will be epically hard even by the standards of this famously rugged three-week event, with a final week that features three consecutive brutal days in the Alps followed immediately by a decisive individual time trial.
Translation: No rest for the weary.
Here's a rundown of the storylines, key riders and stages, and otherworldly drama that makes the Tour one of the great sporting events on the planet.
Can Alberto Contador Destroy the Field—Again?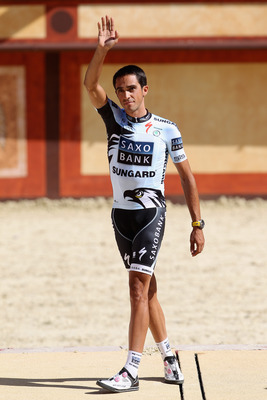 Michael Steele/Getty Images
With three Tour titles already, the 28-year-old Spaniard is easily the most dominant stage racer since some dude named Lance Armstrong. And at his very best, Contador's all-around talents and class on a bike put him in a league of his own.
But this year will be tougher for him than last—his decision to race the grueling Giro d'Italia in May, which he won, could take a toll in the last week of the Tour. Plus, his squad isn't as strong as in past years, which means he may face all sorts of attacks on some key mountain stages with nary a teammate around.
But even when he's isolated, exhausted and tag-teamed by the best bike racers in the world, Alberto Contador still has what it takes to win decisively. Whether or not he has the grace of a grand champion, he can undoubtedly pedal with as much grace as almost any rider in the history of the sport.
Related: 6 Ways To Beat Contador at the Tour
Can Andy Schleck Ride—and Maybe Even Win—With Anger?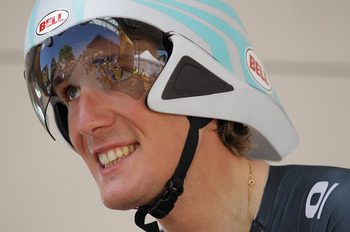 Doug Pensinger/Getty Images
The 26-year-old might be the only general classification favorite who can consistently climb with Contador, but it's not yet clear whether this lean machine from Luxembourg has the killer instinct to defeat the Spaniard.
Last year, Schleck had a mechanical problem with his bike—an infamous moment now immortalized as "Chaingate"—that cost him 39 seconds, the exact amount he wound up losing the Tour by.
On the bright side, Schleck's Trek Leopard team is packed with talent and experience and hard feelings about how last year turned out. If he can tap into that anger and ride with aggression, a yellow jersey in Paris is definitely within reach.
Can Mark Cavendish Get His Mojo Back?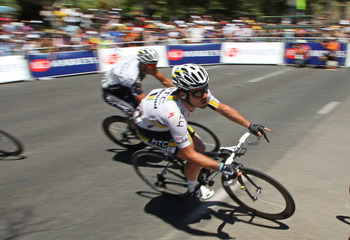 The general classification of the Tour is decided in the mountains and on individual races against the clock called time trials, but some of the craziest action unfolds on flatter stages that end with sprint finishes. It takes a special athlete—one who has tons of power and no fear of banging bodies or hitting the deck at 45 mph—to earn the victory salute on these sprints.
And for the past few years, no one has been better than Mark Cavendish, a 26-year-old Brit from the Isle of Man with a pretty loud mouth and the legs to back it up.
But 2011 has shaped up a bit tougher for the Manxman, battling questions about his fighting spirit, his lack of results, even his weight—not to mention a field full of such accomplished sprinters as Thor Hushvod, Alessandro Petachi and American Tyler Farrar—so Cavendish will have a lot on the line when the pack hits the finish line in the first week of the Tour.
Related: 2011 TDF Riders To Watch

Can Chris Horner Deliver?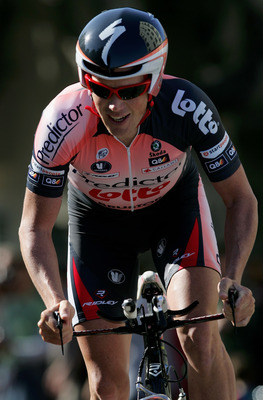 Doug Pensinger/Getty Images
The 39-year-old American, a longtime favorite of racing fans, is beloved for his blue-collar work ethic, his straight-talking redneck charm and, more recently, his gutsy riding performances.
Last year, after starting the Tour riding in support of Lance Armstrong, Horner wound up finishing 10th as the top American in Paris. And this past May, Horner won the prestigious Tour of California.
For the first time in his very long career, Horner will get to start a Tour as a protected team leader—so now it'll be up to him to harness his savvy, his climbing legs and that little chip on his shoulder to see what he can accomplish. A podium finish is a long shot, but not out of the question.
Related: Pushing 40, Getting Faster
Who Will Lead RadioShack?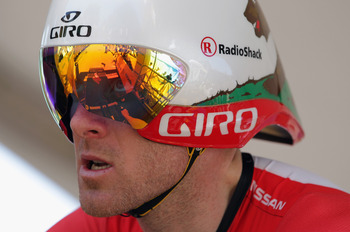 Doug Pensinger/Getty Images
Normally, most squads come into the Tour with one or maybe two riders who are expected to contend for a high overall finish in Paris. This year, the American RadioShack team has four guys who have legitimate aspirations for a top-10 finish—Horner, former podium finishers Levi Leipheimer (pictured) and Andreas Kloden, and Slovenia's Janez Brajkovic.
This overabundance of riches often looks better on paper than it does on the road because it can create tension on a team and exhaust teammates who must protect and help leaders.
In the end, the situation will be settled on the road, as the one or two riders who have the best legs will have the team's full support in the critical third week of the Tour. But until that becomes clear, RadioShack can use all this talent to tactical advantage if riders are willing to leave their egos on the team bus.
Related: Radioshack Names Tour Team


Who Will Finish Third?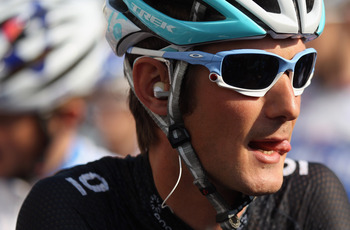 Bryn Lennon/Getty Images
At the Tour, the most obvious glory goes to the fellow who wears the yellow jersey in Paris, but much like in the Olympics, finishing in the top three is an enormous honor.
The oddsmakers and most fans expect Contador and Andy Schleck to take the top two steps but that last podium spot is seriously up for grabs. Americans will be pulling for Chris Horner or Levi Leipheimer, but they'll have very tough sledding against the likes of Spain's Sammy Sanchez, Andrew's older brother Frank Schleck (pictured), Australia's Cadel Evans and Britain's Bradley Wiggins.
This battle for third may well turn out to be the most exciting drama in the last week of the Tour, when the riders spend three very hard days in the Alps followed immediately by a time trial in Grenoble.
Related: 30 Greatest TDF Moments
Can a Young American Do Something Special?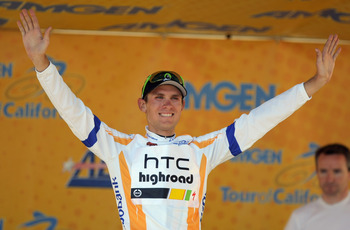 Doug Pensinger/Getty Images
Even though there is no single young American rider looming as the next Lance Armstrong, a very promising new generation of racers promises to pick up the slack left behind by the famous Texan's departure from the sport.
One kid to watch at the 2011 Tour is Tejay Van Garderen, a 22-year-old on the HTC High Road squad. In last year's Tour of Spain, he maintained a top-10 placing for the first two weeks of the race.
This year, Van Garderen will ride in a support role for the leaders of his team, but he already has the talent to win a stage this year—and, just maybe, the whole Tour in a few years.
Related: Tejay Van Garderen at the Tour of California
Can an Old American Do Something Special?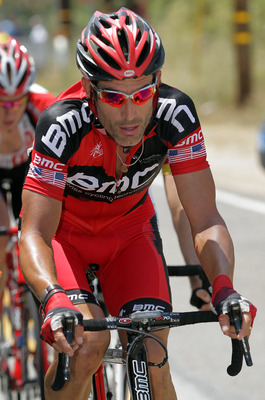 Doug Pensinger/Getty Images
American George Hincapie is the Cal Ripken Jr. of bike racing. This year will mark the 16th time he lines up at the Tour de France, equaling an incredible record set in the 1970s and '80s by legendary rider Joop Zoetemelk.
And Hincapie is more than just durable; he was Lance Armstrong's right-hand man for all of his seven Tours de France victories and also won a couple of stages on his own.
It will not be easy for Hincapie, 38, to grab a stage win this year—his primary responsibility is to help BMC teammate Cadel Evans climb the podium in Paris, so he'll have precious few opportunities to pursue individual glory. But there may be no one in the pro peloton who would deserve—or enjoy—a final victory more than Big George.
Related: George Hincapie, Class Act


Which Breakaway Will Succeed?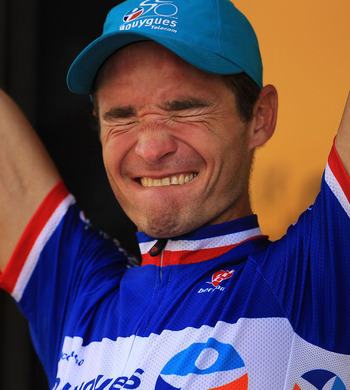 Spencer Platt/Getty Images
Though every day of the Tour de France is full of uncertainty, one thing you can count on in every stage is that a small bunch of racers will successfully escape from the main field for a few hours of TV time.
Nearly every time, the big guns in the peloton will reel in these brave racers shortly before the finish line, but occasionally an escape artist stays away for a glorious breakaway win—an achievement that can immortalize an athlete.
One guy who has played this card and won more than most riders could ever dream is Frenchman Thomas Voeckler, who can be counted upon to make seemingly futile attacks and then hold off the wolves for a heroic stage victory.


Who Will Carry the Day on Stage 18?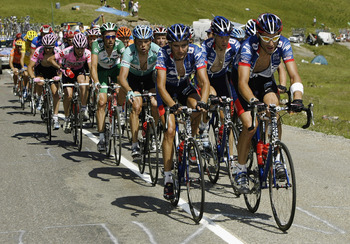 Doug Pensinger/Getty Images
Though the Tour is three weeks long, the race is typically decided on a few key stages that separate the contenders from the pretenders. This year, the most critical stage may well turn out to be Stage 18, where the pack will climb three formidable mountain passes in the Alps, including the legendary Col du Galibier.
Though the Tour has ascended the Galibier more than a dozen times in past editions, this is the first time in the 108-year history of the event that a stage will end at the top of this scary-hard climb.
Any general classification contender who still aspires to slip on a yellow jersey in Paris will have to be very close to the front atop the Galibier. Stage 18 should be a beautiful reminder who the true superstars of the Tour really are—the incredible roads and terrain of France, which bring out the best in the best riders on the planet.
Related: Complete TDF Map Guide
Go to Bicycling.com for more coverage on the Tour de France
Keep Reading