Arsenal Transfer Talk: Gunners Unable To Keep Talent in Big-Money EPL Culture
June 30, 2011
Paul Gilham/Getty Images
Arsenal Transfer News Sees An Exodus of First-Team Talent to High-Paying Clubs
Arsene Wenger and Arsenal FC will never make flashy, high-priced signings.
The "Arsenal Way" has created a lot of success for the Gunners, but the one thing it hasn't inspired is reckless spending in the transfer market. Wenger and Company have predicated the club's style around cultivating young talent and turning them into stars.
It has worked in the past, and it will work in the future, only there is one problem with Wenger's plan to build a winning club.
The Gunners are simply unable to keep their top stars.
It has happened in the past, and it is happening now, as Wenger is watching three of his players prepare a mass exodus of talent to other clubs who are willing to spend exorbitant amounts of cash for their services.
Gael Clichy, Cesc Fabregas and Samir Nasri are all likely to head elsewhere during this summer transfer window, with Manchester City, Barcelona and Manchester United all willing to scoop up the young talent for their rosters.
What do all three of those teams have in common? All three are big spenders in the transfer market, as a club like Arsenal opts to make shrewd moves for lesser targets.
The Gunners love to pinch pennies at every turn, always trying to negotiate teams down and save money wherever they can. It is a strategy that has frustrated fans, as Arsenal targets have routinely gone elsewhere as the club continues its pursuit of fiscal solvency. 
To get top talent and keep it, you have to spend money, and that is something Wenger has refused to do, and a club that has enjoyed consistent success has struggled to keep up on the world stage.
Barcelona and Manchester United dominate the sport, and both are willing to throw big money out there to land top targets. Both develop talent, but they are also willing to do what it takes to keep those players in-house.
Yes, winning breeds a culture attractive to players, but if you have roster turnover, you can't possibly hope to create that atmosphere. Chemistry is lost in the process, and long-term success gives way to short-term progress.
Arsenal have shown flashes of talent and promise, but in the end, have fallen short against clubs with deeper pockets and more talented rosters.
Money may not buy championships, but it buys talent, and when you try to cut costs, the product suffers—and we saw that last season.
The Gunners had major holes on the roster, especially in the defense, which was subject to complete breakdowns—one of which cost Arsenal the Carling Cup, a stunning failure for a club that has gone through a sizable trophy drought.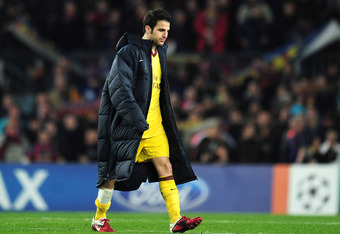 Shaun Botterill/Getty Images
Arsenal are losing talent simply because it hasn't put up the money necessary to fill those holes. It has cost the club victories, and in the end, talented players are going elsewhere, because they know they can win at their destinations (with the exception of Manchester City).
The Gunners are caught between two realities: the one Wenger has created, in which Arsenal will develop talent and save money in the transfer market, and the reality in which the rest of the world's footballing community lives in. A reality where you need to spend cash to complete a roster and keep your talented youngsters in-house.
Arsenal is too storied of an institution to be reduced to a feeder club, and under Wenger, this is exactly what has happened.
If the Gunners don't use its coffers to stabilize the roster, Wenger will eventually be sacked and the club will have to watch its rivals continually pass them by on the world stage.