NHL Offseason: Is Detroit Asleep at the Wheel, or Is a Mega Deal in the Works
June 30, 2011
Gregory Shamus/Getty Images
The Detroit Red Wings entered this offseason with more cap space than they are used to.
The unexpected departure of veteran defenseman Brian Rafalski, and the uncertain future of Jonathan Ericsson and Ruslan Salei, meant the Wings had money and knew where it needed to be spent.
About a month ago, the free-agent pool was ripe with top tier defensemen.
Christian Ehrhoff (UFA), Kevin Bieksa (UFA), Tomas Kaberle (UFA), Andrei Markov (UFA), James Wisniewski (UFA), Joni Pitkanen (UFA), Ed Jovanovski (UFA), Drew Doughty (RFA), Zach Bogosian (RFA) and Keith Yandle (RFA) were all candidates to fill the void left by Rafalski's retirement.
But as free agency opened this afternoon, the once bountiful group of blue liners had dwindled considerably.
Probably the most sought after of all the free agents, Kevin Bieksa, decided he would prefer to stay with the Canucks, signing a five year, $23 million contract before testing the market.
Joni Pitkanen and Andrei Markov were also feeling the hometown love, as each inked a new three year deal. Pitkanen agreed to a $13.5 million deal while Markov signed on for $17.25 million.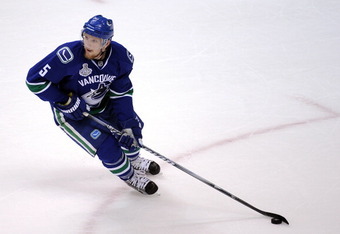 Harry How/Getty Images
Christian Ehrhoff, the man many consider to be the top defenseman left on the market, watched yesterday as his negotiating rights were traded twice; first from Vancouver to the New York Islanders, and then from the Islanders to Buffalo. Ehrhoff then proceeded to sign a 10 year, $40 million deal with the Sabres.
James Wisniewski, another player linked to the Red Wings, saw his rights traded to Columbus in return for a seventh round pick. He then signed a 6 year, $33 million deal with the Jackets.
These deals, though rich, were certainly not outside what Detroit could afford.
And yet, through all of this, the Wings remained quiet. But why?
They haven't made moves for exclusive negotiating rights, and they didn't make a blockbuster trade before the draft. I'm not sold on Kaberle, and Jovanoski isn't getting any younger.
They've sat back and watched as their list of free agent targets has evaporated, but still, nothing.
Are the Red Wings getting fleeced?
Is Ken Holland asleep at the wheel?
In one word; no.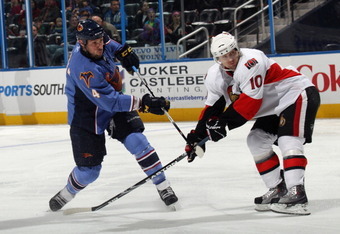 Bruce Bennett/Getty Images
I've watched the Wings long enough to know, there's always a plan. This is no different.
Detroit didn't deal draft picks for negotiating rights because it's simply not their style. With the late round steals the Wings have on the roster, every draft choice is coveted by the organization.
I also believe Detroit is setting themselves up to make a big move for a restricted free agent. Currently there are three young stars, Yandle, Doughty and Bogosian who are all restricted free agents. Stamkos is out there too, and I think it's a 0% chance, but man would that be fun.
It's unlikely the Wings will go after these guys with offer sheets (not Holland's style), but a trade does seem like a possibility. The Wings have the assets to make a deal happen, and in the end, if anyone moves, it'll be Bogosian.  
Things are getting tense in Motown as Detroit's gap on defense has yet to be filled. Rafalski left a big void, and though they secured Ericsson, it appears unlikely Salei will return. That leaves two starting spots open and a lot of money to be spent.
Updates here throughout the day.