NBA Draft 2011: Highlight Reels for All First-Round Picks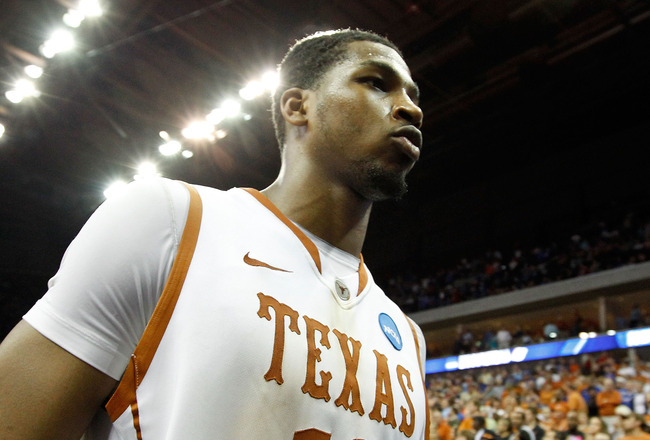 Tom Pennington/Getty Images
The 2011 NBA Draft was one full of mystery and hope.
It was chalk-filled with mystery because there were so many players both American and international that we really didn't know.
It was a hope-laden draft because many touted it to be a "below-average class." These players, in turn, will have to overcome that tag by sticking it to the NBA as soon as next season.
Here are the highlight reels of each first-rounder, which in turn can display what they might do at the next level.
Enjoy!
1. Kyrie Irving, Cleveland Cavaliers
Kyrie Irving, although he played in just 11 games with Duke last season, was still the number one overall pick of the 2011 NBA Draft.
The Cleveland Cavaliers are elated at the idea of having a potential franchise guy like Irving, and much of what you see in this short is a reflection of what they believe he can do at the professional level.
2. Derrick Williams, Minnesota Timberwolves
A controversial selection like Irving (but for different reasons), Derrick Williams undoubtedly has the tools to be an All-Star in the association one day.
For now, we can enjoy his sophomore conference season mix and hope for the best.
3. Enes Kanter, Utah Jazz
The Utah Jazz went with their guts in selecting Enes Kanter third overall, and in doing so made a bold statement about their future.
Right from the get-go of this highlight mix, Kanter shows what he can do in the post with his NBA-sized body.
4. Tristan Thompson, Cleveland Cavaliers
No offense to Texas' Tristan Thompson, but he seemed like a head scratcher at number four.
Will he overcome adversity to be a good pro? You be the judge.
5. Jonas Valančiūnas, Toronto Raptors
In selecting Jonas Valančiūnas with the fifth overall pick, the Toronto Raptors were hoping to erase some of the sour memories that 2006 first-rounder (and almost consensus bust) Andrea Bargnani has left them for the past five years.
Fans should have a countdown ready for his 2012 arrival. He really is something special, as clearly evidenced in this YouTube compilation.
6. Jan Vesely, Washington Wizards
In making Jan Vesely the third European with the sixth pick overall, the Washington Wizards added another extremely athletic baller to the plethora of beasts already on the roster.
In other news, the Wizards are my pick to snag the eighth seed next season in the East.
7. Bismack Biyombo, Charlotte Bobcats
The Charlotte Bobcats had a tremendous first round, drafting both Bismack Biyombo and Kemba Walker.
The former is a defensive beast who has at least one jersey order pending.
8. Brandon Knight, Detroit Pistons
Brandon Knight of Kentucky seemed destined to be a top-five pick in last Thursday's draft, but fortunately for the Pistons he fell all the way down to the eighth spot.
I mean, just watch this video and tell me he's not deserving of a top spot!
9. Kemba Walker, Charlotte Bobcats
Kemba Walker might just be the best all-around point guard in this year's draft. His highlight reel does give a promising argument.
It makes you wonder though, now: What does the team do with DJ Augustin?
10. Jimmer Fredette, Sacramento Kings
Jimmer Fredette was easily the most scrutinized player of this year's class, and yet the Sacramento Kings handed him the keys to the team and have already declared him the starting point guard.
If that isn't trust, then I don't know what is.
Enjoy this epic video while we anticipate Jimmer's rookie season.
11. Golden State Warriors, Klay Thompson
Well, it looks like the Klay Thompson-Alec Burks debate was settled with the 11th and 12th picks.
The former was noted by ESPN's Dick Vitale to be the most NBA-ready player in the draft.
This highlight reel is great but, well, repetitive.
12. Alec Burks, Utah Jazz
One of the most well-rounded players of the draft, Alec Burks of Colorado was taken 12th overall by the Utah Jazz.
Judging by what you see in this highlight reel, he's not going to disappoint.
13. Markieff Morris, Phoenix Suns
The Phoenix Suns shocked a large majority of fans watching Thursday's draft by selecting Markieff, the Morris brother that everyone thought to be inferior.
They must've seen something they liked in the draft, and my best go out to him for overcoming the biggest rivalry of them all.
14. Marcus Morris, Houston Rockets
The Houston Rockets had me seeing double as they selected Marcus Morris with the following pick! Wow, I am so cheesy even Chester the cheetah would have a hard time hanging out with me.
So anyway, even though it's a tad blurry, enjoy the highlight reel of the former Kansas Jayhawk.
15. Kawhi Leonard, San Antonio Spurs
By trading George Hill for this pick, the San Antonio Spurs acquired a versatile and smart defender. The highlight tapes don't lie.
In other news, the Spurs faithful are collectively letting out a huge sigh of relief because now they don't have to start Richard Jefferson.
16. Nikola Vucevic, Philadelphia 76ers
The Sixers were looking for a solid big, and this is what they got.
Bravo, Philly.
17. Iman Shumpert, New York Knicks
Iman Shumpert was the 17th pick of Thursday's draft, and New York Knick fans alike were scratching their heads after the selection.
Nevertheless, enjoy his mix, which shows what kind of pro he can be—a respectable one.
Okay, that last sentence was cornier than a field in the movie "Signs."
18. Chris Singleton, Washington Wizards
The Washington Wizards got an absolute steal with Chris Singleton of Florida State, the 18th pick.
And if it is even remotely possible at this point, they just got more athletic.
19. Tobias Harris, Milwaukee Bucks
The first pick for the Bucks might be worth the dropoff in selections.
He doesn't possess much star potential, but I can definitively say he will impact some team during his NBA career.
20. Donatas Motiejunas, Houston Rockets
If anything, the Houston Rockets gave up a future first-rounder for this guy.
They must really see star-studded potential in Motiejunas. After watching his seven-plus minute highlight reel, consider me thoroughly convinced.
21. Nolan Smith, Portland Trail Blazers
The Portland Trail Blazers fully expect to be criticized for taking Nolan Smith of Duke with the 21st overall pick.
They also fully expect Nolan Smith to contribute to their team.
22. Kenneth Faried, Denver Nuggets
Perhaps the biggest steal of the draft, the Denver Nuggets swooped in and picked Kenneth Faried of Morehead State with the 22nd selection.
He really is a guy who will rebound and defend at extraordinary rates.
In more important news, Faried's legendary mane might make him an eminent pick for the All-Dreadlocks first-team. He's definitely a first ballot Hair Hall of Famer.
23. Nikola Mirotic, Houston Rockets
Even though he will undoubtedly Ricky Rubio the Chicago Bulls for a while, I believe Nikola Mirotic will become a solid pro someday.
Now that I'm on this tangent, I'll finish it off—I believe we should start using "Ricky Rubio" as a verb. For example, "I'm going to Ricky Rubio that class because I hate economics."
Does that make sense?
While I'm at it, let's also use "Yi Jianlian" for when you declare something but then back out at the last second. For example, "I was going to skip class, but I got into a tough situation and Yi Jianlian-ed it."
24. Reggie Jackson, Oklahoma City Thunder
This nifty little guy could rebound, pass, and shoot at the collegiate level with efficient rates, so there's no reason he can't do it in Oklahoma City.
By the tweets of it, he's already hanging out with teammates Kevin Durant and Russell Westbrook, too.
25. Marshon Brooks, New Jersey Nets
Marshon Brooks of Providence is a guy whose game has been compared to the likes of Kobe Bryant.
Apparently, the Laker-Celtic rivalry runs too deep for Danny Ainge, as the C's promptly swapped Brooks to New Jersey.
This 22-year-old might be another reason for Deron Williams to sign long-term.
26. Jordan Hamilton, Denver Nuggets
Jordan Hamilton of Texas is heading to the Rocky Mountains after being selected by the Nuggets with the 26th overall pick.
He's athletic and he can put on a show, as clearly shown by his highlight reel.
27. JaJuan Johnson, Boston Celtics
Well, this is the guy the Boston Celtics gave up Marshon Brooks to obtain.
At least he's got a sick highlight reel, capped off by the musical musings of the great Wiz Khalifa.
I don't know why I said that. You know what it is.
28. Norris Cole, Miami Heat
Since there is no "Norris Cole highlight mix" like there is for every other aforementioned draft pick, enjoy this game-winning shot and know that's he a very efficient point guard.
I mean, what other guys his size in this draft class averaged seven rebounds per game?
The same amount of percent chance that I have to make it to the NBA, that's what.
29. Cory Joseph, San Antonio Spurs
The third Texas Longhorn selected in the first round of the 2011 NBA Draft, Cory Joseph has the tools to be a good point guard.
It was a great selection by San Antonio, who had just dealt their backup point guard 14 picks prior.
Here's another game-winner.
30. Jimmy Butler, Chicago Bulls
Since we all know about the unfortunate events that have transpired for this prospect, there is no need to go into detail.
Just know that no one in this class has a bigger heart and a greater desire than Marquette's Jimmy Butler.
He will take his talents 92 miles south to Chicago, where he will (I repeat, will) succeed professionally with the Bulls.
Keep Reading