Florida Marlins: Should Deal Josh Johnson Before He Becomes Mark Prior 2.0
June 29, 2011
Mike Ehrmann/Getty Images
In a what was perceived as the only piece of good news the Florida Marlins have received all month, ace pitcher Josh Johnson will be expected to return to the team sometime later this season.
Johnson visited Dr. James Andrews on Wednesday and no structural damage was found on his sore right throwing shoulder. 
According to Joe Capozzi of the Palm Beach Post, Josh Johnson received a cortisone shot and will now rest for nearly two weeks before resuming any baseball activity. 
While such a diagnosis should be encouraging in such a dismal month for the Marlins, Johnson will now not be expected back after the All-Star break at Wrigley Field against the Cubs on July 16th. Instead, the two-time All-Star pitcher who has 3-1 record (nine starts) with a 1.64 ERA, 0.98 WHIP and 56 strikeouts in 60 and a third innings might be back around early August at the earliest at which point the Marlins could be out the playoff race with a packed National League East.
A general consensus is too just shut down your pitcher if you're out of the race. The Marlins did that with Johnson last season when he had a back issue.
Speaking of the Cubs, Johnson brings to light another talented pitcher whose career was essentially cut short by injuries in Mark Prior.
Prior pitched for the Cubs in parts of five seasons (from 2002-2006) before a shoulder injury put the exclamation point on what would have been a Hall of Fame career.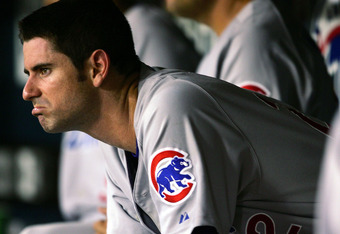 Elsa/Getty Images
Here is a look at the list of the major injuries that plagued Mark Prior in his career:
Achilles' Tendon  - March 2004 
 Elbow Strain - March and June 2004 
 Shoulder Strain/Tendinitis - March and August 2006 (surgery in 2007) 
 Here is a look at the list of the injuries that have thus plagued Josh Johnson in his career:
Torn Elbow Tendon - July 2007
 Back Pain - September 2010 
 Shoulder Inflammation - May 2011 (ongoing) 
Don't get me wrong but I love JJ, he has been one of the more consistent pitchers the Marlins have had since perhaps the Josh Beckett days and has delivered when needed the most. But, injuries especially this latest have raised the warning flags that Johnson just won't be on the level of one of the best pitchers in baseball if these injuries continue down the road. 
Certainly, I don't expect to see the Marlins to deal their best pitcher as the new ballpark is on the horizon in 2012 but they best give it some thought despite the circumstances.
Once Josh Johnson is healed and can return to pitch, the Marlins should be hoping he can pitch like he did before his injury. If that happens, the Marlins are good position to dangle him as trade bait this offseason.
Yes, I know, the idea is absurd for many fans and front office included but let's consider the position of the Marlins right now. If they expect to be in contention for the coming years perhaps the best thing they can do is to trade Johnson and restock their depleted farm system with top notch arms that can fill out their starting rotation (which right now lacks Johnson's arm and a solid fifth starter) and a closer (Leo Nunez's tenure might soon end in Florida). 
Pitching hungry teams such as the New York Yankees and Texas Rangers are just the candidates that would be willing to take on Johnson and hoping the injuries are just a phase in his career.
The pair of teams have attractive pieces the Marlins would covet. In New York, the Yankees have pitching prospects like southpaw Manny Banuelos and right hander Dellin Betances both having exceptional seasons in the minor leagues and catching depth (Gary Sanchez and Jesus Montero) which the Marlins could use with the struggles of their supposed catcher of the future, Kyle Skipworth.
The Texas Rangers reportedly tried to land Josh Johnson last season when inquiring about Jorge Cantu. Supposedly, they offered Justin Smoak and Neftali Feliz as a starter offer but the Marlins rebuffed them and with good reason since he had been healthy up until that point (before the back pain and shoulder issues).
Currently, the Rangers have one pitcher in southpaw Martin Perez who could be attractive to the Marlins along with Neftali Feliz.
But all this is purely speculative and a glimpse as to what the Marlins might get if Johnson can return and pitch like he did at the start of this season. 
The Marlins certainly can't afford to wait too long to before the window of opportunity closes as what happened with Dontrelle Willis, who along could have netted the Marlins a better return had he been dealt in 2005 (during the "Market Correction") instead of 2007 when he had a subpar year.
In a perfect world, Johnson comes back and pitches well this season and pitches injury free after that but chances are Johnson will incur another serious injury and at that point what more can be done other than to just deal him and allocating the money that would have been spent for Johnson on a free agent starter and awaiting the debuts of the pitching prospects received in that deal and hoping they are just as good.