Houston Texans: Who They Should Lose to Free Agency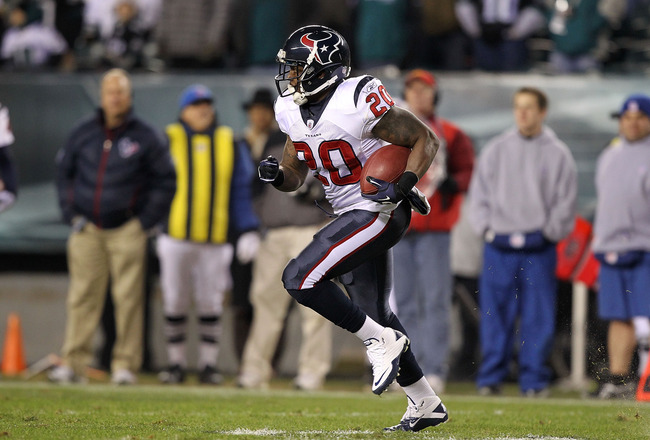 After his year of "fumbalitis" followed by Arian Foster's breakout performance, Steve Slaton SHOULD be on the Texans chopping block.
Al Bello/Getty Images
They have been on the brink of making the playoffs for years. NFL analysts have christened them the "dark horse" of the NFL for the last two seasons, and yet the Houston Texans continue to under-perform.
However, with new defensive leadership under Wade Phillips, the return of key players such as DeMeco Ryans and new key pieces via the draft and free agency, the Houston Texans look poised to make a serious run for first place in the AFC South and a spot in the playoffs.
Vonta Leach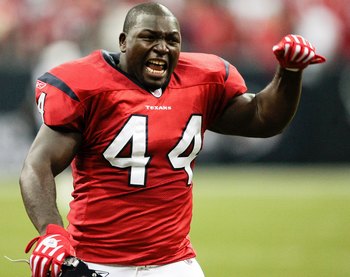 Is the pro-bowl FB worth the money he wants?
Bob Levey/Getty Images
Last year, Vonta Leach opened gaping holes for the NFL's leading rusher. His performance was so stellar, in fact, that he made the AFC Team for the 2010 Pro Bowl. However, these stats do not demand that he become the highest paid fullback in the NFL, which he is aiming to do. His deal would have to best that of Philadelphia Eagles FB Leonard Weaver, who signed a three-year, $11 million deal last year.
The fact that he is asking for a record contract coupled with the diminishing use of fullbacks in the NFL, and the rising of James Casey as a possible replacement, should be writing on the wall for Vonta Leach. IF he insists on becoming the highest paid fullback in the NFL, the Texans would be wise to part ways with him and invest their money elsewhere.
Jacoby Jones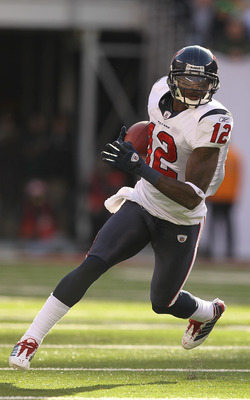 Where has all of the potential gone for the once touted Jacoby Jones?
Al Bello/Getty Images
What was once a promising compliment to Andre Johnson has become a failed attempt at securing a stud second wide-receiver. Jacoby Jones, now entering his fifth year in the NFL, has less yards (in his four-year career) than Andre had in 2009. In fact, Jones' 1,229 yards total, is only 13 yards better than Andre's 2010 season, half of which he played on a bad ankle.
To say that Jacoby Jones is overrated is an understatement. His status as a restricted free agent should see him packing his bags as the Texans look for a solid performance from WR Kevin Walter and the possible free-agency signing of another complimentary WR for Andre Johnson.
Bernard Pollard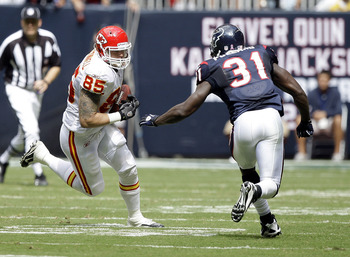 The hard-hitting Bernard Pollard was effective, WHEN he could keep up with his assignment.
Bob Levey/Getty Images
When the Texans went looking for an answer to their free-safety problems, they thought they had found the answer in Bernard Pollard. The hard-hitting, vocal fire-starter for the ailing Texans' defense was effective when he could keep up. Too many times, Pollard was beat in coverage, and he ended the 2010 season with only four passes deflected and no interceptions. On a team that is looking for a solid free-saftey, Pollard quickly became obsolete.
His status as a restricted free agent may keep him around a little while longer, but the Texans would be wise to look elsewhere for help in their secondary.
Kevin Bentley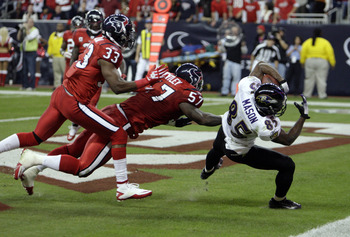 Kevin Bentley (#57) was beat in coverage WAY too often.
Bob Levey/Getty Images
Kevin Bentley started less than half of the games for the Texans in 2010, he had only one pass deflected, he is the oldest LB on the roster, he is an unrestricted free agent and the Texans drafted two LBs for this season. To say that the writing is on the wall for Bentley would be an understatement. Likewise, the Texans' switch from a 4-3 to Wade's new 3-4 would almost guarantee that Bentley wouldn't see much, if any, time on the field.
Steve Slaton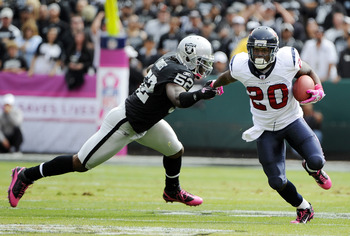 The once promising Steve Slaton is now a shadow of his former self.
Thearon W, Henderson/Getty Images
Steve Slaton began his NFL career with a promising 2008 season when he accrued more than 1,200 rushing yards. The next season saw Slaton virtually fall off the map with a putrid performance totalling just over 400 rushing yards (and seven fumbles). Last season, Slaton was hardly even mentioned among Houston Texans' fans when he managed a measly 93 rushing yards for the season. Meanwhile, second year wonder Arian Foster exploded onto the scene with Derrick Ward supporting the run game.
Slaton does not have the speed or the hands for kickoff returns, and his value is quickly plummeting. While he is not a free agent this season, his departure would free up salary room and a roster spot for the defensively weak Texans.
Keep Reading

Houston Texans: Like this team?