Roger Federer Takes Another Step Back in Shocking Loss to Jo-Wilfried Tsonga
June 29, 2011
Julian Finney/Getty Images
What happened to Roger Federer's recent resurgence at the French Open?
Fed has suddenly been knocked out of the Wimbledon in the quarterfinals for the 2nd year in a row..It seems that Wimbledon's grass courts no longer give Federer the best chance to win.  He looked much better on the clay courts at Roland Garros in Paris a few weeks ago. 
For the first time in his entire career, Federer lost a match in which he had won the first two sets.  (He had been 178-0)  But Tsonga outlasted him 3-6, 6-7, 6-4, 6-4, 6-4.  Tsonga made a fantastic match - undoubtedly one of the best of his career.  His serve was superb.  But, still, no one felt Federer would lose today, especially after winning two sets.
I guess the primary explanation for today's outcome is that Federer is simply a more inconsistent, fragile player due to his age.  It seems, at this late stage in his career, Federer may repeatedly take "one step up and two steps back" - to quote Bruce Sringsteen's song.  Or, perhaps, as happens to most aging players, he'll keep taking little steps back.  Going forward, is there any reason to think Federer can win the upcoming US Open or the 2012 Australian Open?  It seems that only injuries or upset losses to the world's top players can give Fed a chance to get his 17th Grand Slam victory.
Yet, Federer was playing so beautifully at the French Open.....how does one explain how lethargically he looked in the last two sets vs. Tsonga today?  He looked passive, slow, indifferent, and, at moments.resigned.  His returns of serve were often weak and soft for Tsonga to tee off on.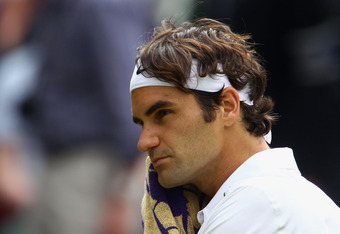 Julian Finney/Getty Images
Was Federer feeling the effects of an injury?  His movement was so uncharacteristically bad that I actually thought about that seriously during a long stretch of the last two sets of the match.  I thought Federer might have suffered a relapse of the recent groin injury that prompted him to skip the Queens tournament  before Wimbledon.  Often, in the last two sets, anyway, he moved slowly or sluggishly toward the ball on his groundstrokes.  Sometimes, he'd stand in place and take a couple of steps before swatting at the ball rather than get in better position.
I thought Federer's movement was so lousy today that there had to be some other explanation.  I just tried to find Federer's post-match comments and I heard no mention of an injury. Federer usually glides quicly and gracefully to the ball to make both offensive or defensive shots.  Federer had seemed OK in the first three rounds of Wimbledon, but, maybe we saw a "warning sign" of his vulnerability when he lost a set to Mikhail Youzhny in the 4th round.  It seemed, to some apparently, that Roger had a few lapses in the Youzhny match.
Now, even though I'm a huge Federer fan, I'm not speculating in order to find excuses.  I'm just tyring to understand what I just saw.  I saw a completely different Federer than I've seen in recent matches, particularly at the French Open, when he moved well and hit his ground strokes and serve better than he has in ages.
Maybe, as a "Mr. Ruffin" commented in response to Andrew Kulha's BR article on this match, wrote, Federer is now better playing on clay than hard courts because he struggles much more against "big hitters" on the faster surfaces.  Ruffin said he thought Federer was now better in three-set matches rather than five-setters because he gets fatigued.  I totally agree.  I think unless Federer wins the first or second sets, he has only the tiniest of chances to win in five sets.  He's older and loses his energy.
What's fascinating about Federer is that while he's in decline, as Brian Phillips wrote in a Grantland.com article, he's in one of the slowest declines tennis fans usually see.  As Phillips wrote, Federer will probably have unpredictable ups and downs, but he'll still have a chance, on some days, to display his old brilliance.
"...Federer's protracted 'death' would make a great career for most tennis players," Phillips wrote.  "It's only sad for us."
For Federer fans, it felt sad to watch his loss today.