New York Yankees: Is Rafael Soriano Their Most Important Second-Half Player?
July 1, 2011
Jeff Zelevansky/Getty Images
During the offseason, the New York Yankees found the answer to their season threatening pitching problems—signing Tampa Bay Rays closer Rafael Soriano in order to secure a dominate bullpen.
Once Soriano signed the three year, $35 million contract, many believed he would become the Yankees most important second-half player, aiding Mariano Rivera and helping to end games quicker. It is understandable to believe that Soriano would be successful in this role. After all, he did end his 2010 season with an impressive 1.73 ERA and the most saves in the MLB.
With current closer Mariano Rivera coming off a 1.80 ERA for the 2010 season, many believed this duo would bring the New York Yankees to not only multiple victories, but also the World Series. However, many had their doubts about the new "star reliever" and their suspicions were unfortunately correct.
Pitching only 15 innings this season, Soriano allowed 15 hits, nine runs, one home run and recorded a dismal 5.40 ERA for his new team. Instead of displaying the skill and talent we witnessed when he was a closer for the Rays, he has done the exact opposite.
His performance has led me to ask this question: Is Rafael Soriano their most important second-half player?
Not in the slightest bit.
Whether it is his inability to adapt to the screaming, overly excited and at times criticizing crowd at Yankee Stadium or his elbow causing his poor performance, Soriano proved that his $35 million contract was the biggest mistake the Yankees made during the offseason.
So who is the most important second-half player on the New York Yankees? Well many relievers have risen above, aiding the Yankees during their time of need.
With Joba Chamberlain on the disabled list along with Soriano, the Yankees bullpen, which once possessed strength and consistency, was expected to be their weakest part of the team.
Thankfully many players have stepped up, especially the always-reliable Mariano Rivera.
The 17-year veteran maintained a consistent ERA throughout the years. In 31.1 innings pitched this season, Rivera has allowed only 26 hits, six runs, one home run and has struck out 27 while maintaining a 1.72 ERA. As always, Rivera has been pitching at his best. Thankfully his age has not been a negative factor in his pitching.
Luis Ayala has also been showing significant promise this season. With mediocre performances the past few seasons in the minor leagues, the 33-year-old has proven that he is finally ready to pitch permanently in the major leagues. Ayala, who has pitched in 24.1 innings so far this season, has allowed only four runs and one home run, recording a 1.48 ERA for his new team.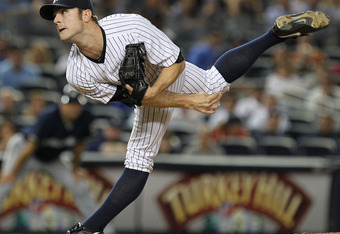 Al Bello/Getty Images
So who is the most important second-half player?
That title belongs to David Robertson.
During the 2010 season, Robertson has at times shown impressive stuff, ending the season with a 3.82 ERA. However, he has certainly improved as both a reliever and player. For the 2011 season, Robertson has pitched in 32.1 innings and has allowed only five runs and no home runs. The reliever has struck out 52 with an outstanding 1.11 ERA.
With Rafael Soriano still out due to elbow inflammation, the reliever has received some good news. Not only is Tommy John surgery unnecessary, but he has also begun pitching without any problems. He can hopefully return to the mound in about a month.
Whether Soriano will return victorious or disastrous is up in the air. Hopefully Soriano can make a successful return and pitch like the $35 million reliever he was paid to be.
However, at the moment Soriano is not the Yankees most important second-half player, that position belongs to David Robertson—he deserves it.