Alexis Sanchez: Which of His Potential Suitors Needs Him the Most?
June 30, 2011
Maurizio Lagana/Getty Images
Udinese starlet and one of European football's hottest properties, Alexis Sanchez, has recently publicly declared his desire to move to FC Barcelona. The Catalans are thought to be close to securing a deal to bring Sanchez to Spain.
Although the transfer is not far from completion, there are many clubs still willing to battle it out for his signature, should the deal fall through. Manchester City were thought to be one club  prepared meet Udinese's valuation of the player.
According to City manager Roberto Mancini, however, the Eastlands outfit have pulled out of the race to sign the 22-year-old Chilean.
Regardless of what may happen, the one thing I can't help but wonder is which of Sanchez' potential suitors actually needs him the most.
Barcelona
The European and Spanish champions are looking to bolster their attacking options by adding Sanchez to their ranks. He'd fit into their tika-taka passing game rather well.
Sanchez is very skillful with the ball, but at the same time, he works hard to recover it when the opposition are in possession. Barca's tactics are based on pressing, so he fits in that way too.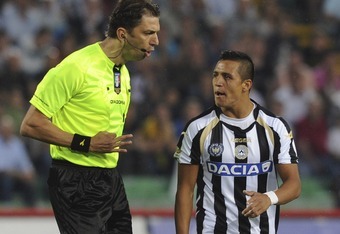 Dino Panato/Getty Images
Now, do Barca need him? Well, they certainly could do with him, since their squad size is not too big. A front three of Pedro, Lionel Messi and Alexis Sanchez would make life hell for the opponent's defense.
This signing would, of course, cast doubt over the futures of Ibrahim Afellay and Bojan Krkic, who are both already struggling for game time.
Manchester City
Manchester City, too, would be happy to add a player of his attributes to their squad. He'd give the Citizens a different attacking dimension, and add to the creativity. But do they have space for him?
With attacking talents like Emmanuel Adebayor, Roque Santa Cruz, Jo, Shaun Wright-Phillips and Craig Bellamy still on their cards, City should actually be looking to offload players rather than buy. The 25-man squad rule is perhaps the reason why City are no longer in the mix for Sanchez.
It's not like this rule stopped them from going on a spending spree last summer, so a move cannot be entirely ruled out, especially as City could do with a creative force on the wings.
Although Barca and City are frontrunners for the man nicknamed El Niño Maravilla, there is no shortage of interested parties. Premier League giants Chelsea are also chasing him, in need of a creative spark up front.
Thus, it is no surprise that they are considering a swoop for a player who is capable of forging a successful partnership with Fernando Torres (he has already done so with Antonio Di Natale), or beating men on the flanks.
Manchester United are also rumored to be interested in acquiring Sanchez. However, United's acquisition of Ashley Young means that Sanchez is no longer an immediate requirement.
I believe that Inter Milan are no less in need of Sanchez than Chelsea, as they desperately need someone to take on defenders and set up chances for the strikers. However, the Nerazzuri may not be prepared  to spend big, and this may prevent a potential move from materializing.
While there are a plethora of options for him to choose from, Alexis seems to have set his heart on Barcelona.
Irrespective of what eventually happens, which club do you think are most in need of the tricky forward?