NBA: Minnesota Timberwolves Could Finally Emerge from the League's Cellar
June 29, 2011
Mike Stobe/Getty Images
The Minnesota Timberwolves have been a very bad team for a very long time. Ever since Kevin Garnett was traded to the Celtics, the Wolves have dealt with more than their fair share of struggles to say the least. 
The Timberwolves currently own the longest playoff drought in the NBA at seven years. Over that time period, Wolves fans have suffered intense pain.
First, fans had to watch Kevin McHale, and later David Kahn, screw up the franchise, four coaching failures, multiple wasted draft picks, and last but not the least aggravating, Michael Olowokandi getting into foul trouble an absurd number of times for playing in less than 20 minutes a game.
We have seen it all. Name a disaster, a die hard Wolves fan has witnessed it. But this year, there may finally be hope.
As an objective observer of Wolves basketball, you may think there are plenty of legitimate articles published concerning the Wolves significant improvements, but in most cases, the fans know the team is doomed to a worse record when than the previous year. No one gets excited in fear of being let down. 
Last season, the Wolves reached a new, unprecedented low. With only 17 wins last season, there has to be no where to go but up. I find it hard to believe an NBA team could actually win less than 17 games (knock on wood).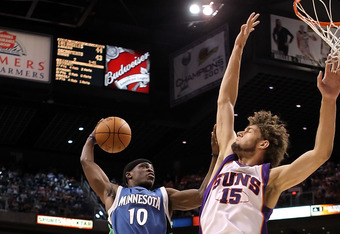 Christian Petersen/Getty Images
The reason for Timberwolves optimism for the upcoming season lies in the fact that fans have already seen the lowest point in the journey. This was not a rebuilding phase, it more realistically resembled complete reconstruction.
With responsible, intelligent basketball minds running the team, it's rebuilding. With McHale/Kahn at the helm, it's something entirely different. 
Although it may seem like there is no end in sight for tortured Wolves fans, it is my opinion that the upswing starts this year.
The reasoning behind that is pretty simple really. The Wolves have flooded their roster with guys that really have a lot of potential. It's only a matter of time before they put the pieces together and play like a team. 
Starting at point guard, I think the Rubio/Ridnour combination will be a significant improvement over the Ridnour/Flynn combination that was used last season. Flynn struggled with injuries, and he isn't really all that interested in participating in an actual offense.
I couldn't be happier that Flynn is gone. I can't tell you how many times I watched him bring the ball up the floor and then chuck up a 22 footer before his teammates even got into position. It was painful to watch, and his defense was even worse. He turned the ball over far too often.
Flynn ranked as one of the bottom ten players in the league in John Hollinger's Player Efficiency Rating, so he really couldn't have been much worse. He was a terrible fit in the triangle offense, but you would think he could do a little bit better than he did.
It got to the point where I couldn't even watch the Wolves when Flynn stepped on the floor. He was completely out of control on offense and threw the ball away at every possible opportunity. The Timberwolves will definitely benefit from not having him on the floor ever again.
Now moving on to Rubio.
Many people really rip on Rubio because of his mediocre numbers in Spain, but we have to remember a few key things.
First, his team won the championship.
Second, the competition he was playing against was significantly tougher than the competition college players face.
And third, stats from Europe mean next to nothing when evaluating a player's NBA potential. Remember Brandon Jennings?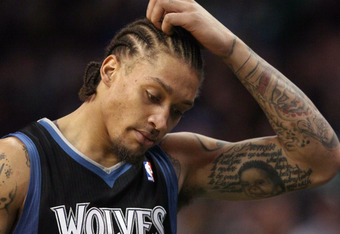 Elsa/Getty Images
In Europe, they play at a much slower pace with set offenses. This contradicts with Rubio's style to say the least. Rubio needs to play in the open floor to excel, and in the NBA he'll have a chance to do that quite a bit more, just like Jennings did.
Look at Nikola Pekovic, the former Wolves second round pick that just came over from Europe last season. He's an unathletic big man that really likes to burrow under the basket.
Pekovic was a highly regarded, not to mention successful, prospect coming from Europe, but he really struggled this season averaging just five points and three rebounds per game...Why?
Because European basketball is just not the same as the brand of basketball played in the NBA. Numbers from Europe mean nothing.
I don't expect Rubio to be an All-Star caliber player right off the bat, but I think he has the ability to be a starter right away. He's a terrible shooter, but I don't think it's that big of a deal on this team. The Wolves' roster is loaded with scorers, and they probably don't need much scoring from Rubio. His true pass-first style is really what makes him a great fit in Minnesota.
At shooting guard they have last year's No. 4 pick Wes Johnson and Martell Webster.
By the way, I'm still in shock the Wolves chose the 23-year-old defensive/athletic wing over potential franchise center DeMarcus Cousins. Cousins averaged 14 points and 9 rebounds per game last year. His attitude issues are well worth the risk for a player like him. I never liked Wes as an NBA prospect, and I will never let this decision go. Ever. 
Either way, the Wolves currently have Webster and Johnson, who are pretty much complete opposites. Johnson is athletic and is a solid perimeter defender, but at this point in his career he doesn't bring much to the table offensively. Webster, on the other hand, is a solid scorer off the bench. He doesn't do much else, but he is a good compliment to Johnson.
Personally, I would like to see the Wolves sign a veteran free agent shooting guard like Michael Redd. They need veterans, and they need shooters who can stretch the floor while Webster is nursing his annual flurry of back injuries. It's not his fault, there's something in the water in Portland. Redd has an injury history himself, but hey, why not?
You may be wondering: hey, don't the Wolves have Wayne Ellington at shooting guard?
Yes and no. He's technically on the roster, but I generally don't acknowledge him for the simple reason that he doesn't actually do anything on the court. 
Take a look at his stats from last season and roughly adjust them to starter's minutes. If you have done this and are still convinced he is a legitimate NBA player, I would love to listen to your argument explaining why.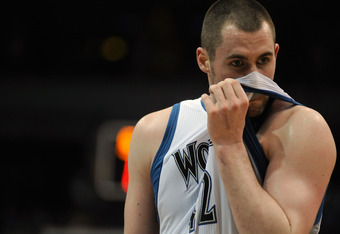 Hannah Foslien/Getty Images
I have decided to coin a new basketball term. Anytime you see a box score and a player played at least 28 minutes, had 12 or less points, three or less rebounds, and three or less assists, it's to be called "pulling an Ellington." Some would call me a Wayne Ellington hater. Some would call me frustrated. Both would be right. Ellington is a bum.
At the two forward spots, the Wolves are overflowing with talent. They seriously have some great talent here. I'm not sure how all these guys get minutes, but at least it's a good problem to have. 
At small forward, they have Michael Beasley, who started for the team last season. He played fairly well, but his efficiency rating was not really up to par. There is no doubt he has potential, but I'd like to see growth from him next season. When healthy and motivated, there's no doubt Beasley can flat out play.
Personally, I'm not a big Beasley fan. At the surface we see a talented offensive player who can shoot and rebound well. But looking further, we see a player with a troubled past that hasn't really matured as a player.
Watching Beasley this past season, it became clear that Beasley is a black hole of sorts on offense. When the ball goes to him, most of the time it's either going to be a shot or a turnover. Last season, he averaged just 2.2 assists per game while also averaging 2.7 turnovers per game.
While a small forward can't be expected to post huge assist numbers, you would think he could at least get an even assist to turnover ratio. I know he's young, but Beasley has to learn how to move the ball and succeed in the flow of an offense if he wants to develop into a high quality NBA player.
Next, we have the Wolves No. 2 pick Derrick Williams. It seems like trade rumors concerning Williams have finally died down for good and the team is going to keep him.
I'm not sure how I feel about that, but what I do know is that Williams is a very talented basketball player. I really would like to see him play power forward, but with Kevin Love there, it seems unlikely he'll get too much time there.
Williams may not be as quick as some NBA small forwards, but he's certainly stronger than most of them. Williams is a versatile player that can play both inside and outside.
He will have to work on his quickness and perimeter defense, but he is extremely athletic and will definitely bring excitement to Minnesota. What I like most about this kid is that he seems genuinely excited to be here, and has insisted he doesn't want to be traded. At this point, that's important to a Wolves fan. 
At power forward, the team has it's best building block in Kevin Love. Love is an interesting player. He's extremely good, but I'm not sure he has what it takes to be a franchise player. In other words, I think it's highly unlikely that you win a championship if Kevin Love is your best player, no matter how good the supporting cast is. 
Either way, Love is arguably best rebounder in the league, and he is developing his offensive game. The important thing to note there is that he has a really nice outside jumper. He shot an excellent 42 percent from three and 85 percent from the free throw line last season. Unbelievable for a big man.
If Love could just develop a reliable low post game, he would be a really great player, I'm excited about his potential, as are most Wolves fans. His lack of athleticism limits him, but he could still be a great player. He's a great fit in Minnesota because he's known for his excellent outlet passing, which is clearly very valuable in any offense run by Ricky Rubio.
Backing him up is Anthony Randolph. Honestly, I don't know what to think of this kid. He's extremely long and athletic, but people seem to be confused about where he fits in. Some people believe he's really a small forward, while some think he could play center.
Randolph's position dilemma reminds me a bit of Tyson Chandler is his early years. Today, everybody knows Chandler is a legitimate center, but in his first few seasons, it seemed like he might be a small forward. One thing is for sure: Randolph needs to bulk up, no matter what position he plans on playing.
What the Wolves will do at center is a little bit of a mystery right now. Milicic played there last season, but I think it has become clear that Darko is not a starting center in the NBA. He's a nice back up, but he isn't a starter.
The Wolves recently acquired veteran center Brad Miller in the Jonny Flynn deal, but I can't imagine he's going to be a guy the Wolves rely on this season.
On nights when the Wolves play teams like the Magic or the Lakers, I think the Wolves will have to go with Milicic for 30 minutes to combat their big men, but when the Wolves aren't playing these top notch centers, I think they could potentially go with a lineup that includes Beasley, Williams, and Love. They could also play Beasley, Love, and Randolph.
The Wolves are going to have quite a few lineups they can use this year. They have a up tempo passing point in Rubio, and an experienced guy who can run or set up the offense in Ridnour.
At shooting guard, they have a defensive stopper in Wes Johnson as well as a lights out shooter in Webster.
At the forward spots they can go with any combination of Beasley, Williams, Love, and Randolph. Beasley and Williams are more athletic shooters, Love is a rebounder, and Randolph is a long, athletic and versatile forward. They could also play Randolph or Love at center to mix with Milicic as the big defensive presence.
All in all, the Wolves can create matchup problems across the board. They are still a very young team, but with time this team could be dangerous. 
Two things this year's squad needs to improve on in order to be successful: first, capitalizing on possessions by limiting turnovers and second, playing better defense and making the opposing team work for baskets.
If they can start to make strides in these two areas, the team could really improve drastically this season, and finally give Wolves fans something to cheer about.
Between essentially having two top-5 picks, and the improvements made in the offseason by their young players, the Timberwolves seem to be on their way up. There will no doubt be growing pains, but with fresh faces and a new coach, this team should be one to watch next season. At least I hope.
For sports related news, and desperate (humorous for you) attempts to get a question answered by No. 2 pick Derrick Williams, please follow me on Twitter @MaxMinsker