College World Series Final Live Blog: Game 2 Results, Analysis and Reactions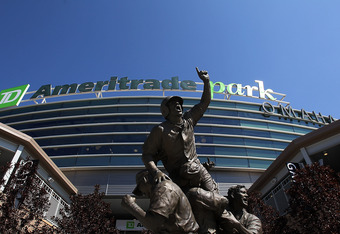 Ronald Martinez/Getty Images
It's Game 2 of the best of three College World Series Championship Series between Florida and South Carolina. Last night, Florida choked away a sure win in Game 1 when they failed to score in the bottom of the ninth with the bases loaded and no outs. Tonight's game will most likely be a mere formality, as I expect the Gators to fold up like a 50 cent lawn chair. It's extremely difficult to come back the next day after a colossal choke like that and win. Ask the 1986 Angels and Red Sox about that. But we'll trudge forward tonight anyway, hoping for a miracle.
----------------------------------------------------------------------------------------------------------------------------------------------------------
Game time: 8:00pm EST
TV Channel: ESPN
----------------------------------------------------------------------------------------------------------------------------------------------------------
And that's is that. Congratulations to South Carolina and you're welcome.
Florida is just about out of outs now. Everyone is pressing. They are swinging at everything. Pretty much what I thought they would do. Clearly they did not recover from last night which is to be expected. Oh well. It was a great year full of near misses for Florida. They came within an eyelash of making the Final Four. They made the Finals of both the Women's and Men's College World Series. They came close in track and field, volleyball, gymnastics and did manage to win the national title in women's tennis. I guess with all the national title Florida won in 06, 07, and '08 they were due for some close-but-no-cigar finishes.
Florida absolutely cannot buy a big hit. It would help a lot if they would stop swinging at every damn pitch too. As Orel Hershiser said. Florida is its own worst enemy.
To add insult to injury, Zunino hits one out. Couldn't do that last night huh? Whitson starts the fourth off by plunking a batter on an 0-2 pitch. Nice.
Well. This game is over. Congrats to the Gamecocks!
More Gator fielding blunders are now nailing the coffin shut. 2-0 might as well be 10-0 with the way Florida is hitting. Carolina is well on the way to a back to back. Florida will have only themselves to blame. it's going to be a long, tough off season.
Carolina gets a sac fly from Wingo. Probably the only run they will need. Not likely the only one they'll get. That game Florida blew last night will go down with some of the biggest chokes in Gator history. if you've been a follower of UF for very long, you know that takes some doing. The Choke at Doak in '94 and the '03 Miami game are some recent ones. No school has pulled defeat from the jaws of victory more often than Florida over the years. The Elite Eight loss to Butler this year when we had an 11 point lead with nine minutes left wouldn't make the top ten. But the game last night? Maybe top five.
Sac bunt. Gators bring the infield in. Marzilli walks. Big inning brewing for South Carolina.
Carolina gets a leadoff double from Mooney. Look for a bunt here. Whoa! Swinging away? nice.
Zipping right along here in the third inning. No score. Pitchers are in control. I love the fact that they did something about the bats this year. It was too easy to hit in the old days. But this new ball park and the dead bats combined have made it really difficult in the hitters. Maybe they need to move the fences in a bit and take some foul ground away. South Carolina has the Gators right where they want them. Look for another walk off win for the 'Cocks.
Gators go quietly yet again. They have not been able to dent Carolina pitching at at all. Carolina also goes down one-two-three. Looks like another pitcher's duel.
Wingo leads off getting hit by a pitch. Good call on the sac bunt. Bradley strikes out. Walker hits into a double play. Inning over.
Smith singles to open the game for the Gators. Maybe that's a good sign. I'm not a fan at all of bunting in the first inning. Tough to assume your pitcher is going to shut the other team down when he hasn't thrown a pitch. Zunino walks and then Tucker flies out. Tucker needs to come up big tonight. Adams flies out and the Gators strand two. The onslaught begins.
My pre game prediction is South Carolina scores early and often and cruises to an easy win. I just don't see how the Gators can recover from last night. I'm not playing the game and I haven't recovered. I have been dreading this game all day. So I can only imagine how the players feel. I hope to be wrong.
This article is
What is the duplicate article?
Why is this article offensive?
Where is this article plagiarized from?
Why is this article poorly edited?