MLB: What Every Closer's Entrance Song Should Be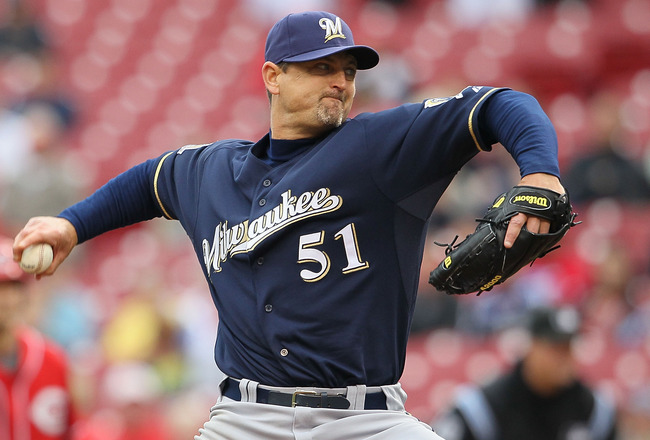 Andy Lyons/Getty Images
There may not have been a more iconic moment in baseball then when "Hells Bells" would start to ring and Trevor Hoffman would emerge from the bullpen for 13 years.
Entrance songs for closers have been around long before Hoffman decided to take up his tradition of rocking the AC/DC classic. But the idea of closer's entrance songs took a while to catch on as a big hit among fans.
Nowadays, a lot of time and effort goes into the thought process of finding the perfect song for a closer to enter to. To make the closers job a little easier I have come up with the best songs for them to use.
Mariano Rivera: "Enter Sandman", Metallica
This entrance is just as iconic, if not even more, than Hoffman's. There is no way to argue this choice for baseball's real Sandman.
Neftali Feliz: "Don't Worry Be Happy", Bobby McFerrin
This is the obvious choice for Happy Feliz.
A classic song that just puts you into a good mood and should be heard in the majors for a long, long time with one of the best young closers in baseball.
Rangers fans should be happy to have this young stud.
Brian Wilson: "Wild Thing", The Troggs
This entrance song has become a bit of a cliché, but Wilson is MLB's featured bad boy, and the closest thing to "Wild Thing" Ricky Vaughn in baseball right now.
Joakim Soria: "Free Fallin'", Tom Petty
Soria has been sensational in the month of June and looking like his old self. Though this song may not be applicable anymore, but the terrible April and May had people wondering if one of the best closers had lost his niche.
Francisco Rodriguez: "My Own Worst Enemy", Lit
As if injuring yourself while beating up your girlfriend's father isn't a perfect way to get people to question your character. Then showing up to spring training a few months later by having your Lamborghini make a grand entrance a few days before you arrive is an easy way to make fans peg you as a prima donna—that is not a good thing.
J.J. Putz: "TNT", AC/DC
Hells Bells is AC/DC's biggest closer song (as we have already discussed) and Putz chooses to go with Thunderstruck, but TNT is a much better choice in my opinion. Putz has been pure dynamite this season.
Andrew Bailey: "Triumph", Wu Tang Clan
The best baseball player ever to be associated with Staten Island (attended Wagner College) needs to show his roots and have Shaolin's own Wu Tang Clan be the ones to echo throughout the stadium as he sets foot in the field.
Brandon League: "I'm Walking on Sunshine", Katrina & the Waves
Who in their right mind would have had Brandon League as the American League leader in saves at any point this season? League has to feel like he is on cloud nine this year, getting ready for a possible All-Star appearance.
Joel Hanrahan: "I'm a Souljah", 2pac
The man who is a perfect 22-for-22 in save chances this year takes a play out of the Kellen Winslow handbook and lets everyone know he is a soldier. With the way he has pitched this year he has looked like "he is not your average Joe."
Matt Capps: "We're Done", Wiz Khalifa
That is exactly what Minnesota Twins fans say whenever he gets the call from the bullpen. Demi Lovato's hook in the song says it all, "We're done, but it's not over." Yeah, it is called extra innings.
Sergio Santos: "Blow Up", J.Cole
I personally think this is a terrific entrance song for any closer. It has the clap in the intro to get the crowd behind it and then the lyrics are great for this job.
"This is a song for my haters, you got me feeling like the greatest."
Santos looks like he is about to breakout and blow up into becoming one of the top closers in baseball for the White Sox after they struggled to find a closer early on in the year.
Whoever the Blue Jays Use: "The Real Slim Shady", Eminem
Frank Francisco, Jon Rauch and Octavio Dotel. Who is their actual closer? Frank Francisco might be in the lead right now, but in five minutes Rauch may have the job back.
Plus you can never go wrong with some Shady.
Matt Guerrier: "Informer", Snow
The only good explanation to why Guerrier is closing out big league ballgames is that he is an informant for Bud Selig, who pressured the bankrupt Dodgers into using Guerrier. Can't find another good reason why. Well, as long as you overlook the 20 injuries the Dodgers pen has seen this year...
Mark Melancon: "Who Dat", J.Cole
No seriously who dat? Who dat? Many casual fans probably don't know much about Melancon, but they might wanna get to know some. He has shown enough during his time with the Astros to make me believe he will be a good reliever for quiet some time. The lyrics also touch on Melancon's season a bit, having to deal with Brandon Lyon being ahead of him on the depth chart.
"My life accelerated,
but had to wait my turn. But then I redecorated,
that means my tables turn. Live life, might as well,
only way to learn is try and fail. Clientele
the only way to earn."
Jose Valverde: "Sweet Dreams (Are Made of This)", Marilyn Manson
This song was at one time used by Chris Ray and needs to be back in the game. Jose Valverde is a whole lotta mean, so I can't think of anyone better for this cult favorite.
Heath Bell: "You've Got Another Thing Coming", Judas Priest
Heath Bell has gone from an undrafted free agent to barely being able to hold a roster spot on the Mets to finding his way to become one of the most feared closers in baseball. Bell wants opposing hitters to know if they think he will roll over and let them back in the game, then they better think again because they have an...
Jonathan Papelbon: "Good Vibrations", Marky Mark & the Funky Bunch
Sure, the "Shipping up to Boston" entrance by Papelbon is a classic. But what better way to bring in your closer than having the real Boston boy come on the stadium speakers with his all-time great song and preach to Sox nation about the good vibrations as their team is about to win.
I mean, with the vibrations being as good as Sunkist, how can anyone really argue with this one?
Leo Nunez: "Wake Up!", MeTalkPrettty
The stadium director tries to let the 400 fans know they are almost allowed to go home.
Carlos Marmol: "I Dont Think They Want It", Big Sean
I think Marmol has the filthiest stuff of any closer in baseball, which is why I reserved this song just for him. Picture this, the song plays, then when Marmol gets to the mound Geovany Soto yells to him "Carlos throw me the slider" and Marmol responds by just shaking his head and saying "I don't think they want it, I don't I don't think they want it."
Hitters would think he is insane.
John Axford: "Tom Sawyer", Rush
What better way to introduce the Canadian closer than with the greatest Canadian rock band.
Tom Sawyer has a one of a kind intro so that you would know who is coming into the game when you hear that first note play.
Kyle Farnsworth: "Bawitdaba", Kid Rock
His name isn't Kid Rock, but with the way he has pitched this season who cares what his name is?
You know a song is old when there is a reference to beepers in it.
Kevin Gregg: "Gone in September (Remix)", Mike Stud
While the song is talking about leaving a girl when September comes, Gregg is stating that he will no longer be around come September, because the Orioles will be missing the playoffs—they do have to deal with being in the Red Sox and Yankees division.
Huston Street: "Houston", Dean Martin
Pretty self explanatory. Doesn't get much better than getting to hear good old Dean Martin right before your team is about to win.
Craig Kimbrel: "Last Resort", Papa Roach
One of those songs that I feel needs to be used by somebody and Kimbrel seems like he is just nasty enough to have the privilege of this song. He definitely has nasty enough stuff for it.
Chris Perez: "Down with the Sickness", Distrurbed
At 6'4" and 230 lbs. I would say that Perez is intimidating enough to pull this one off. If he plans it right, he can turn it into an epic entrance.
Francisco Cordero: "Ain't No Sunshine", DMX
Again one of those songs I needed to find a suitor for, and since Cordero has been lights out this year he can receive the honor.
Fernando Salas: "The Immigrant Song", Led Zeppelin
A little too much?
If you look past the title, the beat still has a nice feel to it.
Jordan Walden: "Renegade", Eminem & Jay-Z
I always felt this was one of the best pump-up songs around, and with two of the greatest rappers of all-time, it is a classic.
With six blown saves, some Angels fans might feel like Walden is a true renegade.
Ryan Madson: "Break Stuff", Limp Bizkit
For arguments sake we will just say that Fred Durst is wearing a Phillies hat instead of a red Yankees cap to make this a match made in heaven.
Drew Storen: "Blow Me Away", Breaking Benjamin
A fitting title to a song for any closer, and when you average 95 mph on your fastball and can get it up to 98 mph, it suits you even more.
Keep Reading