College Football 2011: Arizona State Sun Devils Season Preview
June 28, 2011
Christian Petersen/Getty Images
Potential. Momentum. Expectations. 
These may be three of the most used, if not overused, words in sports and they all apply to the 2011 ASU football team. 
Although the Sun Devils finished 6-6 in 2010 and missed a bowl game for the third straight season, there is plenty of excitement about the 2011 version of the Sun Devils.
 While there are a few question marks surrounding the team, Arizona State will begin 2011 with a lot of hype and momentum. 
The Sun Devils will enter the season on a two game winning streak, including a 30-29 double-overtime victory against UA. That win may seem like a long time ago, but it brought a lot of energy into Tempe where ASU is picked in the top 25 in several national polls. 
ASU will return eight starters on both the offensive and defensive sides of the ball, including preseason All-American linebacker Vontaze Burfict. 
Picked by many to win the inaugural Pac-12 South, the Sun Devils will need to execute and be consistent, both things they lacked last season. 
Execution is often the difference between winning and losing and if they Sun Devils had been able to execute just a bit more consistently, they could have won four more games as four of their six losses were by four points or less.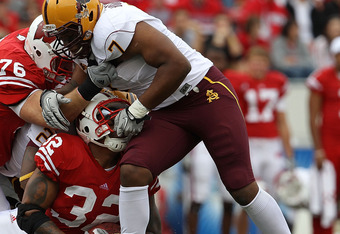 Jonathan Daniel/Getty Images
If the Sun Devils are to turn the corner and play in the Pac-12 Championship game as well as a top-tier bowl game, they will need to win the close games, and they will look to new leaders on both the offensive and defensive sides of the ball. 
Since 2008, each season of Sun Devil football has starter with a new quarterback. 2011 will be no different as junior Brock Osweiler will replace Steven Threet, who retired due to health concerns. 
Osweiler may only have two career starts, but he is not exactly inexperienced. 
The former basketball recruit played the majority of least season's home finale against UCLA, after replacing an injured Threet, and threw for four touchdowns and 380 yards. 
Osweiler followed up his masterful performance against UCLA with a reality check against UA. 
While he only completed 22 of 49 passes and struggled in Tucson, he willed his team to victory. 
Osweiler's grittiness and will to win are qualities both the coaches and fans are attracted to as they show strong signs of leadership and may be a foreshadowing of things to come. 
Many were happy to see Omar Bolden forgo a chance at the NFL, when he elected to come back to school for one more season. However, just as many, if not more, were disappointed when Bolden tore his ACL in the spring.
 Not only did Bolden leave the Sun Devils without a lot of depth at cornerback, but he was also a leader on defense. 
Junior linebacker Vontaze Burfict is the most likely guy to take over the leadership responsibilities. 
No one questions Burfict's talent as he is clearly one of the best linebackers in the conference and in the country. However, his temper has gotten the best of him at times as Burfict was often cited with personal fouls. 
All indications are Burfict is coming into his junior season a lot more mature and ready to embrace his newfound leadership role. 
If new jerseys are not enough to excite fans about the upcoming season in Tempe, the 16 returning starters, a top-25 ranking and a possibility to win the Pac-12 South and play in the conference's first title game should be.