Arsenal FC Transfer Talk: Arturo Vidal Would Be the Perfect Signing for Gunners
June 28, 2011
Patrik Stollarz/Getty Images
Talksport is reporting that Arsenal have lined up Bayer Leverkusen midfielder Arturo Vidal to replace Cesc Fabregas or Samir Nasri.  
Talksport may say so, but Vidal is not an attacking midfielder to replace either of these two.
Vidal plays more defensively, and his best position is the holding role.
Vidal has been a solid player for Leverkusen since his move from Colo-Colo in 2007, but the 2010-11 season was his breakthrough campaign with numerous standout performances.
His 2010-11 stats speak volumes about his efficiency. Vidal scored 10 goals and recorded 11 assists this season.
That's normal for a top-class player, but the surprising fact is that he has achieved those figures playing as a defensive midfielder in more than 50 percent of the games he started, though a good proportion of his goals came from the penalty spot.
Considering his supreme attacking instincts, one would wonder if he's any good in defence as his natural instinct is to attack.
A close analysis would give a clear picture. He's defensively excellent as well.
Vidal's a superb tackler and good at reading the game. An excellent passer and does have the eye for through balls and killer passes—reason why he was second on Bundesliga assists chart.
How this would be the perfect signing for Arsenal?
Vidal has only one year left on his current contract, so Leverkusen are forced to sell now rather than lose him for nothing next summer.
He could be available for less than his market value, and according to reports, the fee is around £15 million.
If Arsenal does pay that sum, it would be a steal from Leverkusen. Bayern Munich and AC Milan are also interested in the services of Vidal, and Milan have already had a bid of £9 million rejected by Leverkusen.
Considering the amount of injuries Arsenla have had in recent years, a versatile player like Vidal would be a great addition.
He can fill anywhere in midfield as well as play at fullback and even at the centre of defence if needed.
His proficiency on the flanks was on show at the 2010 FIFA World Cup playing in the colours of Chile.
Arsenal could use him at left back or in midfield as cover for Alex Song and Jack Wilshere.
He would be an effective replacement for Denilson and the ever-injured Abou Diaby.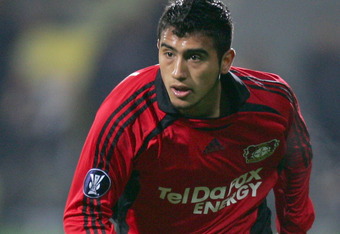 Patrik Stollarz/Getty Images
Vidal's arrival would also push Song harder to earn his place in the starting 11 and considering the superior passing, finishing skills, tackling ability, agility and pace of the Chilean, Song may even go down the pecking order.
Arsenal could sign this 24-year-old versatile midfielder for a reasonable price, not to replace anyone in the squad but as a utility player who can take up multiple positions and in the long-term as the first-choice holding midfielder.
For a change, Wenger is targeting an established player instead of prospects, in this case, one of the best players in the Bundesliga.
You can read more about Vidal and other star performers of 2010-11 Bundesliga season here.