NFL: Will Terrell Owens Antics Cost Him a Shot at the Hall of Fame?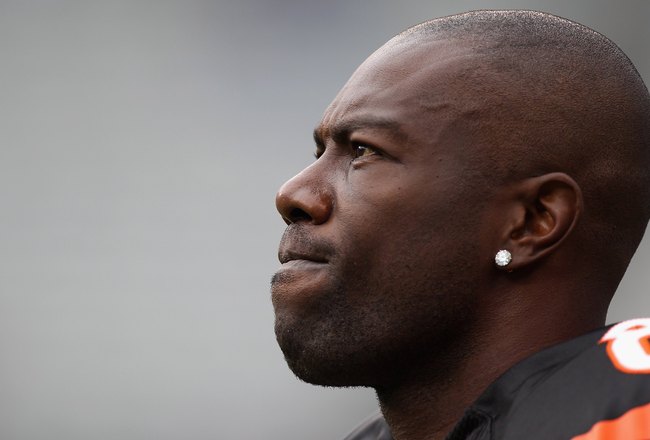 terrell owens
Streeter Lecka/Getty Images
Terrell Owens, who ranks second on the all-time list in receiving yards and third in receiving touchdowns, recently had surgery to repair a torn anterior cruciate ligament in one of his knees following an injury this offseason, sources told ESPN's Chris Mortenson.
How did this happen?
We're still not 100 percent sure—Mortenson cited two different claims from sources: one source said the Owens was hurt while guest starring on a television show for VH1 "Single Ladies"; another source said that Owens was injured during a personal workout.
But the bigger questions are: Will T.O. ever play again? If not, is he Hall of Fame worthy?
As a healthy 36-year-old last offseason, Owens drew interest from only five teams: Cincinnati Bengals, St. Louis Rams, Seattle Seahawks, Oakland Raiders and New York Jets.
Now, the 37-year-old—who will turn 38 in December— will be coming off a major knee surgery, and although sources say he can be ready to play as early as mid to late November, what team would be willing to take a flyer on Owens?
It's not like he is a low-risk, high reward type of player. In his time spent with San Francisco, Philadelphia and Dallas, Owens proved to be a major locker room distraction as well as a nightmare for his quarterbacks and head coaches.
In the past, teams looked past his off-the-field antics only because of Owens' tremendous talent. However, now, with his diminished talent and aging legs, Owens will be hard-pressed to find a team that is willing to take a chance on him.
Apparently, teams might not even have that opportunity. According to NBC sports, Owens has reportedly told "several people in the NFL" that he is considering retirement.
Of course, that doesn't mean much—veteran players often "consider" retirement after a serious injury—and until we actually hear something from T.O., I wouldn't rule him out for the 2011 NFL season (don't worry; I knocked on wood while I wrote the last part of that sentence).
However, that raises the question: "If T.O. never plays again, is he a sure-fire Hall of Fame candidate?"
In the following slides, I'll examine Owens' career (both on and off the field) and determine whether he is a Hall of Fame lock.
Reasons Why Owens Should Be in the NFL Hall of Fame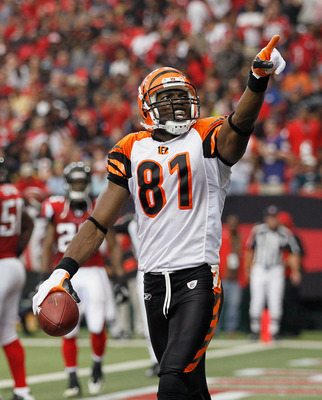 Kevin C. Cox/Getty Images
Instead of going into great detail about Owens' playmaking ability, his elite strength (for a receiver), his underrated speed and his terrific vision, I'll let his numbers do the talking.
While we're at it, let's compare his career statistics with two Hall of Fame receivers in a blind resume; that way were focusing solely on Owens' numbers rather than his conduct on and off the field (stats from pro-football-reference.com).
| | | | | | | |
| --- | --- | --- | --- | --- | --- | --- |
| | Games Played | Receptions | Receiving Yards | Receiving TD's | First-Team All-Pro | Superbowl Wins |
| Player A | 159 | 750 | 11,904 | 65 | 1 | 3 |
| Player B | 219 | 1,078 | 15,934 | 153 | 5 | 0 |
| Player C | 200 | 819 | 13,089 | 100 | 1 | 0 |
Of the three players, Player A is the only one with a Super Bowl ring. However, aside from that category, Player B dominates both Player A and B in total games played, receptions, receiving yards, receiving touchdowns and First-Team All-Pro selections.
Of the three players, Player B is the only one not in the National Football League Hall of Fame. Player B is Owens. Players A and C are Hall of Famers Michael Irvin and Steve Largent.
If the 44-person selection committee only took into account a player's career statistics, Owens would be a shoo-in.
His 15,934 career receiving yards is second only to Jerry Rice; Owens' 153 career receiving touchdowns places him tied for second with Randy Moss; and he is fifth on the all-time career receptions list with 1,078, behind only Rice, Marvin Harrison, Cris Carter and Tim Brown.
In addition, Owens holds 17 NFL records and was named to the NFL 2000s All-Decade Team.
If you're listing the best receivers from 2000 to 2007, Owens has to be mentioned in the top three.
You can even argue—based on his statistics—that Owens is one of the five best receivers of all-time.
So, he has to worthy of the Hall, right?
Reasons Why Owens Shouldn't Be in the NFL Hall of Fame
terrell owens
Otto Greule Jr/Getty Images
As Bill Simmons wrote in The Book of Basketball—when ranking the best NBA players of all time—"Did he get traded at any point in his prime? If so, why? This doesn't matter as much with Level 1 or Level 2, but i need a really good reason to forgive trading a Level 3, 4 or 5 guy in his prime."
Simmons' point is this: If a player is so great, no team would ever consider trading him, especially if he was in his prime.
Well, T.O. would certainly fail to meet this standard.
Not only did San Francisco attempt to trade him in 2004—when Owens was only 30 years old and coming off a 1,102 yard season—but Philadelphia deactivated Owens in only his second season with the Eagles, and released him that offseason.
So, if two teams were willing to give up Owens in his prime for practically nothing (the 49ers were scheduled to receive a second-round pick from the Baltimore Ravens while the Eagles released him and got nothing in return) is he really a Hall of Fame caliber player?
Do you think the 49ers ever considered trading Jerry Rice during the prime of his career for a second-round draft pick?
Absolutely not.
For God's sake, even the Detroit Lions got first, third, sixth and seventh round picks for Roy Williams, a receiver who had reached the 900-yard receiving mark just once in his four-year career.
If Owens is Hall of Fame caliber receiver, then why was his trade value so low?
For one, it's because of his inability to coexist with his quarterback and coaches. His stints with San Francisco, Philadelphia and Dallas all ended in part because of Owens' rocky relationship with his quarterback, teammates or coaches, which had divided the locker room so badly that it forced the team to get rid of Owens in order to repair the damage.
In San Francisco, Owens' sideline tirades directed at Jeff Garcia and offensive coordinator Greg Knapp quickly became a distraction. Then, during a post-game news conference in 2003, Owens' capped off his poor relationship with Garcia by insinuating that the 49ers should look for another option at quarterback, such as backup quarterback Tim Rattay (I could only imagine how long that relationship would have lasted).
Things didn't change much when Owens got to Philadelphia. In 2005, the Eagles suspended Owens for a week in training camp, citing him for 'conduct detrimental to the team'.
That was just the beginning of the end for Owens in an Eagles uniform.
In interview with ESPN's Graham Bensinger in 2005, Owens blasted the Eagles franchise for failing to recognize his 100th career touchdown catch, and insulted McNabb by agreeing with Michael Irvin's statement that the Eagles would be undefeated if Brett Favre was their quarterback.
"I think that's a good assessment," Owens said. "I would agree with that, just with what [Favre] brings to the table."
T.O.'s stint in Philadelphia ended shortly after a locker room altercation between him and Hugh Douglas, in which punches were allegedly thrown after Douglas called Owens out for faking an injury. Less than a week later, the Eagles suspended Owens indefinitely.
In Dallas, Owens butted heads with wide receivers coach Todd Haley and head coach Bill Parcells for missing the majority of training camp due to a hamstring "injury". From the beginning, Owens' relationship with the two coaches was strenuous at best. When talking to the media about Owens, Parcells would refer to him as "the player", which frustrated Owens and led him to say that Parcells is "out of touch with current NFL players."
Matters only got worse for Owens when ESPN's Ed Werder reported that there was tension among Owens, Tony Romo and Jason Witten, because Owens felt Romo wasn't passing him the ball enough. Additionally, Werder reported that players on the Cowboys' defense sided with Owens, believing that Romo locked on to Witten too often without.
Owens' poor relationship with the Cowboys' offensive coordinator, Jason Garrett, as well as the negative attention he brought to Dallas' locker room, led to Owens' release in the 2009 offseason.
So, is a player who was run out of three cities really deserving of the Hall of Fame nod?
The Verdict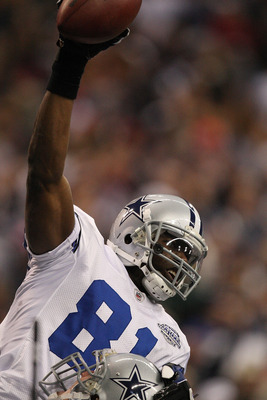 terrell owens
Ronald Martinez/Getty Images
After assessing Terrell Owens 15-year NFL career, I believe that he is worthy of being elected into the NFL Hall of Fame.
Although his on and off-the-field antics have negatively impacted his teams, Owens' play on the field simply outweighs any bad that he brings to a team.
Plus, you can't tell me that T.O. shouldn't make it because he was a poor teammate while players like Michael Irvin and Lawrence Taylor—who aren't exactly model citizens—are in the Hall of Fame.
Overall, Owens has proven to be one of the best wide receivers this game has ever seen. That's why it would be a monumental mistake if the selection committee snubs him (see Cris Carter).
Keep Reading