Has Aaron Rodgers Taken Tom Brady's Place as the Top Quarterback in the NFL?
June 28, 2011
Jamie Squire/Getty Images
Tom Brady is a three-time Super Bowl champ, two-time Super Bowl MVP, has been selected to six Pro Bowls and invited to seven, and is the holder of the single season NFL record for most touchdown passes in a regular season. He is without a doubt one of the greatest quarterbacks in NFL history.

But is he currently the greatest quarterback in the NFL?

As it stands, Brady is a god among men in the game of football, and I certainly do not plan on challenging that status. Nor do I plan on arguing that Aaron Rodgers is definitely going to be or is even likely to be recalled as the same kind of legend that I am sure Brady will be seen as for years to come.
What I want to explore is the notion that Brady, while he may have already secured his spot as one of the all-time greats, may no longer be the greatest in the game today.

Tom has faced many challengers over the years for the title of the league's best QB, including an inspired run by Peyton Manning, but no other player, I believe, has ever been as much of a threat to his crown as the man who just led the Green Bay Packers to their fourth Super Bowl victory.

What makes Aaron Rodgers' challenge different from those Brady has faced from others such as Manning? Peyton, for one, has never been able to match Brady's stunning ability to thrive in the postseason. Having appeared in the NFL playoffs eight times, he has compiled a measly 9-10 record despite constantly being surrounded by highly-ranked offenses. During his four-game playoff run in his Super Bowl winning season, he was 97 of 153 (63.4%) for 1,034 yards, 3 touchdowns, threw 7 interceptions and posted a 70.5 passer rating. Those are worse numbers than Trent Dilfer posted in his championship playoff run.
In addition, the first five seasons he made the playoffs, Manning was ever worse. He completely choked at least once each postseason and posted a cumulative passer rating of 55.4 in his five playoff losses. He also recorded his worst statistical game of the year in the playoffs four out of five of those years (1999, 2002, 2003, 2004), and two of the three worst statistical games of his career (31.2 and 35.5 passer ratings) have come in the postseason.

Rodgers, on the other hand, in only his second year making a postseason appearance, just went on a 4-0 playoff roll without playing a single home game.
Over the past few postseasons he has become one of the most phenomenal statistical quarterbacks of all-time. He is the NFL's all-time career leader in passer rating during the postseason (112.6) and according to "Football Outsiders", his 48-21 rout of the Falcons this postseason was the fourth-greatest playoff performance by a quarterback in NFL history, better than any single-game playoff outing by either Manning or Brady. Aside from Drew Brees' 117.0 two years ago, Rodger's 109.8 passer rating in this year's playoffs was the best posted since 1994.

So what, you might say, Brady has posted numbers that are just as if not way more impressive than those. Besides, you might add, he has proven himself three times to Rodgers' one.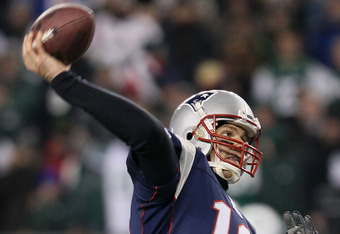 Elsa/Getty Images
To play fair, though, let's take a look at Tom's first Super Bowl performance vs. Aaron's debut in the big game this past year. In 2001, Brady was 16 for 27, threw for 145 yds and 1 touchdown, had no interceptions and posted an 86.2 passer rating. Rodgers, this year, was 24 for 39, threw for 304 yards and 3 touchdowns, also had no interceptions and posted a remarkable 111.5 passer rating.

You may protest that playoffs are not all that matter, so let's take a look at regular season stats. In his first three years starting, Brady passed for a combined 10,227 yards, 69 touchdowns, 38 interceptions, and two rushing TD's and posted an average passer rating of 86.0. Rodgers, meanwhile, passed for a combined 12,394 yards, 86 touchdowns, 31 interceptions and 13 rushing TD's and posted an average passer rating of 99.4 in his first three seasons at the helm.
This timeframe is important because, while Brady went on after these first three years to really enter his prime and become the indisputable best in the league, Rodgers is only going into his fourth year now. Brady is getting older, while Rodgers appears to be only getting started.

Even more importantly, it is tough not to notice that it has been five years since Tom Brady last played in the Super Bowl, and even tougher not to notice that, during that time, he has gone 0-3 in the playoffs, including a Super Bowl loss and two losses at home.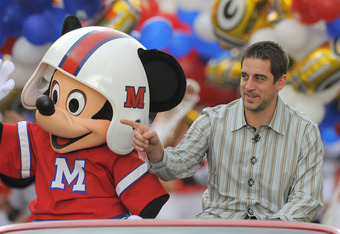 Handout/Getty Images
Tom may have posted the better regular season numbers this year- and damn if a 110.0 passer rating and 335 straight passes without an interception aren't some amazing amazing numbers- but it is hard to ignore the fact that he is not playing big where it counts, while Rodgers is.

In fact, if you put Brady's regular season passer rating up against the rating Rodgers put up in the playoffs, they are eerily comparable- 110.0 for, Brady, 109.8 for Rodgers. Had one of Rodgers' passes in the Super Bowl gone just four yards further, they both would have been a tidy 110.0.
And, at the end of the day, the real measure of who is the best in football is the answer to the question: "Who would you most want in the game for you if you had time for only one last drive and were a touchdown away from winning the Super Bowl?"
Despite Brady's amazing accomplishments in this scenario in the past, it is hard for me to see how, with the numbers he put up in four huge-pressure road games this postseason, the answer could currently be anyone but Rodgers.

All of this does not mean that Rodgers has definitively passed Brady, or that Brady does not have years to go as an amazing quarterback. Rodgers may hold the NFL career passer rating record for any QB with at least 1,500 pass attempts (98.4), but, as he has not been in the league nearly long enough yet for this number to really take on any significant meaning, Brady's most touchdown passes in a season record is still more impressive. And after a season when he became the first NFL player unanimously voted MVP, nobody can really say that Brady is on a downswing.

But with the emergence of Rodgers, for what I believe to be the first time in Tom Brady's career, there is a significant chance that he may no longer be the best quarterback in the league.

Now, it is up to Aaron Rodgers to prove me right.