Seattle Mariners: Down to the Wire, Will Trader Jack Get Gun for Hire?
June 28, 2011
Jed Jacobsohn/Getty Images
The Seattle Mariners' offense last season was, well, offensive. This year it actually hasn't been much better, but the difference in their team is that the pitching has been absolutely stellar. While this has made the team immeasurably more fun to watch, it now presents GM Jack Zduriencik with a whole new dilemma.
The team has been as close as half a game behind a first place Texas team that has looked unbeatable at times and shaky during others. Seattle fans are starting to believe that this group could actually make some noise in October. However, they are getting more and more impatient.
In a much maligned sports city such as Seattle, the memories of 1995 and 2001 have pretty much faded. A couple of 100-loss seasons will do that..
Even the most die hard fans are tired of losing. Attendance at Safeco was at an all-time low through the first two months of the season. So now that we have a team that might actually have a shot at the postseason—do we go for it? And by "go for it" I mean does Jack Z mortgage the farm to acquire the missing piece—or pieces—that will put us over the top this year?
It's not as open-and-shut as you might think. Allow me to sit on the fence for a moment and present both sides of the argument.
Option One: "Screw it, let's do it!"
Let's face it. When you get a chance to go all the way, you take it—right?
Felix Hernandez is still the best pitcher in the American League. Michael Pineda has exceeded all expectations, Erik Bedard is pitching pain free and looks like the ace we traded for. Jason Vargas and Doug Fister have pitched out of their skin, and the bullpen has been superb (take a moment to reflect on last year's...Sean White, anyone?).
But who knows what will happen next year? Bedard is always an injury risk. Pineda could suffer the sophomore jinx. Fister, Vargas, Brandon League and David Pauley could all come crashing back down to Earth.
We obviously need offense, but will a bat or two really make that much difference? Well, here's a stat for you to ponder:
In June alone, the Mariners have lost nine games in which they held their opponents to four runs or less.
With some extra offensive production the Mariners could conceivably have had a three- or four-game lead going in to the All-Star break.
It's all coming together with one of the top pitching staffs in the American League. Ichiro Suzuki is finding form, Dustin Ackley looks likely to be an impact player, veterans Adam Kennedy and Miguel Olivo are having great years. We're just a piece or two away.
Enter Prince Fielder.
Fielder is hitting .305. No Mariners regular with at least 20 games played is hitting over .275.
Fielder is slugging .611. Justin Smoak leads Seattle with .463.
Fielder has 21 home runs and 68 RBI. Smoak and Olivo, the team leaders, have combined for 24 HR and 78 RBI.
Starting to get the picture?
Even for a three-month rental, landing the Prince will cost a king's ransom. We would most likely be saying goodbye to Nick Franklin and maybe Taijuan Walker, plus another piece or two. But that's the cost. We're not talking about Ryan Ludwick, Luke Scott or Casey Blake here—guys who wouldn't cost as much but are not sure things to boost production.
We're talking about a guaranteed 40 HR, 120 RBI guy. A difference maker.
It's unlikely we would be able to re-sign Fielder next season as Scott Boras is looking to match, if not exceed, Mark Teixeira money for his client. So it's all or nothing this year.
Heck, we might even throw Kyle Seager at the Mets and stick Carlos Beltran and his remaining salary in left field. All of a sudden this lineup has a whole new complexion to it.
Option 2: "Steady as she goes"
The big problem with going for it this year, is that a lot of things still have to go right.
What if we get a big bat or two, and then come September the pitching is not so great?
Pop quiz: How many members of the Mariners' current five-man pitching rotation have pitched 200 innings in a single season? If you answered only King Felix, you'd be correct.
If one of the others break down or falter in the second half (like Fister did last year, for example), then Hernandez may have to morph into his alter-ego Larry Bernandez and take the hill on consecutive days.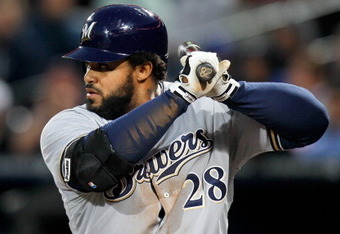 Kevin C. Cox/Getty Images
The truth is that if one of these five guys gets hurt or starts to decline, there is just nobody to ably replace them. The three main candidates for a call-up would be Luke French, Blake Beavan or Chris Seddon—none of whom are making particularly strong cases in Tacoma.
With Ichiro catching fire again, and Ackley looking like the answer in the No. 2 hole, the offense may not need as big a push as we think. Perhaps a Ludwick or Scott might be enough. Both play a serviceable left field, both are off contract at season's end and both could be acquired without giving up too much talent, as it's unlikely that either player will be re-signed by their current team. 
If we fall short this year, we still have the nucleus of a good team, plus Franklin, Seager, and Hultzen on the fringe. Additionally, with Milton Bradley and Jack Wilson's money coming off the books, Zduriencik can shop for a free agent slugger during the winter.
This team has the chance to be good for many years to come. Sacrificing the farm system at this stage is simply too big a risk.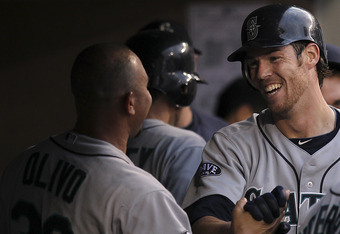 Otto Greule Jr/Getty Images
The verdict?
Time for me to get off the fence. I'm going with Option Two.
Watching our offense struggle has been particularly tough this month after being so close to first place. But I believe that next year we will be set up to make a real run. Ackley will continue to improve as will Smoak. If Hultzen makes it to the big leagues as fast as the scouts think he will, the Mariners will have a fearsome trio at the top of our rotation.
Carlos Peguero, Greg Halman and Mike Carp will have valuable experience in the Majors, and one of them just may emerge and make left field or DH their own.
This year has been a blast so far, and it's a long way from over. But as far as going for it this year, there are too many questions & just not enough answers. Next year, however, the picture will be even clearer.
Be patient, folks. Trust in Jack. There are good things ahead.