Tom Brady: When Will the New England Patriots QB Win Another Playoff Game?
June 28, 2011
Al Bello/Getty Images
Let me start by saying that I've loved watching Tom Brady play for the last 10 years. He's at the top of his game right now and he's been remarkably consistent over the years, not to mention the fact that he has three rings.
But not all is right in the cosmos if you're a Patriots fan for one simple reason: Tom Brady has lost the last three playoff games he's started. 
This is very un-Tom Brady-ish. I mean, the guy has a postseason record of 14-4.
However, that record comes from winning his first 10 playoff games and then going 4-4 in his last eight. It's the last three playoff games that have been most concerting, though. Eight turnovers in three games is just not a statistic you'd associate with Brady. And it's especially hard to understand given the great success that he's enjoyed in the regular season.
Look at last year: 14-2, his fourth season with at least 14 wins, by the way.
This is the most inexplicable loss, maybe even more than the Super Bowl in 2008. They crush the Jets 45-3 in the regular season, and then, at home, lose to them in the playoffs.
For me, that first-quarter interception said it all.
I experienced a feeling of dread when I saw that, even though the Pats held the Jets to a field goal. That's because, on that play, Brady looked the same as he did in the two previous playoff losses.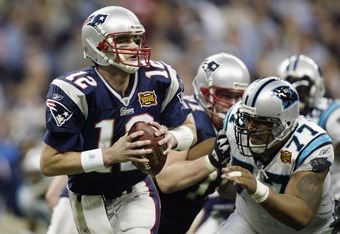 Donald Miralle/Getty Images
Call me crazy but there was just something about his body language that I had seen before. It was a sort of listlessness or something. I don't know what it was, but it just didn't look like the Brady I knew. It wasn't the Brady that's got the killer instinct, the insatiable desire to win.
Something was wrong, terribly wrong, and when I saw that interception in the Jets game, I got that really bad feeling in the pit of my stomach and I just knew they were going to lose.
I tried to suppress it because, of course, I didn't want to jinx them, but it was no good. I couldn't shake the feeling. I actually never had it in the Super Bowl loss to the Giants. After he threw the TD pass to Randy Moss, I knew that everything was going to be alright.
The luckiest pass reception in Super Bowl history changed things quickly, but I never had the game-long feeling of dread that I experienced during the Jets tragedy.
And the Baltimore game, too. It happened so quickly in that disastrous first quarter. And Brady just looked lost, out of control. Two interceptions and a fumble from someone who just never does things like that. Two games at home that should have been wins and they turn into painful memories instead.
What is going on? Has he lost it? Is the playoff mojo that produced 10 straight playoff wins—a record, by the way—disappeared?
It's hard to blame the surrounding cast, especially if you win 14 games in the regular season with same crew but then falter in the big game. Brady always came through—that was his trademark. 
Pats fans can only hope that that's again the key to the team's playoff success—that Tom Brady can pull things out of the fire, or never let them get into the fire in the first place, again.
That just by being Tom Brady, victory will be assured.