Kim Kardashian: Does Kardashian's Tweet Prove She Still Loves Reggie Bush?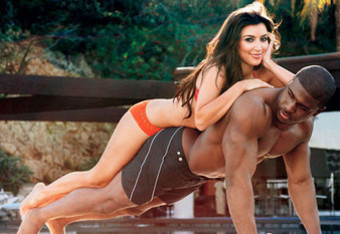 The world of Twitter has not only become a place where people can express themselves in 140 characters or less, it's also become a hotbed of rumors, where one single tweet can set off an explosion of speculation and gossip.
MediaTakeOut.com reported today on the Fourth of July that sources claim Kim Kardashian, currently engaged to New Jersey Nets forward Kris Humphries, still has a thing for New Orleans Saints running back Reggie Bush, who she used to date.
And the site is using this as proof:
MediaTakeOut.com has been hearing reports FROM CREDIBLE SOURCES - that Kim Kardashian and Reggie Bush still have SOMETHING going on. And that if Reggie asked . . . Kim would DROP her fiance Kris Humphries in a HEARTBEAT!!!

You see, Reggie AND Kim are both living in California. And at EXACTLY 12:24 PM on Saturday morning, Reggie Bush tweeted that he was SLEEPING in. Well exactly ONE minute later, Kim Kardashian tweeted virtually the SAME text - showing that she's CLEARLY following her ex on Twitter.
For the record, this is what Bush tweeted:
Sleeping in today
As for Kardashian:
Best feeling in the world to sleep in! I haven't done this in forever!
Also, for the record, Kardashian was visiting her future in-laws at the time with Humphries in Minnesota.
For lack of a better word, yawn.
Is this really what our world has come to?
And yes, that's a rhetorical question. We have become so immersed in pop culture and gossip that we forget about reality sometimes.
If I tweet that I'm buying a mansion in Miami, and it's just been reported that Anna Kournikova's spread is available for $9.4 million, does that mean I'm buying it?
No. It doesn't.
If someone claims something based simply on their sources, I can live with that.
But when people start stretching to create their own reality, that's where it's time to stop.
The next thing I expect is for Humphries to tweet that he's going out for a walk, and reports springing up that he's walking away from Kim Kardashian.
In CAPITAL LETTERS.
Most recent updates:
This article is
What is the duplicate article?
Why is this article offensive?
Where is this article plagiarized from?
Why is this article poorly edited?