Ashley Cole: Jay-Z Opening New Restaurant in London with Chelsea Soccer Star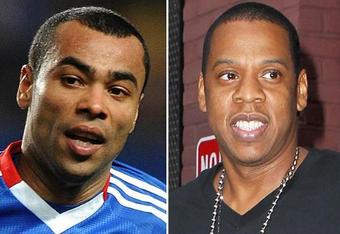 Chelsea football star Ashley Cole and world-renowned hip hop artist Jay-Z will reportedly be opening a new restaurant in London next year, and it already has people buzzing.
Jay-Z, of course, is no stranger to the restaurant industry, owner of the popular "40-40" clubs in New York, Atlantic City and Chicago. He also recently invested in the Buffalo Boss restaurant in downtown Brooklyn.
This will be Cole's first venture into the restaurant industry, but he isn't the only Brit to have tried his hand in the enterprise. His England teammate Rio Ferdinand has found success in his "Rosso" eatery in Manhattan.
Cole will reportedly be attempting to follow in famous chef Jamie Oliver's footsteps, using the restaurant to help underprivileged men and women find full-time jobs in tough economy.
Said Cole, via ContactMusic.com:
"It is really exciting to be working with a star like Jay Z. And the fact we can help unemployed people by training them up and putting them to work at a top place while also helping charities makes it a great project."
Details of the restaurant have yet to be fully released, but the eatery is expected to donate part of its profits to charity each month.
It's always good to see those who much better off financially than most of us lend a helping hand to those in need, and Cole and Jay-Z should score a hit with their latest venture.
Even though it will also be a money-making enterprise for themselves, their new partnership identifies two men who haven't let fame and fortune get to their heads.
It's always important to help others, no matter where you are in life, because it simply makes the world a better place, and amidst all the daily struggles humankind goes through, you can never have enough helping hands and charity.
Poet Maya Angelou once said,"I've learned that people will forget what you said, people will forget what you did, but people will never forget how you made them feel."
These words of wisdom have certainly not been lost with Cole and Jay-Z.
As expensive as the high-scale restaurant will likely be, those who dine there can still be assured they're helping people themselves and are adding to charity.
Charity tends to come full circle.
Most recent updates:
This article is
What is the duplicate article?
Why is this article offensive?
Where is this article plagiarized from?
Why is this article poorly edited?