WWE Raw Roulette: Truth Puts Cena Through a Table, CM Punk Interferes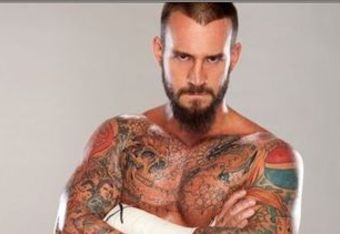 Tables Match
John Cena vs. R-Truth
Truth debuts some new ring gear here: A straitjacket...fair enough. Truth attacks to start and the chant between the over-20 crowd and the tweens gets started. Cena hooks a suplex and job around until Truth locks an extremely boring submission hold. Cena breaks for a dropkick and both guys sell like they've been wrestling for ten minutes...really weird.
Cena looks to finish early but Truth counters with a stunner and heads outside for a table. He sets it up in the corner for a suplex but Cena turns it around because Truth is basically a joke at this point. Truth gets low-bridged and tumbles to the outside, where Cena introduces him to the ring steps.
Cena sets up the table and hits the AA but CM Punk (wearing a Steve Austin shirt) has evilly removed the table. Cena attacks and brawls with Punk in the ring, so Truth takes advantage and spears Cena through the table he set up in the corner earlier. The crowd definitely doesn't like that finish.
Winner: R-Truth
-Short match which existed only to have the angle at the end, so that means it gets *1/4 and likes it.
-Punk goes off on a shoot-like promo GASP mentioning Hulk Hogan while comparing Cena to great backstage politicians. He goes through the terms "wrestler", "Paul Heyman" and "Brock Lesnar", setting a record for mentioning forbidden words and people in a such a period of time. I know it's not really a shoot but I love this guy.
Punk keeps laying it on thick and complains about not being promoted (rightly) and keeps calling The Rock "Dwayne" in a nice touch. We go even further as he promises to take the world title to NJPW or Ring of Honor ("Hi, Colt Cabana!"). He starts attacking Vince's family until they finally cut his mic and the show goes dark without any sign-off from the commentary team.
Final Word
Wow, I was ready to call this show another average effort until that promo at the end. If you're a "smart" fan (you know what I mean), you were eating up every syllable of Punk's promo and probably loving it. While it's most assuredly not a shoot, the fact that there's even a 1% chance of it being a shoot makes it effective. People will be talking about this tomorrow and that's good news for WWE.
Can you imagine if they allowed Punk to talk like this for the last 6 months? He'd be the biggest heel in the promotion right now. The sad part is that Punk was RIGHT about everything he said. Just like Joey Styles was right when he went nuts during the ECW relaunch and just like Nexus was right about people getting sick of the same old main eventers.
Hell, it's the best close to a show they've had since the initial Nexus attack. That's good enough for me.
Most recent updates:
This article is
What is the duplicate article?
Why is this article offensive?
Where is this article plagiarized from?
Why is this article poorly edited?