WWE Raw Roulette: DDP Appears, Miz/Swagger Lose to Rey/Riley, Truth Spins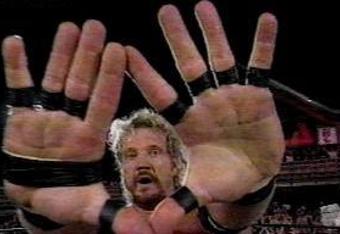 -Andy from Tough Enough gets a hype video with Skinner putting him over. I mean, come on, if you can't get over with the Gator Man talking you up, you should just give up.
-Meanwhile, Rey Mysterio spins the wheel and gets a Tornado Match (tag match with all four guys in the ring) with Riley against Miz and Jack Swagger.
We even get a Diamond Dallas Page appearance to plug the Nitro DVD, which Drew McIntyre does not appreciate. Shawn Michaels adds his two cents with Sweet Chin Music to McIntyre to shut him up and claims to never have seen Nitro cause he was always working. Oh, that Shawn...always the kidder. Booker and DDP can't believe what they just heard.
Tornado Match
The Miz & Jack Swagger vs. Rey Mysterio & Alex Riley
I've gotten to the point where I see Jack Swagger and almost instantly go to sleep because he's so boring. The guy desperately needs a makeover. Of course, Vince probably thinks he's giving all these guys "rubs" by giving them wins over Swagger. The fans, on the other hand, view him as a loser and can't believe he was ever world champion.
Everyone clotheslines each other and Miz heads outside to deal with Riley while Swagger beats on Rey in the corner. Swagger gets a backbreaker on Rey and hits the pump splash for two. Miz returns but gets crotched on the top and Rey takes out Swagger with a seated senton from the apron. Riley gets a sloppy Kurt Angle Pop Up Superplex for two and we head to commercial.
We return with the heels in control, as always, and Mysterio on the outside. Riley gets beaten down against the ropes but makes a comeback off a double back body drop attempt. That doesn't last long though as the heels get rid of Riley and hit a double team gutbuster on Mysterio for two.
The kiddies get behind Rey Rey as Miz hits his short DDT for two while Riley and Swagger tumble to the floor. Miz tries for a superplex but Rey takes him down and hits his senton. He gets rid of Swagger again and a kick to the face of Miz gets two. They exchange finisher attempts but Swagger interrupts the 619, allowing Riley to return with a spinebuster for two.
Miz hits Riley with a reverse DDT for two but he gives Alex time to recover and Riley hits the Cactus Clothesline to take himself and Miz out of the ring. Rey runs into a nice looking big boot from Swagger for two but counters the gutwrench to a 619 attempt. THAT attempt is countered to an Anke Lock from Swagger but it's stopped by Riley and now the faces can hit their finisher combo for the win.
Winners: Rey Mysterio & Alex Riley
-It started slow but damn it picked up towards the end. The crowd was really digging it and popped loud for the finish, something you don't always see on Raw. The second half was non-stop action and the energy was really flowing ***1/4.
-Meanwhile, R-Truth spins the wheel for the match against Cena and gets a tables match.
Most recent updates:
This article is
What is the duplicate article?
Why is this article offensive?
Where is this article plagiarized from?
Why is this article poorly edited?