WWE Raw Roulette: Sin Cara Defeats Evan Bourne, Kofi Spins the Wheel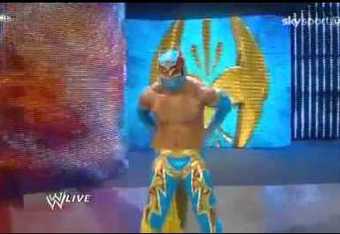 No Count Out Match
Sin Cara vs. Evan Bourne
You don't think WWE realized they really screwed up by rigging the vote for Mason Ryan and thus made up the story about the "servers crashing", do you? Nah, Vince would NEVER lie to the fans like that. The stipulation is kinda weak but what did you expect?
I still really hate the yellow lighting. They start on the mat, displaying some nice counters until Cara uses a spingboard armdrag to set up another flipping armdrag from the corner. They do the "mutual respect" bit on the outside then decide to head back inside where Bourne uses the double stomp for two and the ECW trademarked "power ranger" makes it's 2010s debut.
More flipping counters from both guys and Bourne ends up outside so Cara dives out with a headbutt between the ropes. Bourne takes control with flying headscissors on the entrance ramp but Cara gets La Magistral back inside for two. Knee to the face gets two for Bourne but Cara immediately comes back with a 360 senton for two. Bourne immediately comes back and puts him down for a standing moonsault and a near fall. Bourne looks to finish with Air Bourne but has to land on his feet and Cara screws up the La Mistica but it still gets the pin.
Winner: Sin Cara
-You could definitely tell they were rushing through things because they were only given a couple minutes. These two definitely need 15 minutes on a PPV but I'm definitely dreaming about that one. Cara botched the finisher so it loses points there but still an exciting TV effort **1/4.
-Backstage, Vickie hijacks Kofi's wheel spin and lands on Player's Choice, inadvertently giving Kofi his choice of any match. He chooses himself vs. Ziggler with Vickie banned from ringside. Wow, what an exciting match we would never see anywhere else!
Most recent updates:
This article is
What is the duplicate article?
Why is this article offensive?
Where is this article plagiarized from?
Why is this article poorly edited?