Oklahoma City Thunder: How Kevin Durant and Russell Westbrook Win in 2012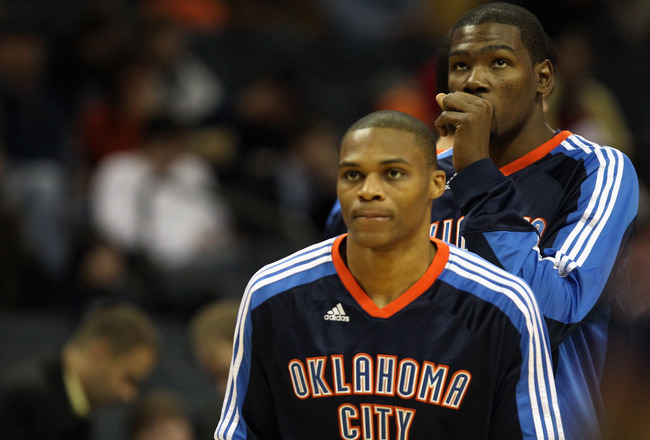 Streeter Lecka/Getty Images
Yes, the headline is correct. I said Kevin Durant and Russell Westbrook.
Not Durant and Paul, Durant and Nash, or Durant and Williams. I'm sticking with Durant and Westbrook.
Oklahoma City is a young team, and has the second-best one-two punch in the NBA with two 22-year-old All-Stars in Kevin Durant and Russell Westbrook. With a little more experience, they could threaten LeBron James and Dwyane Wade for the No. 1 spot.
The Thunder have improved in each year since playing in Oklahoma City, most recently an unsuccessful trip to the Western Conference Finals.
The Thunder received a lot of criticism after a disappointing exit in 2011, but with a great coaching staff and a promising core of young players, they should answer critics in a fashionable way next season.
Let's take a look how they can bring a championship to OKC in 2012.
Extend Russell Westbrook's Contract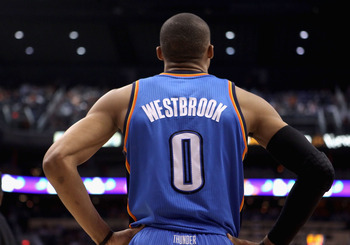 Christian Petersen/Getty Images
Why trade Russell Westbrook?
Yes, he took some questionable shots in the Western Conference Finals. Yes, he made some poor decisions. But he will learn from that.
Westbrook is a versatile, athletic point guard who is perfect for the Thunder's fast-paced offense. He can take over for Durant on a cold night and can slash to the basket at will.
Don't forget, he was not a full-time point guard while at UCLA, but he is showing signs of promise every year. Westbrook is considered a shoot-first point guard, but he was also eighth among the NBA in assists at 8.2 per game.
While the improving point guard still turns the ball over quite often, he counters that by playing hard defense and creating crucial turnovers.
Durant and Westbrook each had great All-Star seasons in their third year together. Besides the playoffs, the duo showed they could co-exist on and off the floor.
Last year was a building block and a learning opportunity for the Western Conference finalists. With the right coaching and attitude, these guys will be back next year.
Oklahoma City fans shouldn't worry about a chemistry issue between Durant and Westbrook. Instead, they should embrace a bright future and a dynasty in the making.
Kevin Durant Needs to Be the Thunder's Main Scoring Option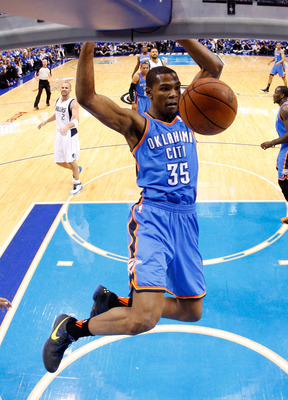 Ronald Martinez/Getty Images
Kevin Durant has won two straight scoring titles for a reason: He is the best pure scorer in the NBA.
Durant is a rare combination of incredible length, height and athleticism that allows him to score any way he pleases. He draws fouls quite often, averaging 7.9 free-throw attempts a game throughout his young career. He also has one of the most unstoppable pull-up jumpers in the league.
Durant can turn defensive rebounds into fast-break opportunities, leading Oklahoma City to the fifth highest scoring offense in the NBA at 104.8 points a game.
While Westbrook can go for 20 points any night, the Thunder are going to be better with him learning a facilitator role.
Involve James Harden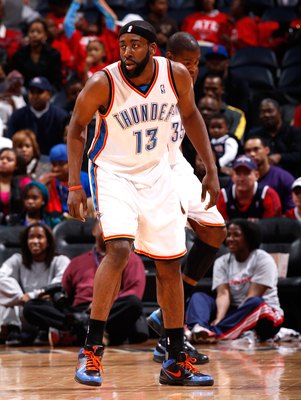 Kevin C. Cox/Getty Images
James Harden only averaged 27.6 minutes a game last year, but in those minutes he was productive, adding 12.2 points to the dangerous Thunder offensive attack. Harden is also a valuable ball handler, being able to help out Westbrook when needed.
He plays solid defense, filling lanes and grabbing 1.1 steals per game as well.
With a little work on his outside jumper and an opportunity, the 21-year-old Harden can be a scoring threat any night.
Remember Defense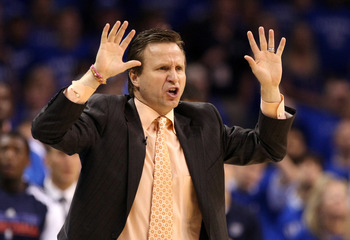 Christian Petersen/Getty Images
Anyone who has played sports growing up knows that coaches will always preach defense. They do it for a reason.
Oklahoma City swatted 5.9 shots a game, right behind the Washington Wizards' league-best 6.1. They also averaged above the NBA team median in steals at 8.0 a game.
While that is impressive, they are too prone to allowing big points, giving up north of 100 a game. Oklahoma City has a number of great defensive players including Serge Ibaka, Thabo Sefolosha, and the hard-working Nick Collison, but without team defense, it doesn't really matter.
Creating turnovers is nice, but when you're giving up too many points, you need to make adjustments.
Acquire a Veteran Point Guard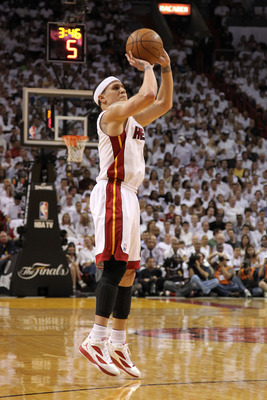 Mike Ehrmann/Getty Images
Oklahoma City doesn't need an All-Star-caliber backup point guard. However, they could use a battle-tested veteran to bring the team some much needed experience.
Signing a point guard like 33-year-old Mike Bibby would give them a sharp shooter from downtown, and someone to relieve Westbrook for a few productive minutes a game.
A Bibby signing would also create some key trading pieces for the Thunder, which already have depth at PG. Having Nate Robinson or Eric Maynor available for trade could create some interesting trade scenarios, maybe even a good big man.
Consider Tyson Chandler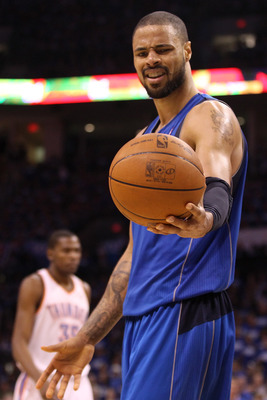 Christian Petersen/Getty Images
Speaking of that big man, how about Tyson Chandler?
While Serge Ibaka has been a great role player for the Thunder, they could use an actual center to make this team better.
Chandler was crucial in helping the Mavs win their first NBA championship in franchise history, and he could also help Oklahoma City. He was set to end up on the Thunder roster in 2009, but plans changed after he failed a physical due to a toe injury.
Chandler is a great defender and a big man who would have no problem running the floor for the run-and-gun Thunder offense. I could only imagine the sick throw downs Chandler would finish from Russell Westbrook.
A sign-and-trade is possible to put him in OKC. Dallas will be in need of a backup point guard and a center if Chandler and Barea decide to take their talents elsewhere. A Nate Robinson and Kendrick Perkins package could be compelling.
Just Keep Playing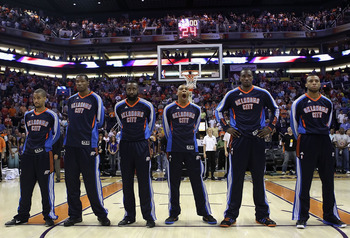 Christian Petersen/Getty Images
Sounds easy, right?
The fact is that this team was the third youngest in the NBA in 2011. If one thing can make a team better, it has to be experience.
They have two great stars in Westbrook and Durant, along with plenty of good role players. The likes of Harden, Collison, Ibaka, Perkins and Sefolosha would help any roster, but they need to work on the team chemistry
They are one of the most complete and stacked teams in the NBA already. Even if the Thunder don't make any trades or sign any free agents, they still have a wide open window of opportunity.
With many of the Western Conference powers, like the Spurs and Mavericks, aging, Oklahoma City could be in prime position to climb on top of the wild, wild West.
Keep Reading

Oklahoma City Thunder: Like this team?