Kobe Bryant, Shaquille O'Neal and the 10 Greatest Duos in NBA History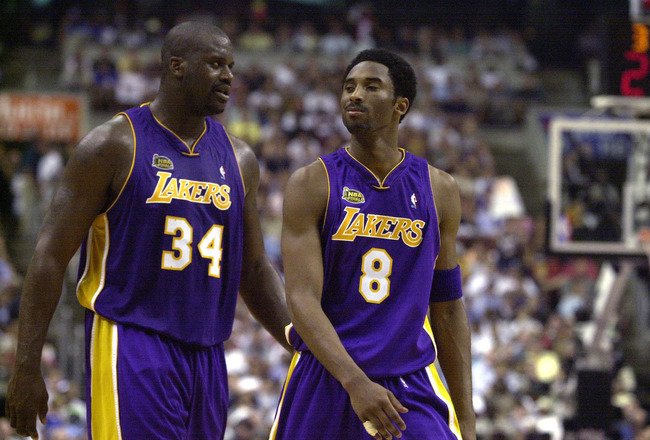 Ezra Shaw/Getty Images
In the free-agent NBA world, the offseason is used as a platform for contenders to try and get over the hump by either acquiring a free agent or a player via trade.
This offseason, speculations are swirling in regards to famed names like Dwight Howard, Joe Johnson, Rudy Gay, Chris Paul, Russell Westbrook and Andre Iguodala.
All of whom are dynamic pieces in their own right who could catapult a team into the Finals in 2012.
All of whom are good enough to be considered the next bright and shining star to join forces with a pre-existing superstar.
Think Miami Heat last offseason, Boston Celtics in 2007, Los Angeles Lakers in 1996 or Houston Rockets in 1994.
All four of those teams made midseason or offseason acquisitions that created trios or tandems made of superstars seeking out title contention.
Welcome to the top 10 dynamic duos in NBA history.
10: Karl Malone and John Stockton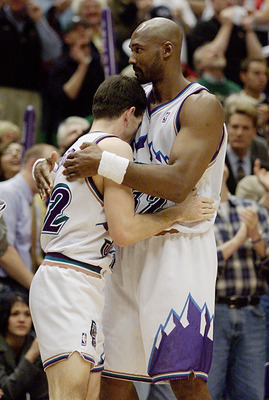 Brian Bahr/Getty Images
No, these two never won a title with the Utah Jazz white and blue. But they were the carriers of a franchise coached by the great Jerry Sloan, one that saw them get to the Finals twice only to be stopped by Michael Jordan and Scottie Pippen.
Having been through the wars in humble Utah, John Stockton and Karl Malone revolutionized the pick-and-roll to such a high level that both are sitting atop or nearly atop all-time NBA records.
Stockton is currently first all-time in assists with 15,806 in his career with an unheard of career assist per game average of 10.5. The closest player is Jason Kidd who sits over 4,000 assists shy of Stockton.
Malone is considered perhaps the greatest power forward in league history and is second all-time in points scored with 36,928 for his career. "The Mailman" was a two-time MVP, 14-time All-Star and an 11-time All-NBA first-team member.
Stockton and Malone hold the all-time mark with 1,402 career games played together.
9: Dr. J and Moses Malone, "The Cool Cats"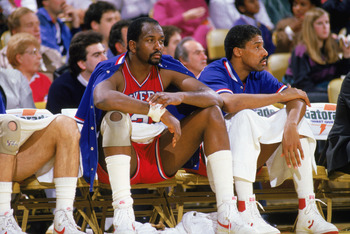 The coolest duo in the history of the game.
Rick Stewart/Getty Images
When Dr. J arrived from the CBA's New Jersey Nets with that brassy voice and cool puffed fro, he joined forces with the first-ever player to join the pros straight out of high school—the infamous block-bruiser, Moses Malone—in Philadelphia.
Both in their own right revolutionized the game. Dr. J's high-flying arsenal, marketed by dipsy-dos and up-and-under moves, created the stylistic approach to the game that was lacking. He was the godfather to other great high-flyers like Michael Jordan, Dominique Wilkins, Kobe Bryant and Vince Carter.
Moses Malone is the only player to average 20 and 10 with four different teams. Gifted with a soft touch on the block, the big man with a nose for finding the ball won four rebounding titles in a row from 1979-1983, three MVPs, was named a top 50 player of all time in 1997 by Sports Illustrated and inducted into the Hall of Fame in 2001.
The Dr. J/Malone duo could be seen as the greatest revolutionary duo in sports, opening doors for players seeking a flashier substance to the game and a jump straight out of high school. Their title together in 1982 was impressive considering they knocked off Magic and Kareem's Showtime Lakers in six.
8: LeBron James and Dwyane Wade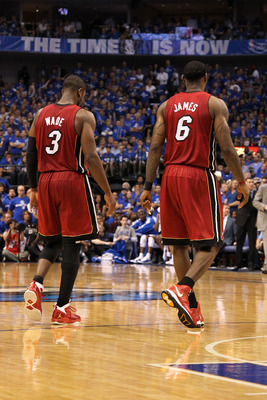 The most hated dynamic duo in all of sports.
Mike Ehrmann/Getty Images
Whether you like them or not (I assume the latter), LeBron James and Dwyane Wade are two of the most gifted athletes the NBA has ever seen. When Bron joined forces in South Beach to create the infamous "Big Three" in Miami (including Chris Bosh), the modern age in the NBA world changed forever.
LeBron, the two-time MVP, is a blended version of Dominique, Magic Johnson and Oscar Robertson. Pound for pound, he is the second-strongest player in the league (behind Dwight Howard) with a speedy set of moves to get to the basket on his 6'8" 260-pound frame.
Dwyane Wade is already a champion, Finals MVP, eight-time All-Star and a big-game closer with career averages of 25.4 points, 6.3 assists, 5.1 rebounds and 1.8 steals. "Flash" is considered one of the greatest finishers around the rim in the history of the sport and was heralded by Shaq.
Put it this way: Title or not this year, there will be titles to come in the future. Like a fault line that rocks the earth, this duo has upturned the cosmos of the 21st century NBA.
7: Tim Duncan and David Robinson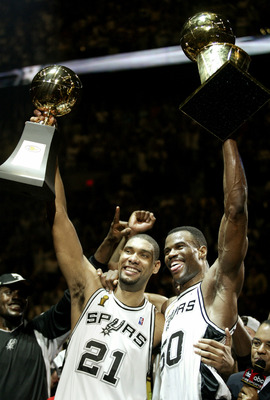 Jed Jacobsohn/Getty Images
When the San Antonio Spurs drafted Tim Duncan first overall in 1997 out of Wake Forest, they con the second-most dominant "Twin Tower" experience in NBA history. What followed would be two championships in the duo's five-year life span.
David "The Admiral" Robinson was best known for his defensive abilities, rebounding and team orientation. The first pick in the 1987 draft out of Navy, Robinson went on to play 14 years in the NBA, collecting one MVP award, one scoring title and a Hall of Fame induction in 2009. After a major injury to his lower back in 1996-1997 limited him to just six games, the shot-blocking maestro (3.1 per game for his career) was in need of help to get the Spurs over the hump.
What birthed through these hopes and expectations was the 6'11" Tim Duncan—a player with a soft touch and a gifted 15-foot bank shot. Duncan assumed the franchise role with Robinson as the mentor. Duncan is a two-time league MVP, four-time champion, three-time NBA Finals MVP and was named Sports Illustrated Player of the Decade from 2000-2010.
Both of these towers were a wrecking force for any team on any given night on both the offensive and defensive sides of the ball.
Both could step out and knock down the 15-foot jump shot or punish you in the post.
Both blocked a lot shots together, rebounded and controlled the paint.
The Spurs are arguably a top five franchise of all time and such a standard came through the efforts of these two.
6: Shaquille O'Neal and Kobe Bryant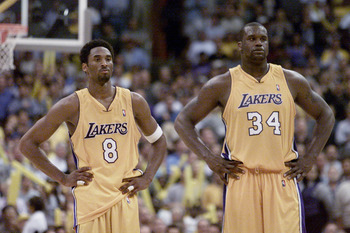 Jed Jacobsohn/Getty Images
In 1996, two things happened that would re-lift a somewhat-dying Laker organization to titles 13 through 17. A three-peat from 1999-2002 proved why the two gifts that came that year were worth the wait.
When the Lakers signed Shaquille O'Neal to a record six-year $120 million contract, they opened the door to a rebirth in the Laker organization and the ability of stars to sign contracts of that size. At the time of the signing, Shaq was the most dominant force in the league; so dominant the "Hack a Shaq" would be the only way to partly stop the truck.
At 7'1" 330 pounds, Shaq brooded over his defenders with a larger-than-life dominance; it felt as if he transcended the game.
That offseason, the Lakers also traded away long-time veteran and fan favorite Vlade Divac to the Charlotte Hornets in exchange for their 13th pick, Kobe Bryant. The greatest heist in trade history, the Lakers no doubt benefited, as Kobe quickly became a household name, scoring champion and MVP. Kobe Bryant has won five titles in his 14-year career with Los Angeles, is first all-time in Laker points and a USA gold medalist. Since Kobe's second year in the league, he has started in every NBA All-Star Game, winning four All-Star MVPs.
For three title runs, both Shaq and Kobe could be argued as the greatest inside-outside duo in NBA history. Their relationship was symbiotic, as one always opened the game up for the other.
5: Hakeem Olajuwon and Ralph Sampson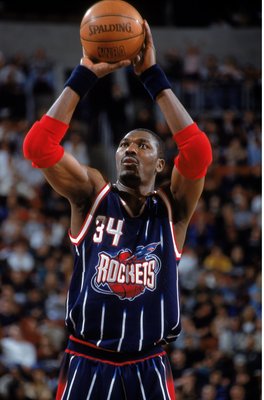 Olajuwan even transcended his great counterpart Sampson.
Otto Greule Jr/Getty Images
Sometimes in sports, what lasts the least amount of time is mysteriously the greatest. Though these two played only four full seasons together, they signaled not only the most dominant "Twin Tower" duo in league history but transformed the Houston Rockets in two years from a 29-win team to a Western Conference finals competitor, nearly knocking off Magic's Showtime team.
Ralph Sampson drew comparisons to Wilt Chamberlain because he was that good. The 7'4", three-time Naismith winner in college, Sampson was the first selection in the 1983 draft. He performed as expected, averaging 21.0 points and 11.1 rebounds his rookie season. Winning the Rookie of the Year Award in 1984, Sampson battled injuries from that point forward, but even as a faded memory of himself finished with a great career. The four-time All-Star averaged 20.7 points and 10.9 rebounds in his four years with the Rockets.
Without a question, Hakeem Olajuwon—the first pick in 1984—had the most gifted footwork of any big in league history. The University of Houston prodigy from Nigeria is 11th on the all-time rebounding list and first in block shots with 3,830. His 26,945 points ranks him ninth all-time on that list, while his one MVP award in 1994 and two Defensive Player of the Year Awards continue his fine resume into conversations of top 10 all-time players. Winning two titles in 1994 and 1995 completed an immensely vast career for Olajuwon.
4: Larry Bird and Kevin McHale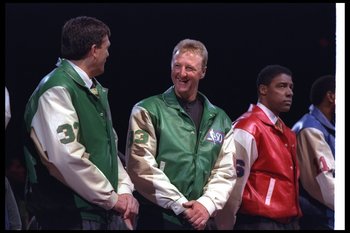 Brian Bahr/Getty Images
When your resume includes three titles and five appearances in the NBA Finals in the '80s, you just might have some good things going for you. When the Celtics drafted Larry Bird sixth overall in 1979 and then Kevin McHale third overall in 1980, they joined together the best forward duo in the history of the game.
McHale has an odd Hall of Fame career. Despite five years of utter dominance from 1985-1990, McHale played second fiddle to the great Larry Bird and is quite often seen as a role player. But don't be that dumb.
McHale's career was capped in 1987 when he averaged a career best 26.1 points while shooting 60.4 percent from the field. McHale was arguably the most unselfish superstar in the history of hoops, who quietly went about his business to help lead the Celtics to three titles in the '80s.
Larry "Legend" is bar none the greatest shooter in league history. The 6'9" swingman out of Indiana averaged 24.3 points, 10.0 rebounds, 6.3 assists and 1.7 steals through an illustrious 13-year career. The 12-time All-Star and three-time MVP is the most clutch shooter of all time and a top-10 player as well. Had his career not ended with horrendous back problems, Larry could fairly be argued as the greatest this league has ever seen.
3: Bill Russell and Bob Cousy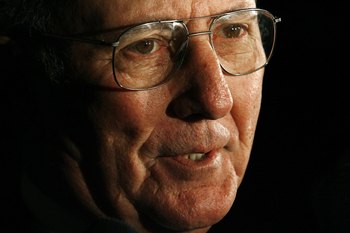 The quietly humble Cousy.
Chip Somodevilla/Getty Images
A great organization like the Celtics knows how to continue a lineage of champions from the greats before Bird and McHale. Both Bill Russell and Bob Cousy set the bar in Boston winning six titles as a duo.
Bill Russell is in talks when arguing the greatest center of all time. He is second all-time in total rebounds, a four-time MVP, one of two players to grab 50 rebounds in a game and the franchise face to 11 championships for the Celtics. The defensive-minded big who favored getting above the rim over shooting was the perfect blend for Bob Cousy, who liked to dribble drive and then toss the ball up to his post players.
Cousy set the bar when it comes to dribbling and is best known for an ability to run out the clock for minutes at a time. A tremendous passer, the New York native is little known for his offensive game. But Cousy, who averaged 18.4 points for his career, led the Celtics in scoring twice. He is without question the '50s and '60s version of John Stockton.
2: Magic Johnson and Kareem Abdul-Jabbar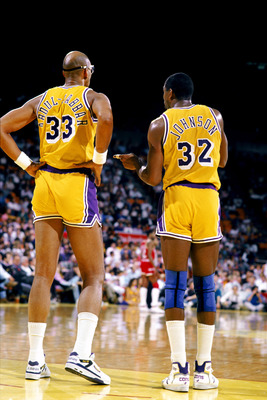 Mike Powell/Getty Images
When we talk about the greatest tandems, it is hard not to think of the Laker Showtime era—an era gifted with athletic and unselfish players making each other better. The Showtime era won five titles in the '80s and is considered the greatest group of Lakers in the history of the league's greatest franchise.
Kareem Abdul-Jabbar, formerly known as Lew Alcindor, came out of John Wooden's UCLA program used to winning. And winning is what he did for his entire career. The beauty of his gifted hook shot was seen for a long 20-year tenure in the pros where Abdul-Jabbar is the all-time leader in career points, games played, minutes played, field-goals made and defensive rebounds. When Kareem joined forces with the Lakers, it was a match made in heaven for the three-year Bruin who won 71 straight games in college.
The most excitingly fun player of all time has to be the chummy Magic Johnson. The ring leader of the infamous Laker Showtime era was blessed with a forward-like 6'9", 225-pound frame. He ran the floor in the Lakers up-and-down, run-and-gun style and is a living highlight reel with around-the-back and through-the-leg dimes. Fourth all-time on the assist list, Magic is a three-time MVP and five-time champion.
1: Michael Jordan and Scottie Pippen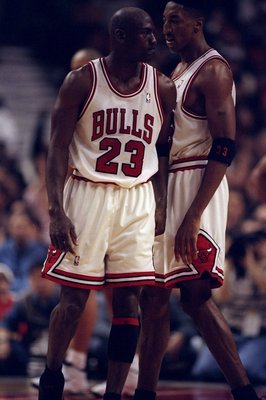 Jonathan Daniel/Getty Images
Before the mid-80s when the draft changed the landscape in the Chicago Bulls franchise, the Bulls were better known for being a mid-echelon non-playoff team.
Thank God for the bust of Sam Bowie because in 1984, Trail Blazers selected the center out of Kentucky over the great Michael Jordan. Nabbing the greatest this league has ever seen at the third pick is a moment that rearranged the city of Chicago as a whole.
MJ changed the endorsement world for the black athlete, is third all-time in points, second all-time in steals, a five-time MVP, six-time champion, six-time Finals MVP, 10-time scoring champ and has the highest scoring average in league history at 30.1. His Airness is the most celebrated athlete in league history and dominated the '90s, helping relieve fans after the retirements of both Larry Bird and Magic Johnson. He was inducted into the Hall of Fame in 2009.
Every Batman needs a Robin and for MJ, his Robin was Scottie Pippen. The 6'7" 220-pound athletic freak was a winner in every way. Pippen was the defensive cog to the Bulls' swarming defenses in the '90s. He is sixth all-time in steals and was the second go-to-guy offensively averaging 19.5 points for the Bulls' six title teams.
A long-armed and unselfish player, Pippen set the bar as the best sidekick in league history. He was inducted into the Hall of Fame in 2010.
These two cap the greatest duo in league history. Many critics believe had MJ not retired for two years to play baseball, the Bulls would have won eight championships in a row in the 90s.
Conclusion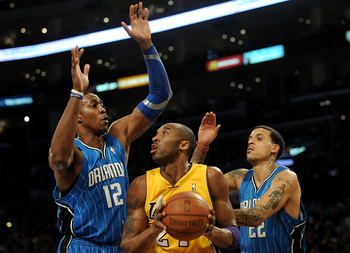 Harry How/Getty Images
It is highly difficult to think of a league in its entirety and then rank the all-timers.
The way I arranged my all-time tandems was through a basic equation format of titles, evolutionary quality, sociological impact and rankings of top 50 players of all time.
A futurist perspective? I believe if Dwight Howard teams with Kobe Bryant in Los Angeles, the two will replace one of the 10 I have listed above. The question is whether or not this great tandem will become a reality in 2011-2012.
Let me know what you think about how I did.
Keep Reading