Wimbledon 2011: Rafael Nadal vs. Mardy Fish and the Men's Quarterfinal Preview
June 28, 2011
Clive Brunskill/Getty Images
I owe Andy Murray an apology. 
I picked seven winners of the eight matches in Wimbledon's Round of 16, but I not only picked Richard Gasquet, I also predicted Murray would fold. Instead of falling short again, Murray raised his game and crushed his French opponent.
I'm going to enjoy the humble pie tonight.
Now, let's look at the men's quarterfinal matches.
Rafael Nadal vs. Mardy Fish
Nadal overcame an injured foot and big-hitting Juan Martin Del Potro to advance to this match. 
Obviously, some concern for the foot injury has to be weighed in here. Will a little less than 48 hours be enough for Rafa to heal? If yes, he should win this quarterfinal match. 
While I'm picking Rafa to win here, I'm picking him based on his 5-0 record, plus his ability to continually dig deep and play the big points well. I really believe this will a pretty close match with Mardy Fish having chances, but ultimately, Nadal will prevail. 
Prediction: Nadal in four.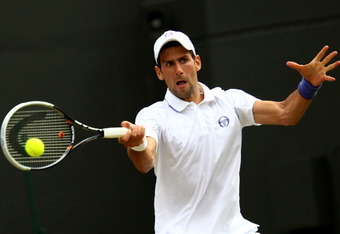 Julian Finney/Getty Images
Novak Djokovic vs. Bernard Tomic
All good things come to and end, and I'm not talking about Djokovic winning.
Tomic is the feel-good story of the men's draw, but I see him losing in straight sets to his opponent, who is 45-1 this year. 
Tomic has the game to be a good player, but Djokovic is hitting it purely from both sides, and his serve is much improved.
Did I mention Djokovic is also the best return server? 
Prediction: Put it all together, and it's Djokovic in three.
Roger Federer vs. Jo-Wilfried Tsonga
I really like how Tsonga is playing, and I think if he starts well, he could win this match. 
However, starting strong isn't going to be enough.
We all know Federer will always make a run, and Tsonga is mentally fragile.
Federer owns a 4-1 record against Tsonga, with his lone win coming in Canada in 2009 when Federer collapsed with a 5-1 lead in the third set. Since that meeting, Tsonga has won just 22 games in three matches.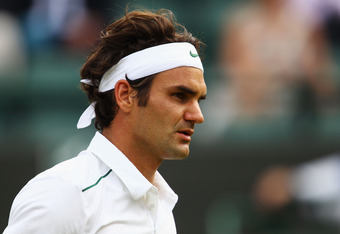 Julian Finney/Getty Images
With that being said, Tsonga has the power from his ground strokes and serve to dictate points early, and he can attack the Federer backhand. 
Prediction: Federer in five.
Andy Murray vs. Feliciano Lopez
Both players surprised me today. 
Andy Murray took control late in the first set and crushed Richard Gasquet, and Lopez overcame a two-set deficit to beat Lukasz Kubot.
Murray holds a 4-0 record and has lost just one set in those matches. I don't see how Lopez can recover and overcome the confident Brit. I look for Murray to move Lopez side to side and wear him down. 
Prediction: Murray in three.
If my predictions happen to be right, we'll be in store for some incredible semifinal matches. It appears Federer might be the favorite, but having to go through Tsonga, and perhaps Djokovic and Nadal is daunting. 
I think he can do it, but it won't be easy.