San Francisco Giants: Barry Zito, Jonathan Sanchez Examples of Clever DL Use
June 28, 2011
Christian Petersen/Getty Images
When Barry Zito stood on the mound after spraining his foot in an attempt to field a bunt at Chase Field on April 16, it sure didn't look like he was bound for a nine-week trip to the disabled list.
A sprained foot? Nine weeks on the DL?
Looking back on it all now, there's only one word to describe what seemed at the outset to be a totally disproportionate response to a relatively minor injury: genius.
This article surely isn't the first time the words "Bruce Bochy" and "genius" have been used in the same sentence, especially after the manager's masterful chess-like operations during the 2010 postseason, resulting in a long-awaited World Series title for the San Francisco Giants.
But whoever thought Bochy's tactical brilliance would extend to his usage of the disabled list?
In a first half that has been nothing short of unreal in the way Giants have been dropping like flies out of the lineup and into the world of athletic tape, casts, and rehab assignments, Bochy has taken hold of the old adage, "if the world gives you lemons, make lemonade," and given it a whole new twist.
Zito goes down and Ryan Vogelsong replaces him. Now of course there's no way Bochy could have foreseen the spectacular numbers Vogelsong would put up in his first 11 starts (5-1, 1.86 ERA, 57K), but he certainly knew a good thing when he saw it and made sure Barry Zito took all the time he needed, and more, to get back to the big leagues.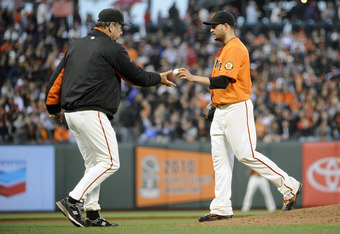 Thearon W. Henderson/Getty Images
Bochy "pulling a Zito" with Jonathan Sanchez?
Bochy has now made another unconventional move involving the disabled list with starting pitcher Jonathan Sanchez.
Sanchez was placed on the 15-day DL after his last start Friday night against the Cleveland Indians for tendinitis in his left bicep.
Sanchez told the media that he felt fine after Friday's start, and Bochy, following the announcement that Sanchez would go on the DL, told reporters that his left-hander only said that because his tendinitis wasn't bad enough to keep him from pitching.
So what's changed since Sanchez made that statement about feeling healthy?
Apparently nothing, except that Barry Zito needs room on the roster for his return, and Sanchez needs a break from the mound after several apparent mental lapses and very erratic control problems in his past several starts.
Putting Sanchez on the DL enables Bochy to see what Zito can do now that he's back in the rotation, even if it's for a week or two at the most.
Ironically, Zito will be making his first start since coming off the DL on Tuesday night at Wrigley Field, in the late game of a doubleheader in which the first game will be started by his replacement in the rotation, Ryan Vogelsong.
Bochy and Brian Sabean will now get a chance to see what Zito can do for the club without having to worry about where to fit him in, while at the same time giving Sanchez what seems to be a much-needed break from the hill.
Genius.
That's one of the reasons why the Giants are where they are: in first place in the National League West as the All-Star break approaches, despite numerous key injuries.
Bochy has taken the most troublesome enemy of the 2011 San Francisco Giants, the disabled list, and used it to his advantage.
Whatever happens with Zito, Vogelsong and Sanchez, one thing's for certain: the captain of a ship that has been tossed and jolted by torrential waves has steered the vessel through, using every tool at his disposal.
Bochy's ship isn't out of choppy waters yet, but he's made sure it's got a great chance to reach the shore, battered and bruised as it may be: a postseason berth to give the Giants a shot at repeating as world champions.